Money makes us nervous. Samesies?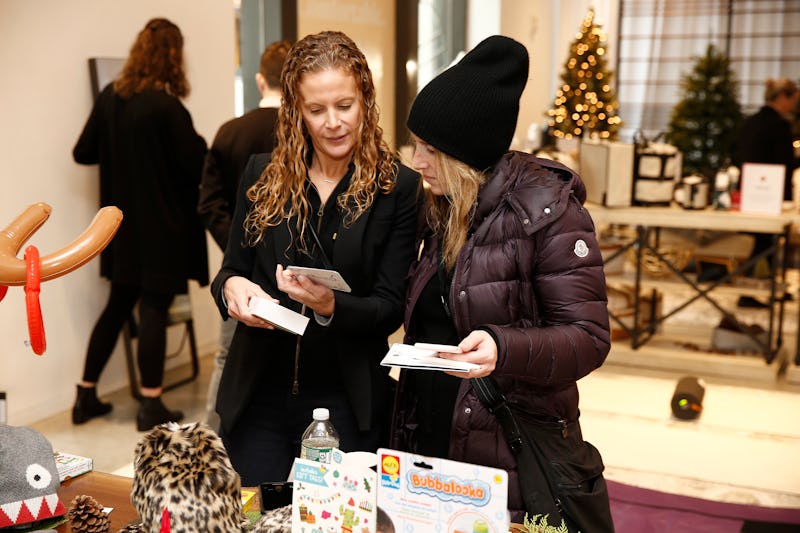 Brian Ach/Getty Images Entertainment/Getty Images
By
Jessica Tarlov, Dani Thibodeau, & Angela Lee
Making financial decisions can be tough, and it doesn't get any easier over the holiday season — in fact, it's the No. 1 stresser in young women's lives, according to new findings from our 2018 holiday poll. We know this because it's our job at Bustle Trends Group to know it: It's our mission to really understand the experiences of millennial-age women through conducting focus groups and surveying our own online community with over 5,000 members, the Bustle Digital Group Hive (join here).
Our landmark study of 1001 Bustle readers ages 18 to 34, Bustle Meets Proust, which came out October 2017, showed that finances are top-of-mind for 94 percent of readers and that nearly two-thirds are not happy with their current financial situation. Pile daily stress about money onto financial obligations during the holiday season, and it feels like a lot.
And a recent survey we conducted just last month that looked at the spending habits of 348 millennial women revealed how exactly this group was planning on spending their money this holiday sale season.
In the survey, 97 percent said they intend to purchase gifts for others this upcoming holiday season, and 99 percent said they will be purchasing gifts for family. And family seems to be the priciest group to buy for: A quarter of survey takers said they are planning to spend more than $200 on their loved ones.
Who else are they spending on? Themselves. Sixty one percent said they're going to take advantage of holiday sales to self-gift. However, more than half (55 percent) said they plan on spending less than $100 on themselves, primarily for seasonal items like a holiday party outfit or decorations.
No matter the gift recipient, the categories they're looking to spend the most this season include clothing, accessories, home decor, and tech. To ensure they're getting a good deal, more than half (54 percent) say they are planning to shop the deals on both Black Friday and Cyber Monday.
Bustle's latest digital issue, EVOLUTION, also pulled back the curtain on what exactly women are buying for holiday gifts this year in a feature called "How Much I Spent." The piece even highlighted a recent Bank of America survey that found millennials spent more than $1,000 during last year's holiday season. That piece also revealed a common underlying impetus behind the gifts was not price, but rather thought — specifically, giving a gift that showed the thought behind it, that the gift receiver would truly love. This should be a reminder for all of us that you don't need to shell out your entire life savings to give a truly meaningful gift. After all, it's the thought that counts, not the thought that costs.
Thoughtfulness doesn't just apply to the gift being selected — it also has to do with the brand being bought into. In Price Waterhouse Cooper's 2018 Holiday Outlook report, there's been a 7% year over year increase in purchases from socially and environmentally responsible brands. And 70% of all 2,071 people surveyed said that brand trust influences their purchasing decisions. In our Bustle Meets Proust survey, that also bore out: We found that 34% of readers will switch brands, even if the price is higher, to one that they feel is more socially conscious.
If you need help figuring out how much to spend this holiday shopping season and beyond, there are tons of resources you can take advantage of to help you with your personal finance acumen. Check out Bustle's Get Money package for expert tips on your 401K, taxes, and side hustle income; the Girlboss newsletter , which provides sound, relatable financial advice on how to save, ask for a raise, and everything in between, and Ladies Get Paid, which hosts monthly town halls and workshops, are also great resources.