Monica Lewinsky Perfectly Explained The Privilege Bill Clinton Faced In Interviews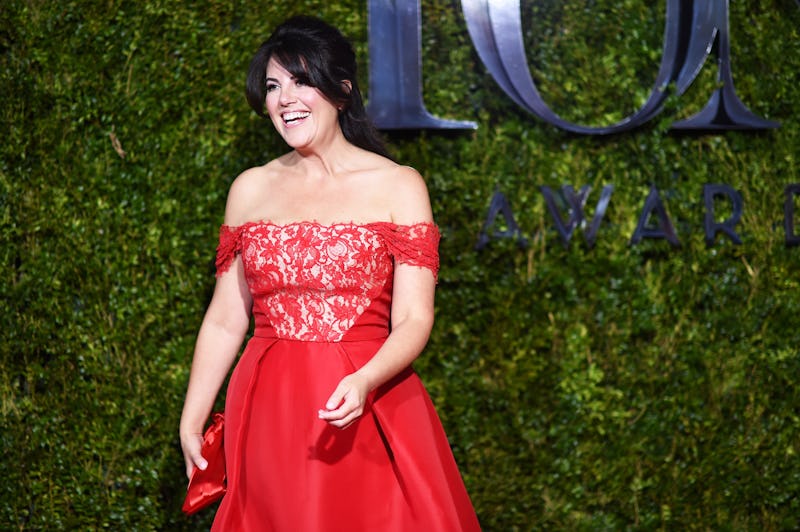 Mike Coppola/Getty Images Entertainment/Getty Images
Two decades after she was vilified by much of the nation, Monica Lewinsky's new Vanity Fair essay explains how she feels looking back on what became known simply as "The Monica Lewinsky Scandal." In order to participate in a new documentary that aims to flip the script — dubbing it instead "The Clinton Affair" — she had to "revisit the most painful and traumatic parts" of her life, as she put it.
Lewinsky, now 45, remembers the moment Bill Clinton appeared on TV in 1998 to exclaim from the Oval Office, "I did not have sexual relations with that woman, Miss Lewinsky." She realizes that was the instant "the demonization of Monica Lewinsky began," according to her essay, published on Tuesday.
"As it so often does, power throws a protective cape around the shoulders of the man, and he dictates the spin by denigrating the less powerful woman," she writes. But 2018 saw a shift in how men accused of sexual misconduct are viewed, and how they're questioned about their actions. For Lewinsky, this became abundantly clear when NBC's Craig Melvin asked Clinton if he owed Lewinsky an apology in June. (His answer was a swift, "No.")
"If you want to know what power looks like, watch a man safely, even smugly, do interviews for decades, without ever worrying whether he will be asked the questions he doesn't want to answer," Lewinsky writes.
Once the dust settled, Clinton was able to sit down for interview after interview without Lewinsky's name ever coming up. A rare exception to that was when Dan Rather interviewed the former POTUS in 2004 ahead of his autobiography hitting book shelves, asking why he cheated on his wife with Lewinsky, a White House intern at the time. Clinton said, "Because I could."
Although Lewinsky writes that participating in the upcoming documentary, The Clinton Affair (which premieres on A&E November 18), required her to relive a painful period of her life, she did it for the same reason — because she could. It helps that the production was led mostly by women, portraying the scandal from a woman's perspective rather than a man's, for a change.
The #MeToo movement created the space for America to reexamine how Clinton wielded the power of the White House back in the '90s. Tarana Burke told The Root last month that the affair was "absolutely" an abuse of power, after Hillary Clinton publicly commented that it wasn't. Although Lewinsky has said her relationship with the former president was consensual, the founder of the #MeToo movement explained that Bill's position automatically made the affair inappropriate.
"You're talking about an age dynamic but you're also talking about the president of the United States," Burke said. "The amount of power that is in that position alone versus an intern, it's absolutely an abuse of power."
Lewinsky is now working to regain some of her own power, in part by looking back at what happened 20 years ago and telling her side of the story.
"So, Victim or Vixen? Maybe, in 2018, it's a question we should no longer be asking," she writes.