Why Monica Lewinsky Changed Her Name To "Chunky Slut Stalker That Woman"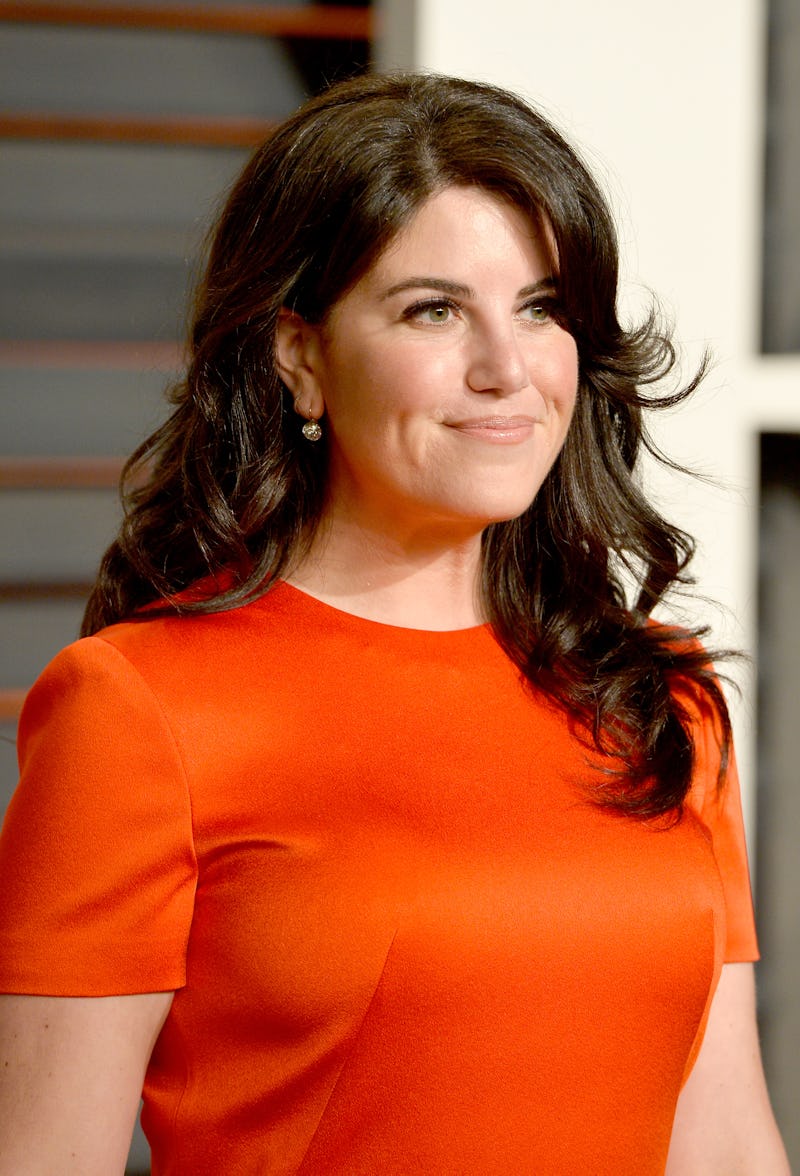 Pascal Le Segretain/Getty Images Entertainment/Getty Images
One of the United States' most prominent victims of character assassination launched a campaign against name-calling this month, and she's found the perfect way to kick it off. On Friday, Monica Lewinsky's Twitter name changed into an anti-bullying statement, now reading: "Monica Chunky Slut Stalker That Woman Lewinsky."
Her project is called #DefyTheName, and it's meant to encourage people to reclaim the insults that used to cripple them. "Name-calling is one of the most common instances of bullying behavior," she told People. "The core message is, don't let the names that other people choose to call you, define you. And don't let being bullied define your future either."
Lewinsky has gotten a long list of celebrities to join the campaign. Actress Maysoon Zayid is now "Maysoon R*tard Terrorist Skank" on Twitter; skateboarder Tony Hawk is "Tony phony squawk starvation victim bony cock Hawk"; actor Alan Cumming is "Alan Useless Cumming," and musician Questlove is "Quest superdweeb Love." Lewinsky also co-produced a video PSA for the project that features well-known figures like Sarah Silverman, John Oliver, Olivia Munn, and Lena Dunham.
Lewinsky told People that she personally "had a long list" of insults to choose from for her own username. In the end, Twitter's 50-character rule limited her; but she wants people to know that "Chunky Slut Stalker That Woman" only "just scratches the surface." The phrase "that woman" may be the one that particularly stands out to viewers; it references Bill Clinton's infamous 1998 statement, "I did not have sexual relations with that woman, Miss Lewinsky."
It's not at all lost on Lewinsky that the timing of her campaign is pertinent, as it's launching during the fallout from the sexual assault allegations against Brett Kavanaugh (all of which he denies). A lawyer for one of his accusers, Dr. Christine Blasey Ford, told CNN that her client has "been the target of vicious harassment and even death threats" that compelled her to leave home.
Ford has been widely mocked for her accusations and testimony against Kavanaugh. The Indianapolis Star ran a cartoon ridiculing the conditions she put forth for appearing at the hearing, including that she should only be questioned by senators, that Kavanaugh would testify first, and that Mark Judge would be subpoenaed (many of her demands, including these, were not met). The Indy Star cartoon made fun of her requests, giving her a speech bubble reading, "No questions from lawyers, dim the lights, I want roses, sparkling water, a bowl of green M&Ms." (The publication later apologized after facing backlash.)
President Donald Trump himself also made fun of Ford earlier this week. "'I had one beer,'" he said, mimicking her testimony. "'Well, do you think it was —' 'Nope, it was one beer.'" While the crowd cheered, he mimicked her inability to remember certain other details from the alleged assault: "'What neighborhood was it in?' 'I don't know.' 'Where's the house?' 'I don't know.' 'Upstairs, downstairs — where was it?' 'I don't know — but I had one beer. That's the only thing I remember.'"
"Certainly name-calling is something that we've seen a lot of in the last several years, but in particular in the last couple of weeks," Lewinsky told The Cut.
"My understanding is that she went to Washington with about 15 friends," she added, referring to Ford. "And I think that that's something we should all look to. I know my friends supporting me in various ways was what helped get me through things — not to compare my experiences in any way."
This article has been updated.