Here's How Many People Say They Would Rather Hang Out With Their Dogs Than Actual People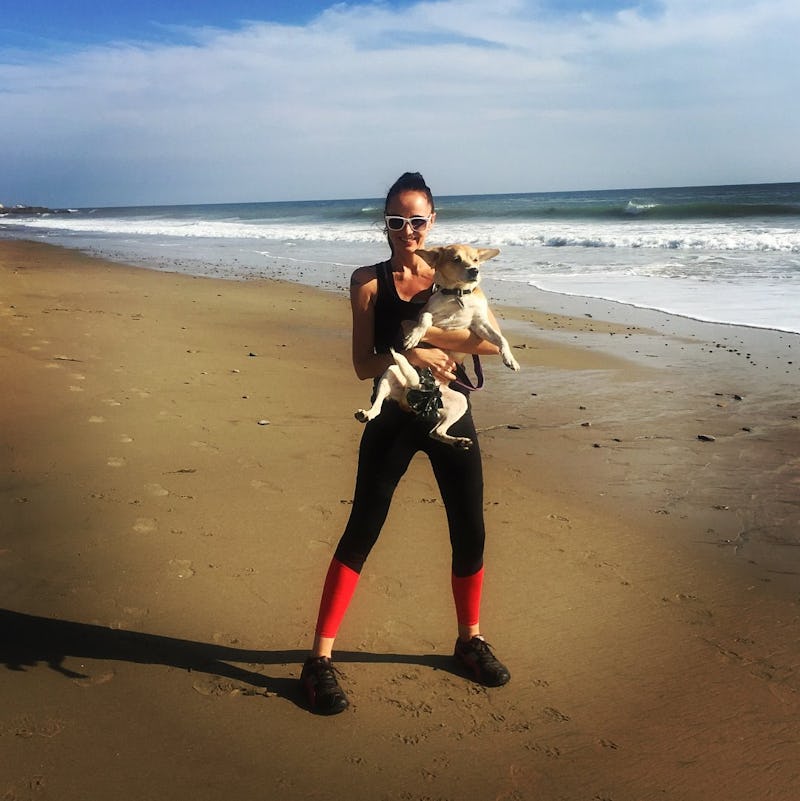 Brandi Neal / Bustle
I have a confession to make. Sometimes when I'm out with people I wish I were home with my dog instead. As it turns out, this is totally common (phew!). A new study reports that more than half of Americans decline social invitations to hang out with their dogs. I wasn't always like this; however the entire time I've had my current dog I've worked from home, and in some ways I treat her like a human child. I feel guilty for leaving her alone for more than a few hours because she's used to having me around all of the time and vise versa. I like being with her so much because she helps me relax and focus on something other than myself.
According to the study by Link AKC, a company that makes smart collars for dogs, the average dog gets their owner through five stressful events every week. "In fact, six in [10] survey takers said their dog often takes care of them in some way, shape or form, reinforcing the important two-way relationship between dogs and humans," the study reports. What's more, four in 10 people noted that their dog helped them get through the death of a loved one, and 88 percent of people said that their dog makes them a better person.
The study also reported that 82 percent of dog owners noticed an improvement in their mental and emotional health since they welcomed a dog into their life. This is true for me. I deal with depression, anxiety, and chronic pain, and being responsible for another living being has been helpful for me on more than one occasion. It also forces me to get out of bed, and out of the house, when all I want to do is pull the covers over my head.
Because dogs love to go for walks, more than two-thirds of people credit their dogs with helping them exercise more regularly with 62 percent citing that their dog gets them out of the house for a walk two or more times a day. And, 68 percent claim to have actually noticed improvements to their health as a result.
"The physical benefits of dog ownership are often the first that come to mind, but we've found the emotional and mental health benefits of having a furry companion are just as impactful," Herbie Calves, Link AKC CMO, said in a press release sent to Bustle. "People consider their dogs members of their family and are looking for ways to connect and interact with them on a deeper level." Guilty. I have even used an animal communicator to try to understand my dog better.
According to TIME magazine, "The rise of animal therapy is backed by increasingly serious science showing that social support — a proven antidote to anxiety and loneliness — can come on four legs, not just two. Animals of many types can help calm stress, fear and anxiety in young children, the elderly and everyone in between."
My roommate takes her dog to work with her every day, and honestly, one of my first considerations when considering taking an on-site job is how long it will keep me away from my dog. Basically, we resigned ourselves to the fact that the dogs are definitely in charge at our house even though they're not paying any rent. But, it's worth it because one of the best things about sharing your life with a dog are benefits like unconditional love and constant companionship, the Link AKC study reported. Seriously, no matter how many times I watch Gilmore Girls, my dog never complains.
"Dogs are also great listeners. 81 percent of responders said they talked to their dog like they were a friend, and single responders were two times as likely to talk about relationship problems with their pooch," the study noted. "Turns out, there's no better confidant than a dog [with] 73 percent saying they tell their dog things they wouldn't tell anyone else." And, whether it's aerobics or watching Netflix, dogs also love to join their humans in whatever activity they're doing.
Additionally, 90 percent of people said their dogs make them feel safe. This is true for me. My pup is a rescued street dog from Puerto Rico. Despite being small, she is fierce, stubborn, scrappy, and incredibly protective, which makes me feel more secure about living in a neighborhood that's not super safe. Because she wants a job, she has appointed herself as the protector of major threats like the mailman, the UPS delivery driver, plastic bags, skateboards, shopping carts, Halloween decorations, and anyone who dare try to deliver food.
For all of this hard work, dogs earn a lot of loyalty. When it comes down to a person or a dog in a relationship, the canine companion is the clear choice with 80 percent of participants in the Link AKC study noting that a potential romantic partner not liking their dog is a deal breaker. What's more, 78 percent of people admitted to making life decisions based on their dogs; more than 50 percent of people said they decline social invitations to spend time with their dogs; and 75 percent reported that they don't like being separated from their dogs at all. This is me all day. The bottom line? For most dog parents, the phrase "love me, love my dog" is non negotiable.