This Top Fashion Designer Just Released An ENTIRE Collection Inspired By The Circus & It's A Lot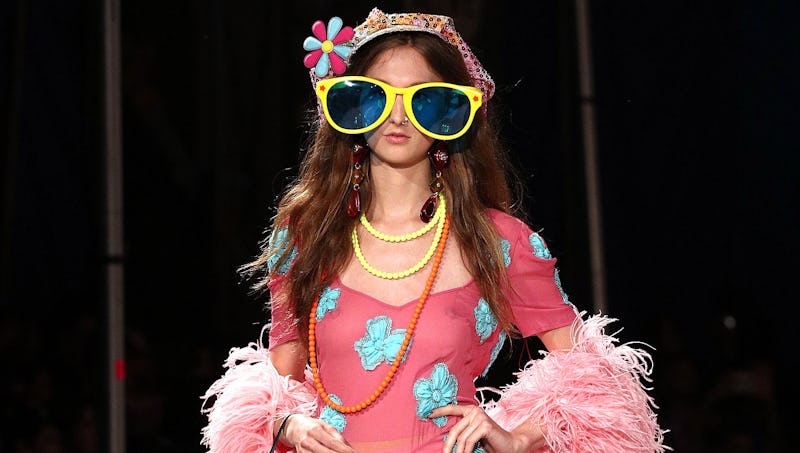 Frederick M. Brown/Getty Images Entertainment/Getty Images
When it comes to runway shows, some designers like to put on a real performance. Nothing was more true about Jeremy Scott's Moschino Spring 2019 collection, where the designer literally brought the circus into town. Showed in Los Angeles, the affair was held in a big top tent complete with stilt walkers and cotton candy vendors, giant plush tigers in cages and artists knotting balloon animals for the front row VIPs. It was like being transported back into the 1930s when Strong Men with handlebar mustaches were plastered on posters and acrobats in glittering leotards flew across the red and white striped ceilings. And in the center of it all was Scott, who was the ring leader of the show.
"I see my role in fashion as bringing the fun," Scott told Vogue. "And what could be more fun than a circus?"
He opened up the show like a true ringmaster, shouting into the crowd, "You will see death-defying acts of glamour/ You will see beading and embroidery never before attempted in a setting like this." And this was, by far, one of his most extensive collections for the label, where a whopping 89 looks walked down the runway.
There were ringmaster inspired jumpsuits with gold embroidery and red coat tails; plaid ties that dragged to the knees paired with over sized blazers and industrial boots; absurdist-inspired bathing suits with swirls of birds, and cartoon-like dresses that bent into exaggerated skirt shapes. But even though it all looked so surreal and almost unwearable, Scott asked the audience to look past the pageantry and notice the individual staples. "But take away the ties and the top hats and you see there are pieces here," Scott shared with Vogue.
Grab your bucket of popcorn and check out some of the most spectacular pieces below.
Take your sunbathing to new heights this resort season by stretching out in a blue ruched one piece engulfed in doves. It almost looks like a surrealist painting René Magritte created, and that's part of its charm.
Take the spot of a lion tamer in this bedazzled tiger striped tracksuit, complete with half-laced industrial boots. Draping a leopard plushie over your shoulders is optional, but encouraged.
Bring out the clowns with knee-hitting plaid ties and acidic-hued pants tucked into boots. But while this all might feel extra when paired together, you can easily see the everyday pieces underneath. The over sized blazer with the suspenders would look great paired with jeans, and the coral boots would be a great addition to any shoe closet.
The retro Strong Man has arrived, complete with an off the shoulder leopard leotard.
Reminiscent of Comme des Garçons Fall 2012 Ready-to-Wear collection that took 2D shapes and reworked them into our three-dimensional world, this clown dress has cartoon-like proportions — and looks like the perfect party dress for a special night.
This tulle and silk cape has some definitive magician vibes attached to it.
Introducing the newest genre in fashion, "clown chic." While it might look cheerfully over the top, you have to admit that it has some serious Fran Fine vibes that anyone would be happy to copy.
To finish off the big show, Scott wanted to be blasted out of a canon like in the old times, but "it was going to take eight months of training and I didn't have the time," he shared with Vogue. Instead, RuPaul's Drag Race alumni and burlesque performer Violet Chachki did an aerial acrobatic finale, making it one of the most memorable shows of the resort-wear season.
When it comes to showmanship, Moschino always hits the mark.