The 'Mr. Robot' Season 3 Trailer Finally Answers This Burning Fan Question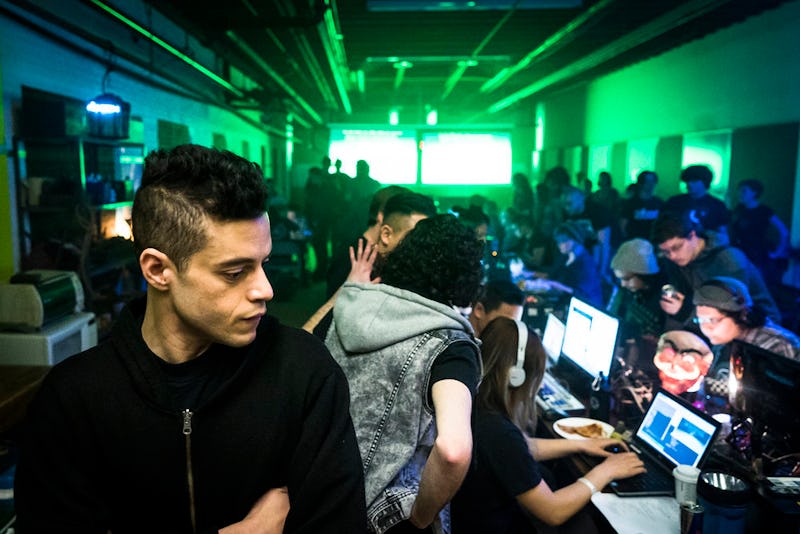 Michael Parmelee/USA Network
Zip up that black hoodie and start planning the revolution, because the first official Mr. Robot Season 3 trailer is here. It's stuffed full of tasty tidbits, including new characters, old favorites, and lots of Dark Army action. But the most tantalizing part is how the trailer answers the Mr. Robot Season 2 finale cliffhanger, which saw protagonist Elliot Alderson shot by his co-conspirator Tyrell Wellick. The third season probably isn't going to make viewers wait around for a couple of episodes to reveal whether or not Elliot is alive (cough, Game Of Thrones, cough), because the antisocial hacker is shown alive and well in the new footage.
Obviously, Mr. Robot was never going to kill off Elliot. Rami Malek is the eccentric, beating heart of the series — not to mention a recently anointed Emmy Award winner. But what's fascinating about the Season 3 trailer is the way it dispenses with the mystery of Elliot's fate, while somehow raising even more questions about what his survival means for the show.
The trailer starts with the familiar beeping sounds of a heart monitor. Intriguingly, the only person shown lying in a hospital bed is not Elliot, but rather his alter-ego, Mr. Robot. Meanwhile, Elliot himself is seen recovering at home under the care of his BFF Angela.
Has Elliot once again fabricated a reality to help cope with a traumatic situation, like when he imagined his prison as his mother's house in Season 2? Has he locked Mr. Robot inside a fabricated hospital room while he recovers in the real world? (That would explain why a visibly terrified Mr. Robot is seen scrawling a message on a bathroom mirror later in the trailer.)
The reveal of Elliot's fate also doesn't answer the question of whether Tyrell is real — not definitively, anyway. The implication in the Season 2 finale was that Tyrell could only have shot Elliot if he was real. But what if Elliot's psyche is so broken that he just ended up shooting himself? Tyrell isn't seen interacting in person with anyone besides Mr. Robot in the trailer. And when Tyrell says that Elliot was acting like he was a "different person," Angela responds, "You're right. He sometimes can become a different person," which could either be Angela talking to Tyrell, or Angela knowingly talking to one of her friend's split personalities.
The final question is, what does Bobby Cannavale's new Mr. Robot character have to do with all of this? The Boardwalk Empire actor was previously announced to be playing Irving, a "used car salesman" — but it's clear from this footage that there's more to Irving than that unassuming description. In fact, the trailer seems to indicate that Cannavale's character is affiliated with the Dark Army. He's seen with two masked gunmen just as Darlene is heard saying that the Dark Army has turned on fsociety, and that seems like a pretty good hint.
"This is your moment," Irving says in his one line of dialogue. "You cannot turn away now." But who is he talking to? Elliot? Mr. Robot? Tyrell? White Rose? Whose side is he really on? Elliot may be alive, but he and the rest of fsociety are still very much in danger as Mr. Robot returns. Find out what happens next when Season 3 debuts on Oct. 11.