HBO Is Officially Developing 'GoT' Spinoffs (Yes, Plural)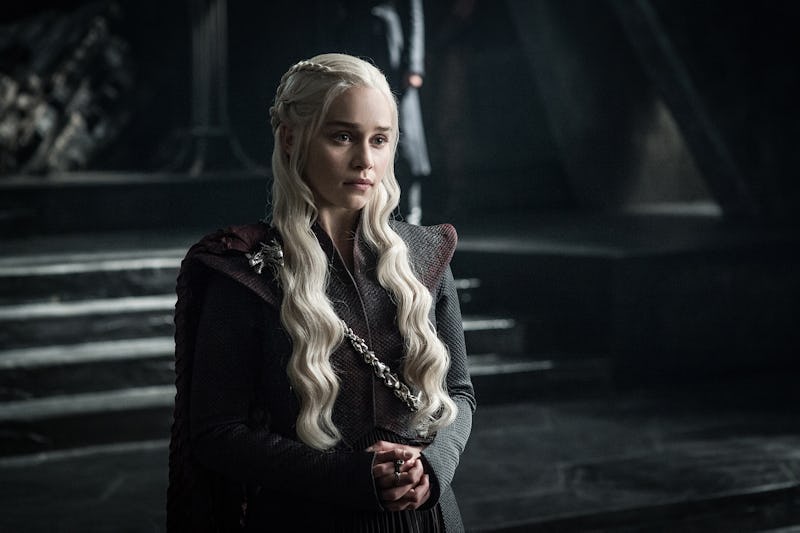 Helen Sloan/HBO
Are you dreading the end of Game Of Thrones after only two more short seasons? Well, dread no longer… since Entertainment Weekly has revealed that not one, not two, not even three, but reportedly a whopping four Game Of Thrones spinoffs are being developed at HBO. There may only be 13 episodes left in the original series, but it appears like winter will still be coming for many more years yet. Praise R'hllor!
Of course, HBO appears to be remaining unsurprisingly mum on specifics for the time being. The only detail the network was willing to divulge was that these four potential projects will "explore different time periods of George R. R. Martin's vast and rich universe," according to EW.
They also announced who's working on these GoT spinoffs: Martin himself is involved in two of the projects alongside Jane Goldman (X-Men: First Class) on one and Carly Wray (The Leftovers) on the second, while the other two are being developed by Brian Helgeland (L.A. Confidential) and Max Borenstein (Kong: Skull Island). GoT showrunners David Benioff & D.B. Weiss reportedly won't be writing any of the potential spinoffs, although they will remain as executive producers on whichever projects are ultimately picked up to series.
It remains unclear whether HBO is committed to all four of these spinoffs, or whether they're developing competing ideas in some sort of bake-off. EW reports it's possible that some of the projects could eventually end up on the air as one-off miniseries rather than as an ongoing series, and that the ultimate combination of how many and what form they take depends on the quality of the scripts that are submitted — although HBO is reportedly determined to find "at least one" replacement for its flagship drama.
"There is no set timetable for these projects," HBO said in a statement to EW. "We'll take as much or as little time as the writers need and, as with all our development, we will evaluate what we have when the scripts are in."
No word yet on what the spinoffs will be about or which characters they will follow, but HBO's promise to "explore different time periods" hints that some could explore the ancient history of Westeros and Essos (like Aegon's Conquest or the Doom of Valyria), some could take place in the more immediate past (like Robert's Rebellion, which led directly to the events of GoT), or even in the future (a Game Of Thrones sequel, anyone?).
Whichever spinoffs end up getting the green light, let's just hope they have the necessary ingredients to be a worthy successor to GoT: namely, complex three-dimensional characters played by top-notch actors in a story with a rich sense of history and high production values that constantly subverts its audience's expectations in the best (and worst) ways possible.
Even without a plethora of details, this particular piece of news is definitely thrilling for the millions of Game Of Thrones fans out there… and one that they'll surely be keeping their eyes on for updates in the months to come. HBO has set a dauntingly high bar for themselves when it comes to this franchise; whichever project (or projects) they move forward with will undoubtedly be subject to the most severe scrutiny. To them, I can only say: good luck — and valar morghulis.