Darren Criss Is A New Take On Music Meister In 'Supergirl'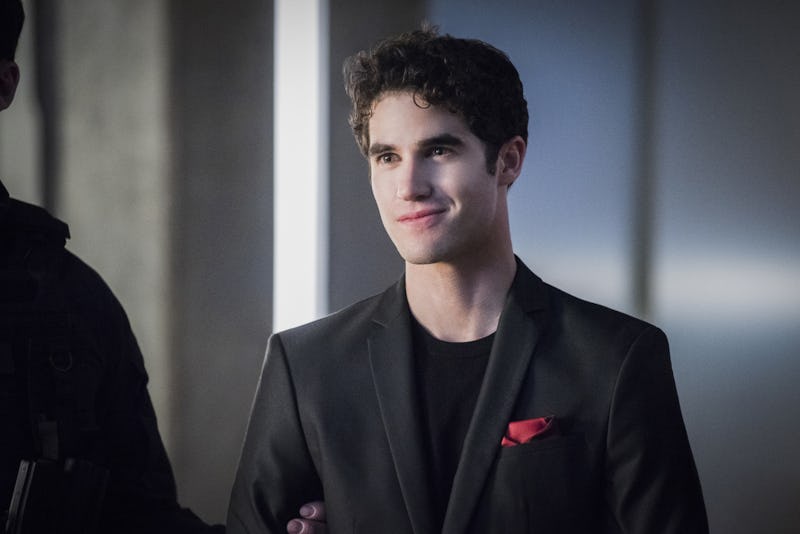 Dean Buscher/The CW
Another crossover is coming to The CW's DC universe, this time spurred on by another new Supergirl Season 2 villain, the Music Meister. It may seem too good to be true that there's a villain who would make former Glee stars Melissa Benoist and Grant Gustin belt out a few tunes, but turns out, the Music Meister actually comes from DC Comics. On Supergirl and The Flash, he'll be played by another Glee star, Darren Criss, and he'll use his reality-bending powers to send the heroes to a parallel reality where they have no powers and express their emotions through song.
However, from what's already known about Criss' character, it seems that he's a little different than previous versions of the villain. The Music Meister is actually one of few characters who is featured in DC Comics, but didn't originate there. Instead, it was an animated TV show that first introduced the Music Meister. In "Mayhem of the Music Meister!," a 2009 episode of Batman: The Brave and the Bold, an eccentrically dressed and masked villain who can control others by singing to them appears to take control of a half-dozen powerful characters in order to commit crimes.
The character makes lots of classic Broadway references, from The Phantom of the Opera to West Side Story, and he's voiced by frequent Broadway performer Neil Patrick Harris. Not only can the Music Meister control heroes and villains with his voice, he also makes them sing their deepest desires (in the episode, it's expressed by Black Canary voicing her long-held romantic feelings for Batman).
His oversized suit and fedora are accompanied by a conductor's baton that shoots out zaps of energy in the shapes of musical notes, something that does not seem to be echoed in the design of the Supergirl/Flash character, who has a rather simple black suit. But the character's mood swings and love for theatricality seem like they would work perfectly in this upcoming crossover.
After his appearance in the TV series, the Music Meister made the jump to The All-New Batman: The Brave and the Bold comic books, where he appeared in a single issue, about Bat-Mite having a crush on Batgirl. When he appears at the end of "Starcrossed" on Supergirl, Criss' version of the character will be the next major appearance of the Music Meister. And even though he looks like he'll be a little different than Batman: The Brave and the Bold's version, Music Meister should be the perfect addition to The CW's growing stable of DC villains.