Gerard Way Is Back With A New Project — Comic Books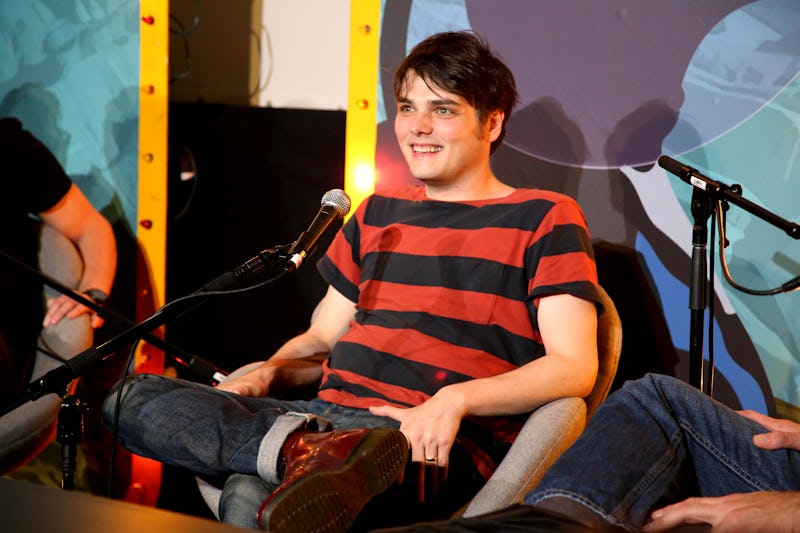 Rachel Murray/Getty Images Entertainment/Getty Images
More than a year after DC Entertainment revealed that the former My Chemical Romance frontman Gerard Way would be curating the publisher's Young Animal imprint, the first volume of Doom Patrol, illustrated by Nick Derington and colored by Tamra Bonvillain, hit store shelves in June. Comprising the first six issues of Way and Derington's 2016 reboot of the series, Doom Patrol, Vol. 1: Brick by Brick is currently the No. 1 New Release in DC Comics & Graphic Novels on Amazon. Way and Derington sat down last week for an interview with Bustle about the making and meaning of Doom Patrol.
If you've never heard of Doom Patrol, you are not alone. I had never heard of this cult comic until the Young Animal announcement in April 2016. Here's a short primer on the series' history and its influence on Way's plotline.
The first Doom Patrol volume — comics-industry speak for a particular series under a particular author, in this case Arnold Drake — ran from 1963 through 1968, followed by a short stint from Paul Kupperburg in the late 1970s and early 1980s. Doom Patrol's second volume came from three authors — Kupperberg, Grant Morrison, and Rachel Pollack — and doubled-down on the series' innate weirdness by adding a number of wacky characters and storylines.
The story focuses on a group of superheroes who are all damaged or outcast in some way. Cliff Steele, A.K.A. Robotman, has a human brain encased in a metal body. Larry Trainor, A.K.A. Negative Man, survived exposure to a radioactive field that left him permanently radioactive and able to discharge negative energy from his body. Crazy Jane has an extreme case of dissociative identity disorder that results in 63 of her personalities, each with a different superpower, joining forces against her primary alter.
Doom Patrol by Gerard Way, illustrated by Nick Derington, $12.21, Amazon
Way and Derington, who have taken over as the creators of Doom Patrol's sixth volume, have revived many of Morrison's characters and added some of their own. Way says that "the biggest advantage" of working on a cult comic like this one — as opposed to one of DC's more mainstream properties, such as Wonder Woman or The Flash — "is that you don't get death threats."
"It's cool because you have more freedom," Way tells Bustle. "When you've got a cult group of characters that have remained cult characters, DC is really very open to anything you really want to try with them, so that's like a great thing for Nick and I.
Derington adds: "With something like Batman and Superman, they're probably like American mythology at this point. They're very delicate flowers. But Doom Patrol has like a long legacy of being experimental and people doing weird — taking chances with it. It's big enough that people care, small enough that you can go wild with it and be allowed to screw up even."
Way and Derington certainly haven't screwed up Doom Patrol, but their approach may put off readers who aren't ready for the weirdness. To be perfectly honest, the first three chapters confused the hell out of me, and I'm used to reading comics and "out there" fiction in general. Go with the flow, though, and you'll find that Way and Derington — each of whom is both a writer and an artist — have crafted a deliciously weird story that just took a few pages to set up. By the time Doom Patrol, Vol. 1: Brick by Brick ends, you'll be begging to see where the titular band of misfits will take off to next.
Doom Patrol opens with EMTs Casey Brinke and Sam Reynolds saving lives in their ambulance, but the first three chapters quickly introduce a number of other, seemingly disconnected characters. There's Ricardo, a resort employee-turned-squatter who just wants to find some guy named Danny; Terry None, who becomes Casey's new roommate after killing her old one; Fugg, Casey's sidekick; and the Vectra, an alien race who have found a way to produce an infinite supply of strange meat.
The nature of comics being what they are, Way and Derington have the freedom to pull from more than 50 years of DC Comics history for Doom Patrol. But that also means that the original characters they've created — such as Casey and Fugg — aren't really theirs to keep. Regarding his new heroine, the "way-in" to this volume, Gerard says that he "was actually hoping that maybe in 10 [or] 15 years someone uses Casey Brinke for something." By adding Casey, Fugg, and the rest to the Doom Patrol lineup, the duo are "making [their] toys and throwing them into the sandbox for other people to play with down the line," Derington says.
Speaking of which, can we talk about Fugg for a minute? The mere sight of this little guy made me so ridiculously happy when he popped into Casey's world, and he'll be utterly familiar, by design, to anyone who ever watched an '80s superhero cartoon. The cuddly creature, who looks like a combination of Kowl and Gizmo, can only say "Fugg," giving him a Pokémon/Groot feel that just makes you want to hug him. To get around this speech quirk, Derington — who lists Fugg as one of his favorite Doom Patrol characters — put a cassette player in Fugg's chest, as an homage to Teddy Ruxpin, so that he can play Casey's instruction manual on the go.
In the afterword to Doom Patrol, Vol. 1: Brick by Brick, Way writes about how Morrison's run on Doom Patrol saved his life:
The Doom Patrol was the first superhero team I ever saw participate in a group therapy session. In fact, the scene, in issue #35 of Grant Morrison and Richard Case's run, was the first time I had seen anyone in group therapy — something I probably would have benefited from later in life, considering all the time that my fox-hole friends and I spent spitting mad in a van, clawing off our own skin. ... It spoke to my young, frustrated, emotional soul on a deep level. It opened my eyes to mental health (something I would learn the hard way to take care of) and softened my heart enough to begin receiving love. It started me on a path to becoming more accepting of things and embracing the differences we have as human beings. In short, DOOM PATROL made me a better person. It sounds pretty dramatic for a comic book, but that's what it did to me.
Doom Patrol, Vol. 1: Brick by Brick touches on everything from the harrowing efforts of EMTs, and the way our creations — be they children, artworks, or something else entirely — have lives outside of our reach, to the voids left by absentee parents, and how terrible circumstances can bring people together — all themes related, in some way, to how interconnected we are as a society. I wondered if Way and Derington wanted to bring the same life-saving quality Way saw in Morrison's Doom Patrol to their incarnation. Way says:
It's more about what people needed as opposed to saving lives. I felt that they really needed an experience and a dose of positivity and optimism ... just something fun and weird, but something with a lot of heart. I think all of these things went into Doom Patrol. So, I mean, I would love it if really at the end of the day Doom Patrol and the Young Animal books inspired others to make their own comics, do their own thing. And I think that's the main thing, not so much that it's going to bail anybody out. But you never know how the work is going to affect somebody.
Doom Patrol, Vol. 1: Brick by Brick is available now at your favorite bookstore, but the next trade-paperback volume of Doom Patrol won't be available until early 2018. Don't worry, though, you'll still be able to get your hands on the Doom Patrol's latest adventures once you've closed the cover on Brick by Brick. Casey, Cliff, and the gang return in Doom Patrol No. 7, out this July from DC Comics.