Swatches Of Nails Inc's Unicorn Nail Polish Will Blow Your Mind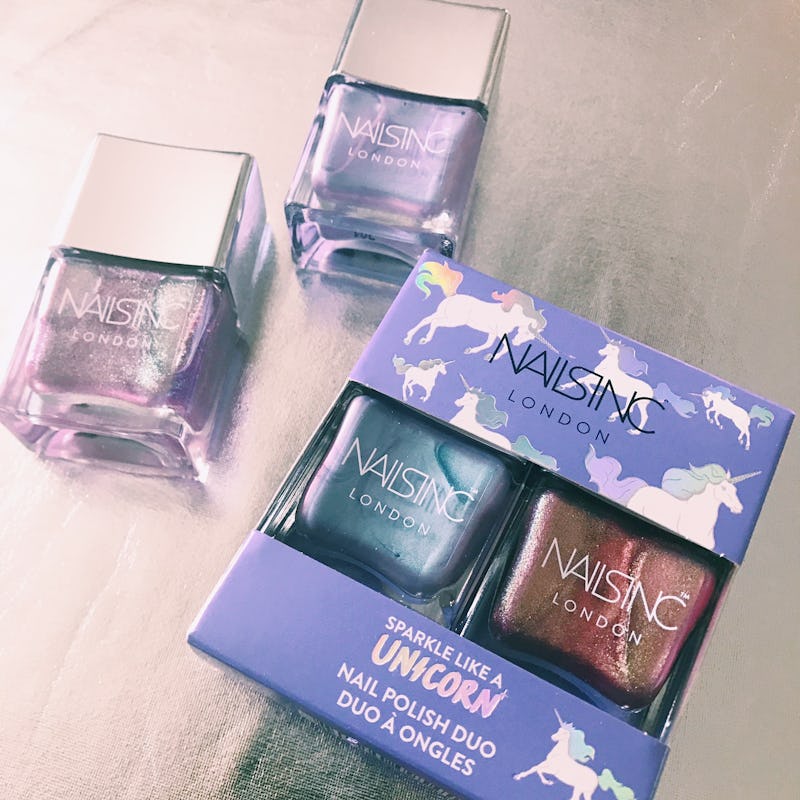 For me, beauty trends are split into two categories: there are the ones that are fun to look at and others that are fun to try yourself. Nails Inc's Unicorn Nail Polish combines the two in the best way possible. You might have seen pictures of the gorgeous polish floating around the internet already. I tried out both of the sparkly nail colors, and it turns out that they're even better in real life than they are in photos.
The unicorn beauty trend is picking up some serious momentum lately. There are magical makeup brushes, highlighters, and even over-the-top sneakers. But if you're looking for a simple way to nail the trend, Unicorn Nail Polish is it. Take it from a girl who barely steps out of her comfort zone, this is one beauty buy that you'll won't want to miss.
Nails Inc's Sparkle Like A Unicorn Nail Polish Collection comes with two shades — Dream Dust and Rainbow Wishes. The first is a gorgeous rose gold glitter that looks absolutely gorgeous in the sunlight, which is where the unicorn-ness comes into play. I don't know how Nails Inc. did it, but the polish instantly transforms your nails into unicorn horns.
The original launch date on the collection was Apr. 18. According to the brand, there was such a high demand for the product that they released it early on their site, and — get this — the Sparkle Like A Unicorn Set sold out on the first day. The Nails Inc. site might say that the duo is sold out, but there's still another way to get your hands on it. The Unicorn Nail Polish will be available on the Sephora website on Apr. 18.
Considering that the set is only $15, it doesn't surprise me that it flew off the virtual shelve, not to mention how gorgeous the colors are. Rainbow Wishes was by far my favorite of the duo. With two coats, the unicorn-inspired nail polish is instantly iridescent. It doesn't matter if the sun is out or not, you'll see this shine.
Rainbow Wishes might be my favorite, but that doesn't mean that Dream Dust isn't just as stunning. The color is pure rose-gold glitter. It really is magical. Out of the two shades, this is color that lasts the longest on the nails. I wore this for an entire week without it chipping, and when I went to take it off, it was hanging on for dear life.
This might be described as glitter, but it doesn't come off like the typical chunky formulas out there. This goes on smooth and when you apply a top coat, your nails feel just as slick as with typical nail polish. It's a polish that will make your inner-child happy, but also look polished on a night out.
In my honest opinion, this is well worth the full $15 for the polishes. I would pay way more than that to get this unicorn look. Like I said, I'm not one to jump on crazy beauty trends, but this is one that I will be rocking even after it goes out of style.