Yes, Nancy Pelosi Is Seriously Going To Be On 'Drag Race'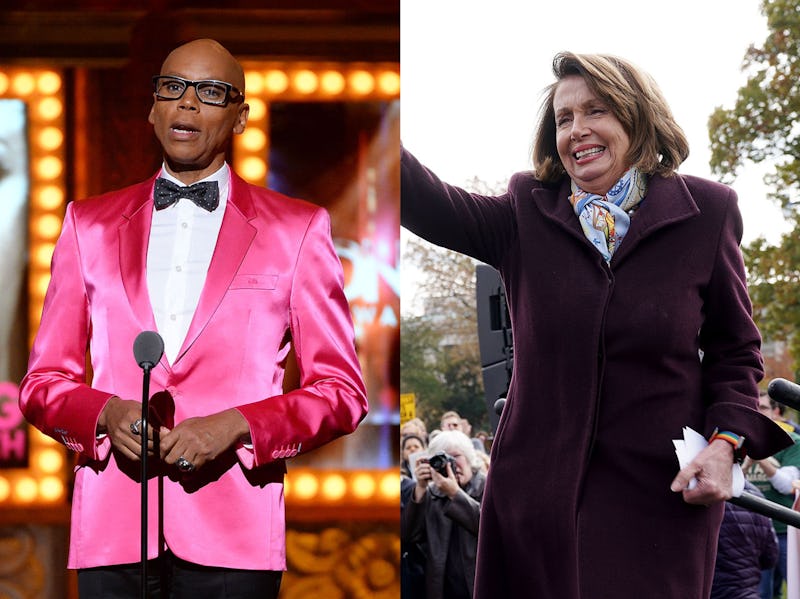 Theo Wargo/Getty Images Entertainment/Getty Images; Chip Somodevilla/Getty Images News/Getty Images
RuPaul has welcomed plenty of superstar guest judges over the course of his reality show Drag Race. From pop stars like Lady Gaga and Kesha to models and living legends (hello, Paula Abdul), dozens of celebrities have joined him during the show's nine seasons and counting. But when it was announced that House Minority Leader Nancy Pelosi will guest judge RuPaul's Drag Race All Stars, it was a pretty big surprise for everyone.
This marks the first time a major political figure will appear on the show. And even the most devoted RuPaul fan would probably have had a hard time predicting Pelosi as a future guest judge. The only comment RuPaul has previously made about Pelosi was not exactly complimentary. Referring in 2010 to contestant Jujubee, RuPaul said she looked just like Nancy Pelosi, except Juju "can move her forehead." Ouch.
That comment didn't stop Pelosi, as she will appear along with the rest of the guest judges on the third installment of RuPaul's Drag Race All Stars. Joining the Democrats' highest-ranking House member will be Vanessa Hudgens, Tituss Burgess, Kristin Chenoweth, Marc Jacobs, Shay Mitchell, Chris Colfer, Vanessa Williams, Adam Lambert, Constance Zimmer, Emma Bunton, Todrick Hall, Garcelle Beauvais, Jeffrey Boyer-Chapman, and Nicole Byer.
The success of Drag Race has come as a surprise to some. The 56-year-old host has been a one-name cultural figure since the 1990s, when he released his debut album, Supermodel of the World, and subsequently starred in his own titular show, The RuPaul Show.
In a 2014 interview with the New York Times, RuPaul Charles opened up about what happened to his career in the early aughts. After Sept. 11, Charles said, "I could feel the wind change." The cultural tide had shifted, according to Charles. So he put aside show business, at least for the time. "The same way that very few animals were harmed in the tsunami," he said. "They knew in advance to head up the hill."
But Charles told the Times that he'd had the idea of Drag Race for a while by the time he finally pitched it in 2009 to its original network, Logo. Since then, the show has garnered a sizable cult following, fans who will know the Drag Race lingo. (RuPaul sends the contestant who has been cut from each week's episode off with the imperative, "Sashay away.")
Drag Race contestants are judged on four fronts: charisma, uniqueness, nerve, and talent. Given her long career in politics, Pelosi should be a good judge of those qualities.
Twitter reactions to the news of Pelosi's guest judge gig generally indicated surprise, with some mixed approval.
According to Emily Heil, a reporter for the Washington Post, a representative for Pelosi said she'd taken the guest judge spot in order to show "solidarity with the LGBT community in the face of Trump attacks." A spokesman for Pelosi said she'd had "a fabulous time" shooting the show.
Pelosi represents California's 12th district, which includes San Francisco. The top-ranking House Democrat has been a long-time supporter of LGBTQ rights, and is reportedly a fan of RuPaul's Drag Race.
And while this will be Pelosi's first appearance on a reality TV show, the congresswoman has previously played herself on 30 Rock.
Drag Race All Stars will premiere Jan. 25 on VH1.