Nando's Have Finally Put Gravy On The Menu For Christmas 2018, But There's A Twist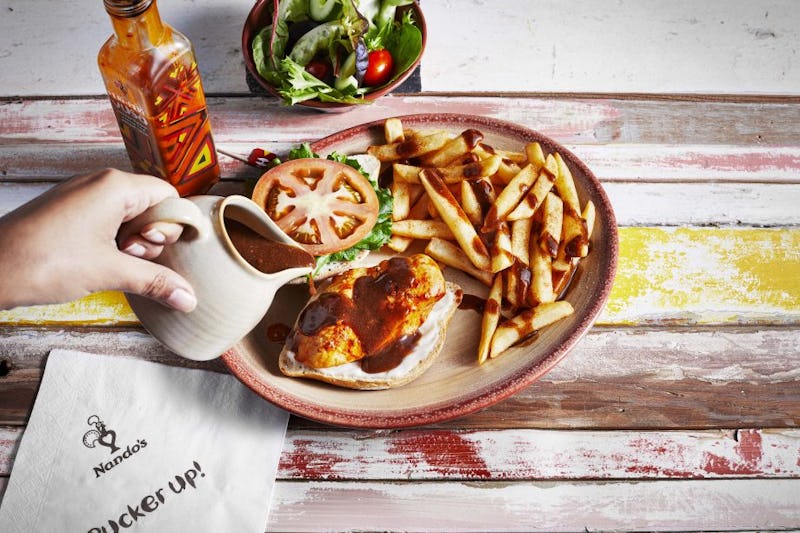 Nando's
Right stop whatever you are doing, put on some stretchy trousers, and get thee down to Nando's. It's officially Christmas time and the team over at Nando's are doing what all great food chains are, and getting a delicious, limited edition festive menu a go go. So, what sort of thing would a chain famed for its peri peri sauce, chicken, and zingy sides go for to cash in during the Yule tide season? Peri peri turkey? Spicy stuffing rice? Cranberry pita? Nope Nando's Christmas menu includes peri peri chicken gravy.
WTF OMG LOL ROFL! GRAVY! Whoo. Now, sorry, enough of the acronyms, I just couldn't get me words out.
After fans of the Portuguese chicken chain have long bemoaned the lack of gravy, they have finally buckled and put it on the menu. Ah yes, nothing says Portuguese cuisine like lashings of gravy, all over every bit of your meal. One second no... no, it is not very Portuguese at all is it? OK, let's call it fusion. And at only £1.25 for a decent sized jug of the stuff, as the Evening Standard reports, be under no illusion, this is fusion you can afford babes. I guess the idea is that it's big enough to share. But don't worry, I won't make you do that.
Those who are head over heels for Nando's are basically losing it. And when you think about it, chips and gravy are basically a British institution. Yes, hump off poutine, the UK does the best chips and gravy around. In fairness, a lot of customers have been low key confused by the lack of the deliciously hot and brown sauce. And this ain't just gravy. Oh no, it is hailed as "rich and warming, with fiery, herby notes."
So this particular condiment based news has basically set the internet on fire. And y'all, it is only available December 3rd to December 23rd so you need to fill up your damn boots while you can. According to Nandos HQ it is "perfect for cold winter days and nights, in the build-up to Jolly Old St. Nicholas."
Gravy is to Christmas what sweets are to Halloween. I want so much that I might potentially be sick at some point but that is also fine. As of yet , this is the only festive item Nando's has announced.
However considering the actual elation of customers re this news, I have an odd feeling that this particular side might be made more permanent.
The annual limited Christmas menu has become a bit of a hot trend with food chains across the UK. I mean who doesn't love a limited edition right? Brands like McDonald's, Pret A Manger, Eat, Greggs, Pizza Express, and even Subway have launched their own Christmas menus. As well as supermarkets like Sainsbury's, Tesco, and Waitrose launching their very own special Christmas sandwiches and snacks for people to hang a fang on over this Christmas period.
Although it remains to be seen how this gravy will do, I have an odd feeling that it is going to be an absolute roaring success.