NASA Forgives Mike Pence For Getting Handsy With Its Space Hardware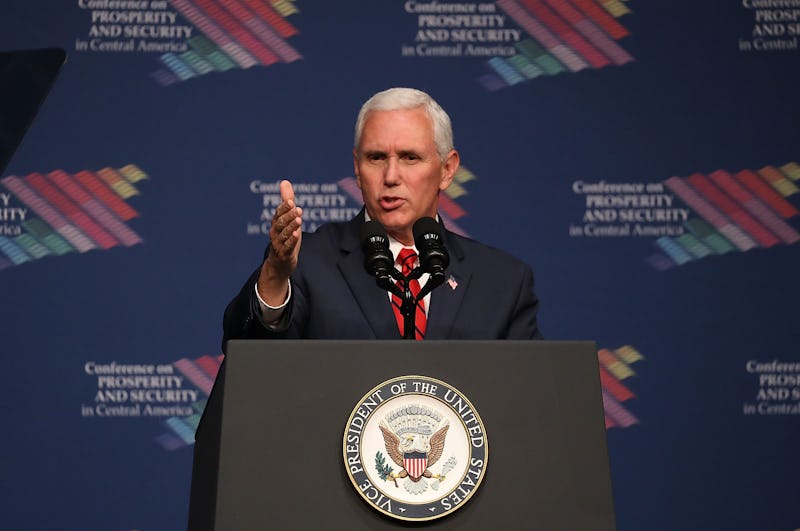 Joe Raedle/Getty Images News/Getty Images
On Thursday, Vice President Mike Pence visited NASA's Kennedy Space Center in Florida to discuss the current administration's plans for Space Exploration, where he was caught placing his hand on space equipment, deliberately ignoring a sign that read "Critical Space Hardware: Do Not Touch." Soon after, the VP tweeted an apology, and now, NASA has responded to the tweet from Pence with forgiveness, and some say, a little bit of shade. "It was OK to touch the surface. Those are just day-to-day reminder signs," the NASA tweet read. "We were going to clean it anyway. It was an honor to host you!"
Unsurprisingly, given the nature of the internet, once the photo of Pence touching NASA equipment leaked, the multiverse of Twitter exploded with NASA-Pence memes.
But Pence appeared to be in on the joke, too. He apologized to NASA in a tweet on Friday, blaming Florida Sen. Marco Rubio for his mishandling of space equipment. "Sorry @NASA," Pence wrote. "@MarcoRubio dared me to do it!"
Soon after Pence posted his apology, NASA tweeted its forgiveness. Later, a spokesperson for the agency Jen Rae Wong posted a statement about touching the hardware. It read:
The signs are there as a day-to-day reminder, including the one visible on the titanium Forward Bay Cover for the Orion Spacecraft. Procedures require the hardware to be cleaned before tiles are bonded to the spacecraft, so touching the surface is absolutely OK. Otherwise, the hardware would have a protective cover on it like the thermal heat shield, which was nearby.
Adding to the humor in the situation, Rubio quickly responded to Pence's tweet on Friday, admitting that perhaps he did egg the vice president on, but not without fair warning. "In fairness, I warned @VP that "you break it, you own it," tweeted Rubio.
The photo capturing Pence putting his hands where he wasn't supposed to spread quickly across the internet, and spawned dozens of memes.
Pence, too, joined in on the fun. Right after posting his initial apology, Pence elevated the bit by tweeting a photoshopped meme of him touching a porcupine. His caption for the tweet conceded, "Okay, so this isn't the first time this has happened."
Perhaps because we are all made of star stuff, Pence was attempting to communicate with the particles of his ancestors through this space equipment. We may never know.
Nonetheless, it appears the potential drama between NASA and Pence has resolved itself for now. That is, until the next meeting.