NastyHands Hand Cream Helps You Stay Moisturized For The Resistance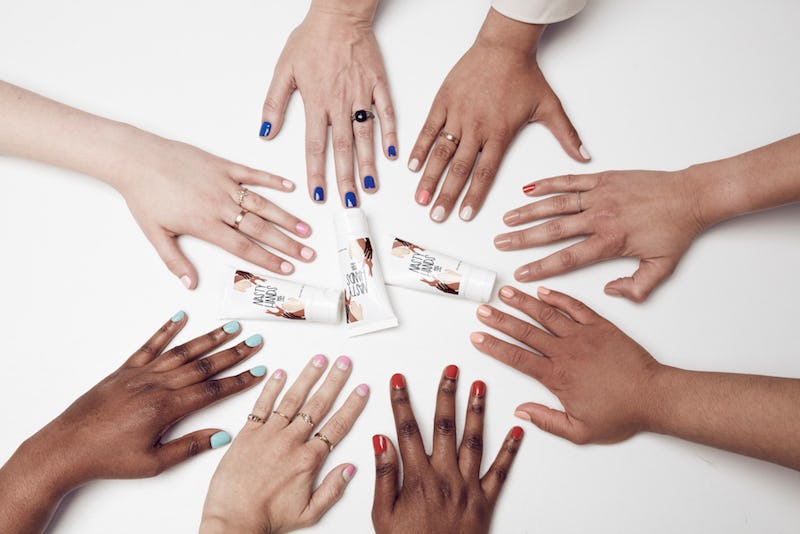 Aside from common side effects that include (but are not limited to) anxiety, insomnia, and just being royally pissed off in general, there's one annoying result of today's political and social climate that we don't talk about: Dry hands. All of that "sign-carrying, glass-ceiling-shattering, and opinion-piece-penning" does a number on 'em, as stated by a new hand cream brand specifically designed for the resistance. Meet NastyHands hand cream, your new skin savior for 2017 (and beyond).
Created by a team of female entrepreneurs, NastyHands is easy to use. The four steps are as follows: Grab the cream, apply to hands, rub in, and raise them high. That last bit is important — it serves as NastyHands' tagline, and it's printed on the front of the bottle in case you need a reminder.
100 percent of the net proceeds from Nasty Hands will go toward one of three incredibly important organizations: NARAL Pro-Choice America for women's reproductive rights, The Hetrick-Martin Institute, which works for LGBTQ youth empowerment, and the ACLU, which supports human rights from many different angles. You can choose which organization you want your purchase to support at checkout.
NastyHands will go for $15, and it drops officially on June 14 on nastyhands.com (but it's available for pre-order now).
NastyHands Hand Cream
NastyHands Hand Cream, $15, NastyHands
Buy it for yourself or a dedicated activist in your life, because you know they need stay ~moisturized~.
Another tip for use? Keep it in your purse, on your bedside table, pretty much wherever you're going to see it all the time in case you need a reminder (or even just a little encouragement).