'Stranger Things' Fans Will Love Natalia Dyer Opening Up About BF Charlie Heaton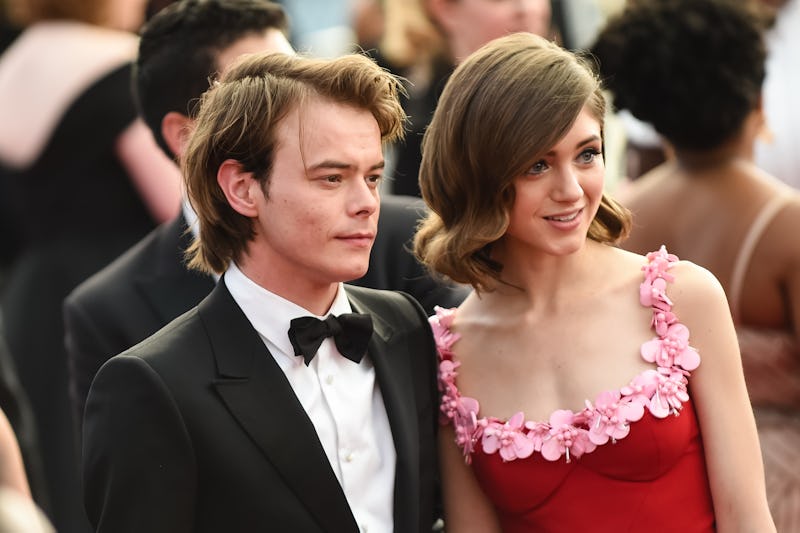 Emma McIntyre/Getty Images Entertainment/Getty Images
This Stranger Things couple keeps getting cuter, and the proof is in the way Natalia Dyer talked about Charlie Heaton at the 2018 SAG Awards. At the award show, Us Weekly asked the 21-year-old Netflix star what "she loves best" about Heaton, who plays her on-screen love interest and who she was first rumored to be dating in September 2016. "He's alright I guess. He doesn't mess up our scenes too much!" she hilariously replied, before adding, "No, he's great. He's talented, like everybody in the cast. They're all super, just great to work with."
The publication also asked Dyer what it's like working with her boyfriend. She said there are "pros and cons" but that "it's a lot of fun, truly." Based on her two brief responses, it seems safe to say that Dyer and Heaton have a fun-loving relationship. Her answers were definitely cute and funny.
The fact that she didn't say too much about Heaton also suggests that they prefer to keep as much as their relationship as private as possible. After all, Dyer's chat with Us appears to be the first time either she or Heaton have opened up in an interview about each other in a romantic way since dating rumors initially surfaced in 2016.
There was a time in March 2017 when they were both outside of LAX and TMZ asked them if they were dating. Dyer offered up an answer, but it was far from anything like what she gave Us. "Whether people are dating or hanging out, I think that our cast just is cool with each other," she said. "I mean, I won't speak for anybody else but it's been, you know … We're all one big family."
As private as they might be trying to be, they haven't been able to avoid paparazzi. Several times, they've been spotted at the airport together, which many interpreted as them dating. Furthermore, Dyer and Heaton have been photographed multiple times holding hands.
According to Marie Claire, it wasn't until Dec. 4, 2017 that they made things red carpet official at the Fashion Awards in London. It's still unclear when they exactly started dating, but in January 2017, a source spoke with Life & Style about Dyer and Heaton and said, "They've been together since before Season 2 of the Netflix series began filming in October." The same source said they spend "every waking minute together, on set and off."
Heaton has yet to comment on Dyer and their relationship in an interview, but all anyone has to do is log on to his Instagram to see how he truly feels. On Jan. 13, he wrote the sweetest 21st birthday message for her. "I hope it's a great one and I'm stoked to be working on this new series with you," part of the caption read. "I think it's gonna be great. P.S - Not feeling too well but I still wanna meet you at piedmont park tonight x"
Yeah, they seem to enjoy each other just a little bit. They probably even like one another as much as their Stranger Things (writer: Kate Trefry) characters, Nancy and Jonathan. And when Dyer and Heaton talk about each other? Well, they only become that much cuter.
And if you need further proof they have an adorable relationship, you need to check out the Instagrams both Dyer and Heaton shared of each other for "National Ice Cream Day." It's a lot of cuteness to handle, so good luck. Here's hoping now that Dyer has opened up a bit about Heaton, they'll share even more adorable moments with their fans.