Natalie Portman Got VERY Candid About Her Feelings On Former Classmate Jared Kushner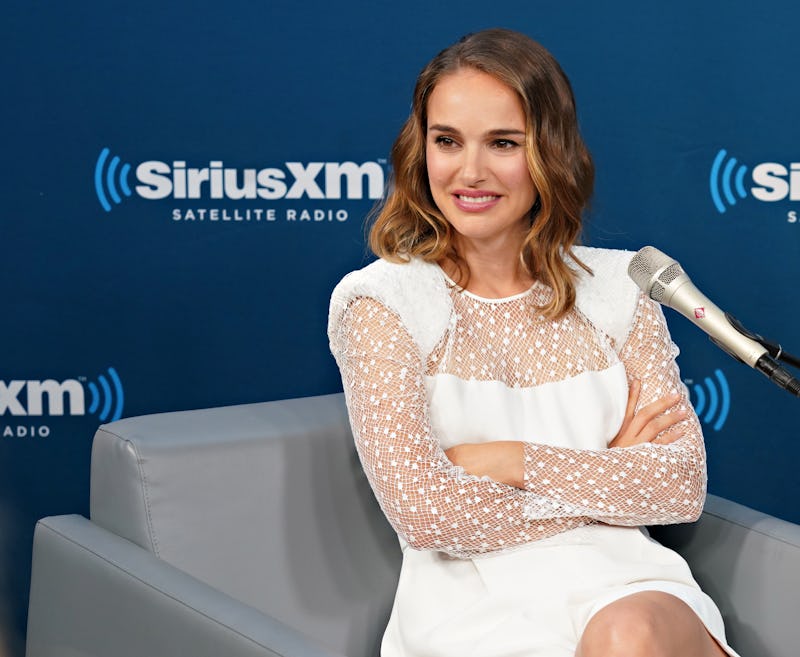 Cindy Ord/Getty Images Entertainment/Getty Images
Natalie Portman appeared on the Late Show with Stephen Colbert on Thursday night to talk about her new documentary Eating Animals, but not before reminiscing a little bit about her Harvard days. And guess who she saw quite a bit around campus? None other than Jared Kushner, also known as Mr. Ivanka Trump, also known as the first son-in-law. During the interview, Portman made it clear she and Kushner were not friends, just "friendly." Talking about the wild turn that Kushner's life has taken, she pointed out she isn't on good terms with him anymore. In fact, Portman compared Kushner to a "super-villain" and emphasizes that they grew apart.
Portman and Kushner were both part of Harvard University's Class of 2003. Colbert asked Portman, 37, about her relationship with Kushner, asking if they were friends during their college years. "We… we were friendly," she said. Colbert suggested, "I heard he wasn't that great of a student?" "That is true," Portman replied. Ice cold.
But at the end of the day, she finds little humor in the grim situation with Kushner. "Unfortunately, it's not very... there's not a lot funny to say about someone you were friends with becoming a super-villain," she said. Who wants to bet Sarah Huckabee Sanders is gonna jump all over that one? It truly is not funny, though. (OK, maybe a little.)
Colbert pressed Portman for more gossip about Kushner because that's the good stuff, but she's one classy lady, so she was quite reticent to out and out roast him on television. Colbert asked, "Are you saying they let dummies into Harvard?" and Portman laughed it off with an "I mean…" and a lot of giggles. Colbert giggled too. She did a lot of hemming and hawing because she's graceful, but the look on her face says it all. "What can I say on TV?" she said. "Anything you want! It's a free country," Colbert said. "Yes, the last days of, maybe," she said. And Portman thinks Kushner will have a part in that end as just one of the many super-villains of the administration.
But there's absolutely no love lost between Portman and her former acquaintance and classmate Kushner. Talking about the evolution of his involvement in the Trump administration, Portman mentioned a Forbes interview where he said about losing friends: "He said in some interview that the friends he's lost because of politics, it's like exfoliating," she said. "And I was like, OK…. I like the spa metaphors!" "So you're a dead skin cell!" Colbert proclaimed. "Proudly!" Portman joked.
And while Kushner is a "super-villain," in Portman's own choice of words, he also seems to be a bumbling one, as she indicated with the comments about him not being the sharpest student. That detail may not surprise those who remember that he just regained his security clearance after a year, because according to Politico, he "hit a snag in the clearance process over complications from special counsel Robert Mueller's investigation" of the ties between Russia and the United States during the 2016 election.
Obviously, Portman and Kushner were probably destined to become frenemies when she joined Hillary Clinton's campaign for the 2016 presidential election, but even if she hadn't been stumping for Clinton, it's safe to say the two of them won't be crossing paths any time soon. Even at a Harvard class reunion, because chances are that Kushner would not be in attendance with his current schedule.
Still, Natalie Portman is a national treasure. She's also incredibly candid with her anecdotes — and her openness is just another reason to love her.