Natalie Portman Spins The Conversation About Woody Allen In A Much-Needed New Direction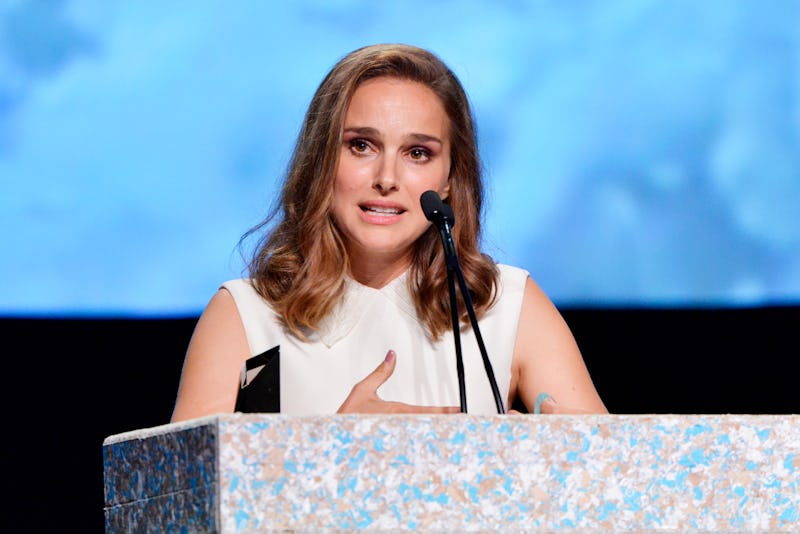 Jerod Harris/Getty Images Entertainment/Getty Images
After having further shed her relatively reserved public persona in recent months, Natalie Portman discussed Woody Allen in a new interview with BuzzFeed — and her perspective on the controversial director may surprise you. Alongside several of her contemporaries, Portman has quickly become one of the more vocal supporters of the Time's Up initiative. She spoke to BuzzFeed at length about Hollywood's recent reckoning, but when asked directly about Allen — whom she's worked with in the past — Portman suggested that people shift the focus of the conversation entirely.
On Jan. 14, Portman participated in a panel about the Time's Up movement and gender equality issues. The event was moderated by Oprah Winfrey, and also included America Ferrera, Tracee Ellis Ross, Reese Witherspoon, Lucasfilm president Kathleen Kennedy, producer Shonda Rhimes, and attorney Nina Shaw.
When Winfrey asked the group about the sexual assault allegations made against Allen by his former stepdaughter, Dylan Farrow, Portman — instead of addressing whether or not she thought Allen's time was up — simply said, "I believe you, Dylan. I want to say that. I believe you, Dylan." (Allen has long denied Farrow's allegations against him.)
BuzzFeed's Kate Arthur asked Portman about her statement on Farrow during the Winfrey-led panel, which the 36-year-old actor addressed by reiterating the importance of hearing women out. "We know that women are systematically not listened to," she said. "That victims of sexual assault are systematically not listened to."
Arthur then asked Portman, "I think time may be up for Woody Allen. As someone who has been in one of his movies, and is in the acting community and involved in all this activism, does it feel that way to you?"
Again, Portman deflected the focus of the conversation away from Allen — but not, however, as an avoidance tactic. "I don't think that's what the conversation should be about," Portman explained. She continued,
"I think it should be about: Why didn't Elaine May make a movie every year? Why didn't Nora Ephron make a movie every year? Where's the female version of Bill Cosby? Why don't we see any Asian women in films? There's so much art that's being lost by not giving opportunities to women and people of color. Let's not talk about what man's career is over. Let's talk about the vast art trove we've lost by not giving women, people of color, people with disabilities, and the LGBTQ+ community opportunities — let's talk about that loss for all of us in art. Let's talk about that huge hole in our culture. I don't want talk about 'Isn't it sad that this person who's made 500 movies can't make movies anymore?' That's not for me to decide. And it's also not what I'm upset about."
Many people — including some of the women who appeared alongside Portman on Winfrey's panel — have had no problem denouncing Allen, as well as any actors who've chosen to work with him in light of Farrow's allegations. There's an immeasurable importance in this kind of public accountability, no question. However, Portman's perspective raises an interesting point. It flips the script. Why are we concerned with the downfall of a well-known man, instead of considering the effect that years of gender inequality has had on oft-ignored creative women?
Of course, this isn't the first time Portman has tried to flip the script in recent months. While announcing the nominees for Best Director at this year's Golden Globes alongside Ron Howard, Portman made a point of specifying "the all-male nominees." The actor explained that the moment was meant "to make it weird for people to walk in a room where everyone's not in the room."
"[The Best Director category] seemed to be excluding some deserving nominees," she said. "And how could I bring attention to it without disrespecting the nominees? Because it's not their fault, and they all made great work. You don't want to not recognize them. It's just, why aren't we recognizing the people who aren't part of this exclusive club?"
During a time when it's easy to feel overwhelmed by the seemingly endless allegations of sexual abuse that have gone unheard until now, Portman has provided an important perspective. Perhaps instead of focusing on powerful men, we should consider all that we've lost from those who were never given a chance.
If you or someone you know has been sexually assaulted, call the National Sexual Assault Telephone Hotline at 800-656-HOPE (4673) or visit online.rainn.org.