Native American Voting Rights Could Majorly Impact The Makeup Of The Senate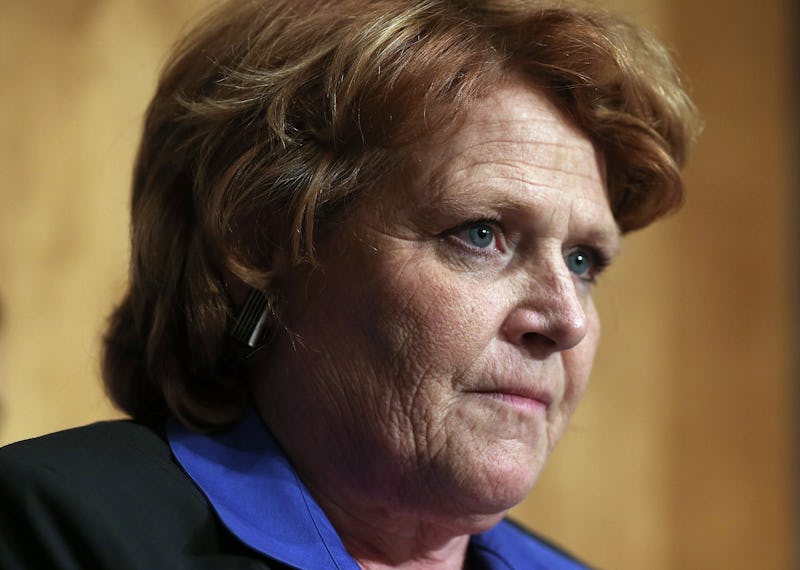 Alex Wong/Getty Images News/Getty Images
Incumbent Sen. Heidi Heitkamp's chances of holding onto her Senate seat have been iffy for some time, but they got a lot worse on Oct. 9 when the Supreme Court refused to block a law that makes it disproportionately harder for Native Americans to verify their identities at the polls. A Democratic takeover of the Senate hinges on just a few seats, including Heitkamp's, so North Dakota's Native American voter suppression could doom Democrats' hope for a blue wave in the chamber.
"This is an attack that must be confronted for what it is," ACLU reporter Ashoka Mukpo wrote last week of the Supreme Court decision, "a threat to democratic governance that will have the effect of taking away the most basic right of a large number of vulnerable voters of color."
At issue is a law that requires voters to show proof that they have a "current residential street address" when they show up to the polls. Many Native Americans who live on tribal lands don't have such addresses listed on their IDs, however, because the U.S. Postal Service doesn't deliver to their homes. Instead, many have traditionally used mailing addresses like P.O. boxes to verify their identity. But P.O. addresses will no longer be accepted at the voting box. This is first of all a problem because it will disenfranchise many people — but it also could spell major problems for Heitkamp's campaign.
That's because Heitkamp has relied on Native votes in the past to narrowly achieve victory. She won her first-ever Senate race in 2012 by only 2,994 votes, according to the Daily Kos; four counties with major Native populations brought her 4,352 votes. The restrictive voting law was passed just months after her victory by a Republican legislature in April of 2013. The measure faced immediate criticism: Opponents argued that it would prevent some college-age and elderly people from voting, according to The Bismark Tribune, and particularly that it would disproportionately hurt Native voters.
Courts have varyingly challenged and confirmed the law in recent years. Most recently, the U.S. Supreme Court refused to grant an emergency request to block it on Oct. 9. In their dissent, Ruth Bader Ginsburg and Elena Kagan outlined some of the stakes of the decision, noting that 18,000 North Dakotans lack both a qualifying ID and the supplemental documentation that would allow them to vote. Given that a margin of around 3,000 determined Heitkamp's last Senate race, that's a highly significant figure.
But activists in North Dakota are doing their best to circumvent the rigid law. O.J. Semans of the Native American voting rights group Four Directions told Massoud Hayoun for Pacific Standard that his organization is deep in the midst of creating alternative plans for tribe members to verify their identities. He joined with politics and map experts to create maps for the polling stations so that people can physically point to where they live. He's stationing tribal representatives at the stations who can give out official documents to confirm those claims. However, Hayoun reports that it's not guaranteed that the North Dakota's Republican Secretary of State will let polling locations accept these addresses.
Still, they're going to try. "The harder the odds, the harder you need to fight back. You don't give up," Semans told Pacific Standard.