NATO Is Reportedly Limiting Speech Times For Trump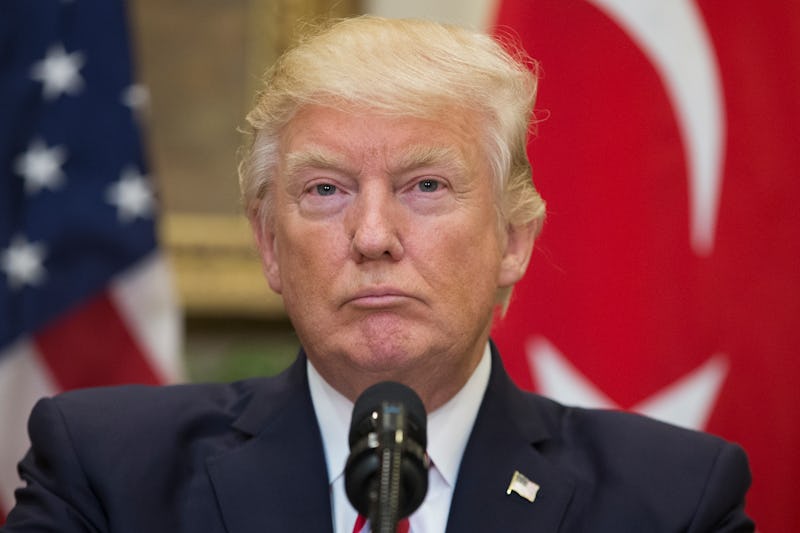 Pool/Getty Images News/Getty Images
In President Donald Trump's administration, pretty much anything is possible. Firing the FBI director or the acting attorney general, reportedly sharing classified information about ISIS to Russian diplomats, or even reversing his position about the North Atlantic Treaty Organization are all part of the new normal for a president whose tweets are often full of whining. So when Foreign Policy reported on Tuesday that NATO has placed a four-minute limit on speeches at the upcoming summit in order to cater to Trump's attention span, it wasn't that surprising.
Trump has had a pretty unprecedented relationship with the organization. During his campaign, he made his skepticism over NATO clear in a Washington Post interview in March 2016 where he said the NATO deal needed to be changed. The same day that the Washington Post published its interview, Trump said in a CNN town hall, that the U.S. needs to reconsider its relationship with NATO, because it is costing the country too much money. Several days later, he solidified his opposition to the organization, telling Bloomberg, "NATO may be obsolete."
However, he's since changed his tune. In April, Trump met with NATO Secretary Jens Stoltenberg and during a press conference afterward admitted, "I said it was obsolete. It is no longer obsolete." The Los Angeles Times reported that Stoltenberg and Trump discussed how to get other NATO members to shoulder more of the finances for the agreement.
Foreign Policy quoted an anonymous source as reportedly saying, "It's kind of ridiculous how they are preparing to deal with Trump. It's like they're preparing to deal with a child — someone with a short attention span and mood who has no knowledge of NATO, no interest in in-depth policy issues, nothing. They're freaking out."
The 28 members of NATO plan to meet in Brussels on May 25, the first time since Trump's electoral victory in November. If the two- to four-minute limit is true, it's a incredible slap in the face for Trump. Implying that his attention span in so short that he can only listen for four minutes at a time to diplomacy discussing is incredibly insulting. There is being brief for the sake of being brief, and then there is requiring leaders to shorten their speeches for one member because they don't think he can handle it.
Regardless, it will be an interesting summit. Trump hasn't backed down from his belief that other countries need to step up and add funding to the alliance, so his words at the meeting will be worth paying attention to. Knowing Trump and his unexpected nature, whatever ends up happening at the summit, the American people will likely be prepared for almost anything.