Negroni Cocktails Come In 4-Packs Now — Here's Where You Can Get Them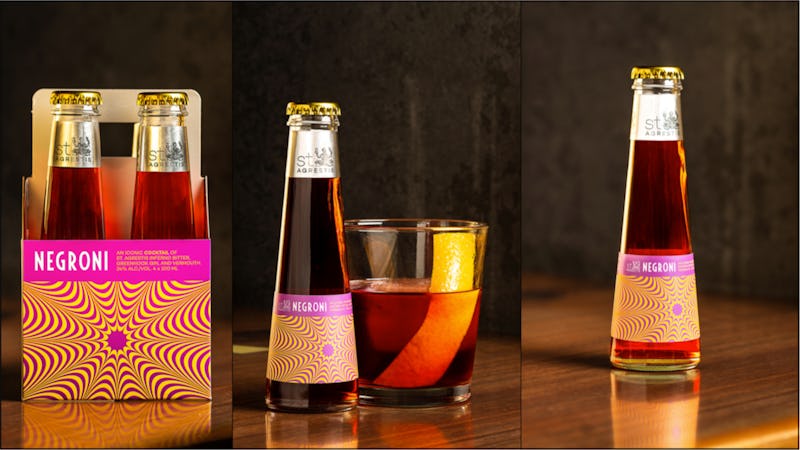 St. Agrestis Spirits
Friends and fellow countrymen of the internet! I bring good news: Negroni season is upon us. If you're asking yourself, "Who or why or what is a Negroni?" Allow me to enlighten you in an easy and palatable way: negroni is a delicious, summer-y cocktail which you can now enjoy in ready-to-drink four-packs. They're convenient! They're cute! They're pre-mixed cocktails in a bottle! They are the summer drink you crave and deserve and why are you questioning me?
St. Agrestis Spirits, an Amaro brand based in Brooklyn, is to thank for this ready-to-drink concoction. Each 100ml bottle in the already-prepared four-pack features the "bittersweet" and "deeply aromatic" flavors the Negroni is known for. (As a side note: "bittersweet" and "deeply aromatic" is perhaps the most dramatic description for a cocktail. Negroni lives for the drama. Drama makes her thrive. You capitalize "Negroni" like you would a primadonna or a country because it is what the drink deserves. She is the perfect amount of extra and your summer, should you choose to bless it with the Negroni, will be as well.)
"Making a cocktail bar quality Negroni at home is not as simple as it sounds," says St. Agrestis' owner Louis Catizone in an emailed press release. "Plus, unless you have one or two of the components already at home, it's an expensive proposition. Our bottled Negroni is not just a ready-to-drink Negroni, it is a world class Negroni in the ideal serve that you can take on the go."
The Negroni four-pack is available to purchase for $24.99 at Astor Wines online shop. While that might seem steep for a four-pack of anything, it's certainly less than you'd pay for a Negroni at a bar or for all the ingredients to prepare you own drink. Basically, this four-pack is affordable class in a bottle and you will treat it as such.
While there are plenty of variations on the drink, the recipe for a Negroni typically goes as follows: one part gin, one part, sweet vermouth, one part Campari (a bitter, spicy, and sweet liqueur), two parts club soda and an orange slice.
Rather than Campari, St. Agrestis' bottled Negroni features the brand's Inferno Bitters, which is comprised of a blend of 20 herbs and spices that add a fruity and floral quality to the drink. The mix also included red Torino style vermouth, which is crafted in-house, and Greenhook American Dry Gin.
Are you salivating yet?
In case you needed another reason to get on Team Negroni, Meghan Markle is a fan. The recently married Markle told The New Potato her perfect dinner includes "a negroni to cap off the night."
So, if you don't enjoy a Negroni, you're basically saying you think you're better than literal royalty. Do you think you're better than literal royalty? What would the Queen say? Why you offend her corgis like that? Or, if you want to think of it in a more positive way, sipping on a Negroni is the equivalent of drinking like a princess. (Yes, I know she's technically a duchess but can you please just let me have this?)
If you're wondering what pairs well with a Negroni, Markle told The New Potato she likes hers after a dinner of seafood and pasta. According to foodie site Center of the Plate, a charcuterie board of strong cheeses and meats is also an ideal way to enjoy a Negroni. I say, pair it with cookie dough or boxed mac and cheese. There really isn't a wrong way to enjoy a Negroni. Especially, if you pair it with a few friends and a summer night.