Neil deGrasse Tyson Has His Own Beer, Now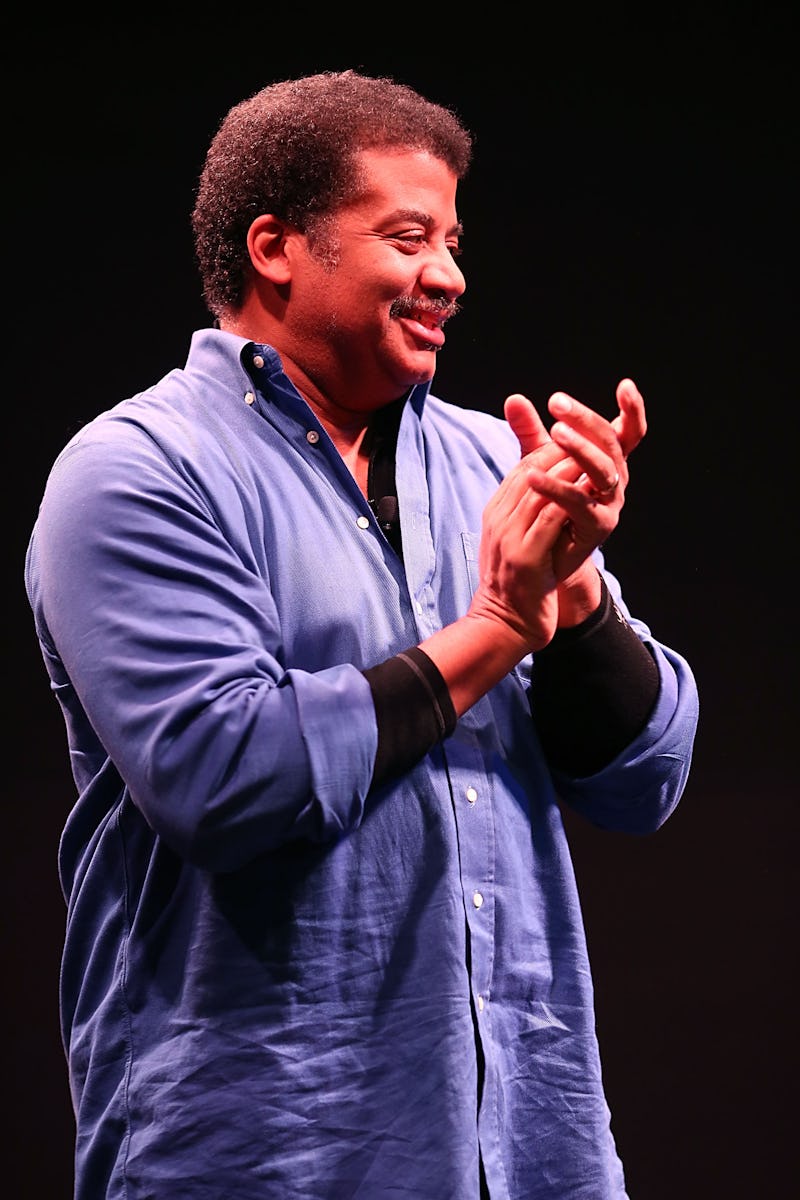 Joe Scarnici/Getty Images Entertainment/Getty Images
On Jun. 10, Asheville Brewing Company, a microbrewery in North Carolina, announced the latest addition to their menu: "Bier LemonGrass Tyson." Yep, that's right — that Tyson. Your favorite astrophysicist, Neil deGrasse Tyson, is getting his own beer. Welp, now I know what my summer drink will be!
When it comes to our current roster of pop culture scientists, Tyson is like the benevolent, wise older brother who helps guide you through life, teaching you important lessons about black holes and evolution and the Big Bang - you know, the essentials. In addition to serving as a top-notch science communicator, podcast host, author, Twitter-er (Tweeter?), and director of New York City's Hayden Planetarium, Tyson recently won the Stephen Hawking Medal for Science Communication — the first American to do so. For someone so accomplished and cool, there was seemingly only direction forward — and it was lending your name and ~vibes~ to a chill alcoholic beverage.
Asheville Brewing Company has been churning out small-batch beers since 1998, and they're no stranger to pop culture puns. Their current offerings include the Draft Punk Double IPA, Tater Tart Saison (an ode to Napoleon Dynamite and yes the label includes both tots and Tina the Llama), and Ashe Brew Wish Passion Fruit Sour Blonde, which is a reference to The Princess Bride. If you don't get it, try saying it out loud.
I'm screaming, these names are so extremely cute.
Tyson's eponymous beer, the Bier LemonGrass Tyson, is a white ale infused with lemongrass and coriander, according to a Facebook post earlier this week. With a 5.5 percent ABV, it's perfect for day-drinking. And like all drinking, to be honest. "We found an online video where deGrasse Tyson talks about beer styles he likes and how much he appreciates local beer. We heard you, Neil, and we made this beer for you!" said Asheville Brewing president Mike Rangel in the post.
The video they're referencing is a National Geographic video in which deGrasse Tyson answers fan questions regarding his beer of choice. The verdict? Well, first and foremost, Neil is a wine man, but when he drinks beer, if he drinks beer, it's a Belgian beer or a German weissbeer. Or a local beer. And Asheville Brewing, in creating "an American-style take on a traditional Belgian wit beer, brewed with German malt," has kind of checked all those boxes.
Interested? If you're over 21, now's your chance to try this beer. To add fuel to your fire, a dollar from every purchase will be donated to the new Asheville Museum of Science. Bier LemonGrass Tyson will be available on draft and in limited 22-ounce bottles.