Nelly Was Arrested For An Alleged Rape On His Tour Bus — REPORT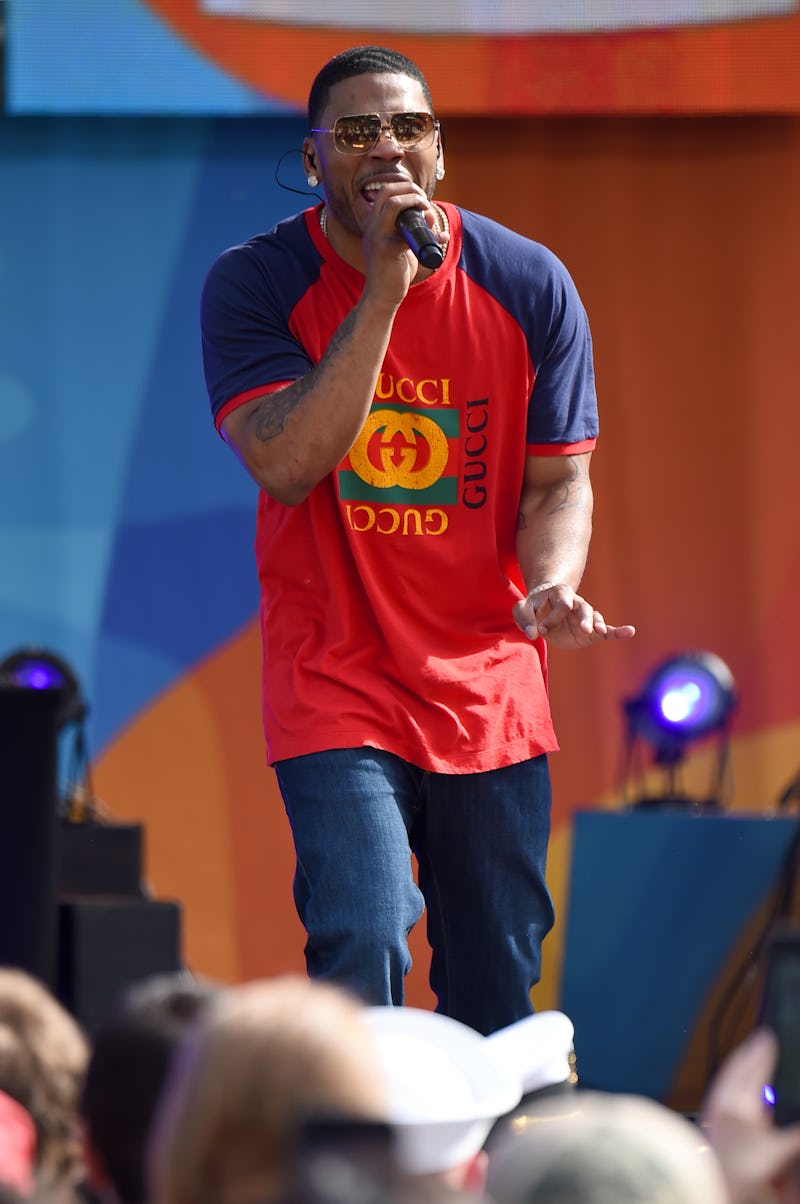 Michael Loccisano/Getty Images Entertainment/Getty Images
While he's best known for his early '00s songs, like "Hot In Herre," Nelly still is making music and going on tour. It was after a performance on Friday night in Washington that Nelly was arrested for alleged sexual assault, according to TMZ. TMZ, the Associated Press, and Rolling Stone are referring to the incident as an alleged rape. A press release from the Auburn Police Department confirmed a woman called 911 at 3:48 a.m. for an alleged assault that took place on the rapper's tour bus, and Nelly was then taken into custody. In a statement to Bustle, Nelly's attorney denies the allegation, calling it "completely fabricated."
His attorney's statement reads in full:
"Nelly is the victim of a completely fabricated allegation. Our initial investigation , clearly establishes , this allegation is devoid of credibility and is motivated by greed and vindictiveness. I am confident , once this scurrilous accusation is thoroughly investigated , there will be no charges. Nelly is prepared to address and pursue all legal avenues to redress any damage caused by this clearly false allegation."
UPDATE: On Saturday evening on Oct. 7, Nelly posted a series of tweets, apologizing to his loved ones for "the embarrassment" and claiming he was "victimized by this false and defaming allegation." He also clarified he was not charged with a crime, and he was released "pending further investigation."
UPDATE 2: On Dec. 13, TMZ reported that prosecutors are not moving forward with charging Nelly with any crimes. According to TMZ, King County Prosecuting Attorney's Office told them that this was due to the alleged victim refusing to cooperate. E! News reports that the prosecuting office said in a statement: "Police responded to and investigated a sexual assault allegation involving Mr. Haynes. However, within days of her initial report to police, the complainant, through her attorney, informed investigators from the Auburn police department that she did not wish to assist in prosecution or the investigation of Mr. Haynes."
UPDATE 3: On Dec. 15, Nelly's attorney released a statement to Bustle in response to the investigation being closed:
"The formal close of the investigation into the false allegations made against Nelly is of course welcome - however expected. We were confident, that what our investigation revealed from the outset of this allegation would ultimately be clear and Nelly would be vindicated. A thorough investigation did show Nelly was a victim of deceitful allegation devoid of credibility. Credible evidence did show this accuser to be deceptive. We have been in constant communication with the King County authorities and welcomed and appreciated the diligence in which the authorities proceeded. Leaving no stone unturned.
Nelly recognizes the need for women who are victims of sexual assault of any kind to be heard and our existing systems changed. Nelly supports various women's advocacy groups that deal with Sexual Assault, and violence against women and is dedicated to raising awareness and furthering the conversation to about bring about necessary changes. However, this type of reckless false allegation cannot be tolerated as it is an affront to the real survivors of sexual assault."
The statement continues, "Nelly has suffered very real damage to his reputation. He has incurred economic loss and painfully has watched his family suffer. As a result, Nelly is planning to proceed with litigation as the first step in restoring his reputation."
UPDATE 4: According to TMZ, Nelly's accuser has now filed a lawsuit against him alleging defamation and sexual assault. In response, an attorney for Nelly released the following statement to Bustle: "It comes as no surprise that Ms. Green filed a lawsuit against Nelly seeking money after we announced our intention to hold her accountable. We always believed her accusation was motivated by greed. Nelly will answer and proceed with a counter suit against her for her outrageous unfounded allegations."
EARLIER: As for Nelly himself, whose real name is Cornell Haynes Jr., he has not commented on the allegations directly at this point. However, he posted a tweet early Saturday that appears to be related. Nelly wrote, "Anytime you feel like the whole world is against you you need to scratch that sh*t its [sic] really you against the whole world because the whole world don't know you exist."
According to Q13 Fox, police said Nelly's bus was parked in a Walmart SuperCenter parking lot during the alleged incident. They also reported that officers had "probable cause" to arrest Nelly, and that he was booked for alleged second degree rape. TMZ's sources claim the woman directly said Nelly was the one who allegedly raped her. Meanwhile, the police department's press release on their website states, "Auburn Police are continuing to investigate this incident."
For the record, this isn't the first time Nelly has found himself in legal trouble. Back in April 2015, Nelly was arrested on drug charges after his tour bus was searched in Tennessee, according to Billboard. The rapper later told TMZ, "I feel the need to take responsibility for my choices in needing to be more aware of all the people I associate with and allow onto my property." At the time, his lawyer told Billboard,
"Allegedly, a small quantity of contraband (MDMA aka Molly or Ecstasy) was discovered during the routine search. We are extremely confident that when the facts come out, Nelly will not be associated with the contraband that was allegedly discovered."
These charges were later dropped in December 2015 after Nelly pleaded guilty to misdemeanor possession of marijuana and drug paraphernalia, according to E! Online. He received 11 months probation, and his lawyer released a follow-up statement, "We were confident from the onset of the charges that Nelly would be cleared and we are pleased with the outcome of dismissed charges."
As for the current situation, the Associated Press reported that Auburn police spokesman Commander Steve Stocker said Nelly will appear before a judge "at some point," though no details were provided as to when.
The rapper is currently on tour with country duo Florida Georgia Line, and they're scheduled to have another performance on Saturday night in Washington. It's unclear whether it will still take place, given this new allegation against the rapper.
If you or someone you know has been sexually assaulted, call the National Sexual Assault Telephone Hotline at 800-656-HOPE (4673) or visit online.rainn.org.