Toll House Just Launched Snack Bar Doughs That Are The Ultimate Cozy Fall Treat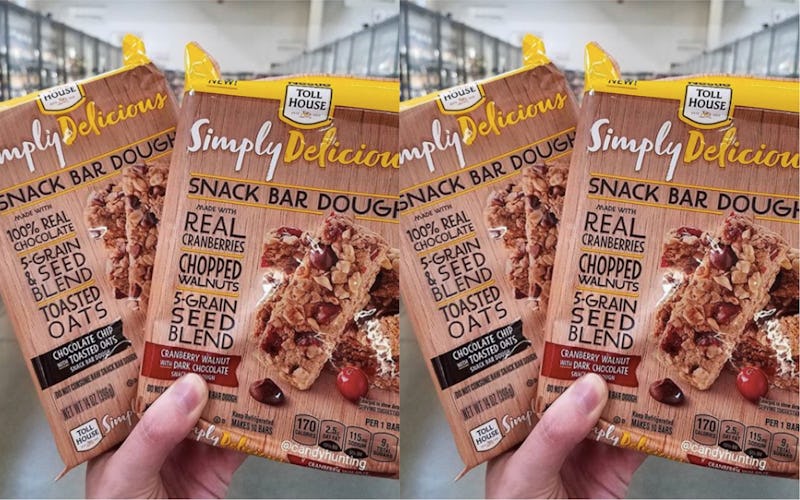 candyhunting/Instagram
It is an open secret that the best park of baking cookies is eating the raw cookie dough beforehand. Even when you're baking them from a package of pre-made dough, the raw stuff is arguably better than the finished product. As you read this, you can picture it: a paper tray of perforated, sweet, chocolate chip squares wrapped in yellow plastic. Though it is hard to improve on the classic, what's wrong with a little variety? Nestlé Toll House, the company that has perfected ready-to-bake cookie dough, is out with something new and inventive: snack bar dough.
Wisconsin-based Instagram user @CandyHunting is one of the first to spot the new product ~in the wild~. In a post on July 29, she reported finding her discovery at Hy-Vee, a midwestern grocery store chain. The Nestlé Toll House snack bar dough is available in two flavors: a classic Chocolate Chip with Toasted Oats, and a more sophisticated Cranberry Walnut with Dark Chocolate. The term "snack bar" is admittedly relatively vague, but the images on the front of the packages depict a (presumably chewy) granola bar. Delicious in itself, a granola bar only gets tastier when melty fresh from the oven. Plus, can you imagine how baking these will make your home smell? Talk about heavenly.
By looking at the packaging, the snack bar dough appears to be part of the company's new line of "Simply Delicious" items, which is detailed on its website. Everything released under the line contains only simple ingredients that are easily legible on the packages. Per the website, "New Simply Delicious by Nestlé Toll House products are made with high-quality ingredients purposely selected for an exceptional taste." All products are made with quality components like cage-free eggs and cane sugar, in order to adhere to the idea that "it's the little things that matter."
In addition to the snack bar dough, Nestlé Toll House's Simply Delicious line includes a variety of classics. Dough selections include chocolate chip, sugar, and peanut butter chocolate chip. Nestlé Toll House has also reworked a pantry staple for the line, crafting its ever-important chocolate chips (or "morsels") from only three simple ingredients. Available in both milk and dark chocolate varieties, the morsels are made up of 100 percent real chocolate, cocoa butter, and cane sugar. At the surface, this may not seem like a significant change, but consider the fact that Nestlé Toll House's traditional dark chocolate morsels contain more than double the number of ingredients.
Nestlé began using the name Toll House for its baking product line almost 80 years ago. A woman named Ruth Wakefield, who ran the Toll House Inn restaurant in Massachusetts, gave Nestlé permission to use her recipe and name to sell the first ever chocolate chips cookies. In the time since, it goes without saying Wakefield's impact on American culinary culture can still be smelled in kitchens nationwide. Though she did not craft the recipe for Nestlé Toll House's new Simply Delicious Snack Bar Dough, it is safe to assume she would not object to her restaurant's name emblazoning the products. She would probably appreciate the shift to using better, more "real" ingredients, too.
You can find Nestle Toll House Simply Delicious Snack Bar Dough at grocers nationwide, and at Target.