Netflix's 'Tales Of The City' Is Based On A Book Series That Revolutionized Queer Stories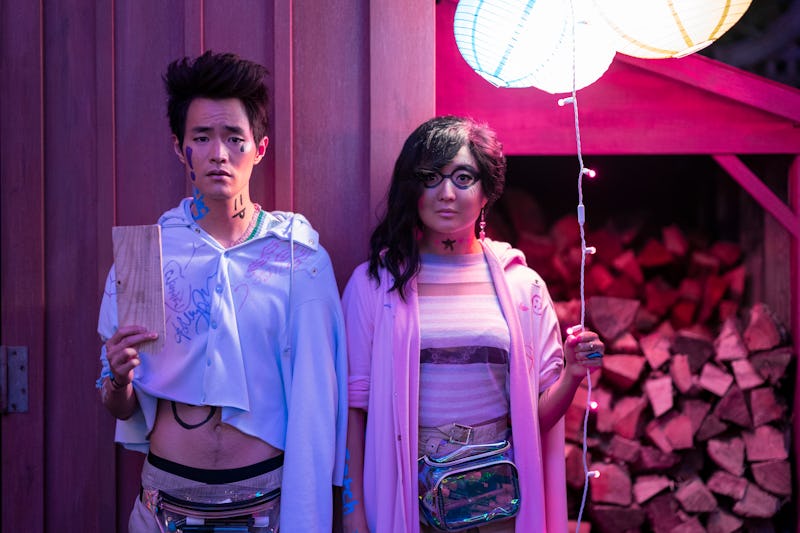 Alison Cohen Rosa/Netflix
When talking about the strides made in queer literature, it's impossible not to bring up the work done by journalist and author Armistead Maupin. Maupin's Tales of the City is a book series that started as a newspaper column in 1974, and the long-running serial captured a snapshot of San Francisco right when it was finding its identity as the counterculture mecca. His authentic and colorful look at queer life in San Francisco struck a chord with people, and his stories inspired a 1993 miniseries (starring Laura Linney and Olympia Dukakis), a musical, and an eight-part radio series. Now that the Netflix revival is bringing back the talents of Linney and Dukakis for a sequel, Tales of the City has a new challenge: capturing a San Francisco that's losing the queer spaces it became famous for.
From a deeply conservative background and just out of the closet, Maupin first began his Dickensian Tales of the City as a newspaper serial (literally titled "The Serial") in 1974 for The Pacific Sun. Maupin's main protagonist was Mary Ann Singleton, a naive 20-something secretary from Cleveland, Ohio. After moving to San Francisco, she finds a home with the enigmatic Anna Madrigal, a transgender woman who runs a happy commune at 28 Barbary Lane.
"I was flying by the seat of my pants, pumping out 800 words a day, five days a week," Maupin wrote for The Guardian in 2014. "The plotting emerged from my own skipping, stumbling life as a just-out gay man in San Francisco." Enraptured by the vibrant queer scene, many of Maupin's fictional characters were based on people he met or observed in real life.
The first installment was titled "Social Hour At the Marina Safeway," and it ran for five weeks before the Sun's San Francisco edition folded. But readers were hooked by the adventures of Mary, Anna, and their band of friends, and the series was picked up in 1976 by the San Francisco Chronicle, and then later the San Francisco Examiner. The tales were eventually reworked into a series of books, with the first being published by HarperCollins in 1978.
It's impossible to underestimate how important Maupin's work was at the time. It was one of the first columns to center on a transgender character, and one of the first to regularly discuss the AIDs epidemic. ("Everyone around me started to die," Maupin said.) In the documentary The Untold Tales of Armistead Maupin, Neil Gaiman talks about how Maupin bravely mixed fiction with fact; because the stories were always published soon after they were written, Maupin was able to comment on present day happenings. He "smuggled in all sorts of themes," Gaiman said, such as hook-up culture, recreational drug use, gay bathhouse sex, and transgender issues, all while focusing on funny, endearing main characters. "The idea that he was doing this in a family newspaper – that is not just groundbreaking. That takes chutzpah."
Writing for The Guardian in third person, Maupin said that his work was inspired by the "insistence that gay folks were part of the human landscape and therefore deserved a place – and equal billing – in his chronicle of modern life." The author pointed out the he was often at odds with his editors about this, and "one of them even kept an elaborate chart in his office to insure that the homo characters in Tales didn't suddenly outnumber the hetero ones and thereby undermine the natural order of civilization."
Above all, Maupin was most notable for creating a warm, inviting world where the characters were loved and accepted for who they were. While Tales explored many difficult topics, Patrick Strudwick wrote for the Independent that "gliding above these is its four-decade theme – the first depiction of happy gay life; of a blissful domestic set-up. Home – and family – for homosexuals. But this was a new family, the 'logical' rather than biological family: one we choose. Before Tales, every story of sexual renegades was tragic: the outcast; the disgraced; the imprisoned."
It will be interesting to see how Netflix's revival — which Maupin also serves as executive producer on — deals with the changing landscape of San Francisco. The gay bathhouses where Maupin found community and the courage to come out have long been shut down, and a 2016 survey found that only 55% of new residents in the historically queer Castro district now identify as gay, down from 77%. San Francisco's last lesbian bar, The Lexington Club, closed its doors in 2014, citing difficulties to stay open when the rising cost of rent has pushed out the diverse community it was created to serve. San Francisco has created the first transgender historical district, but it's also losing its population of queer women and women of color to Oakland, as San Francisco becomes increasingly more white and male.
Viewers will have to wait and see if this revival is able to grapple with all the complexities facing the city right now, but the casting of actors of color like May Hong, Josiah Victoria Garcia, Ashley Park, and Christopher Larkin hints that Maupin and showrunner Lauren Morelli know what they're doing.