'Downton Abbey' Fans Will Freak Out Over Netflix's New Movie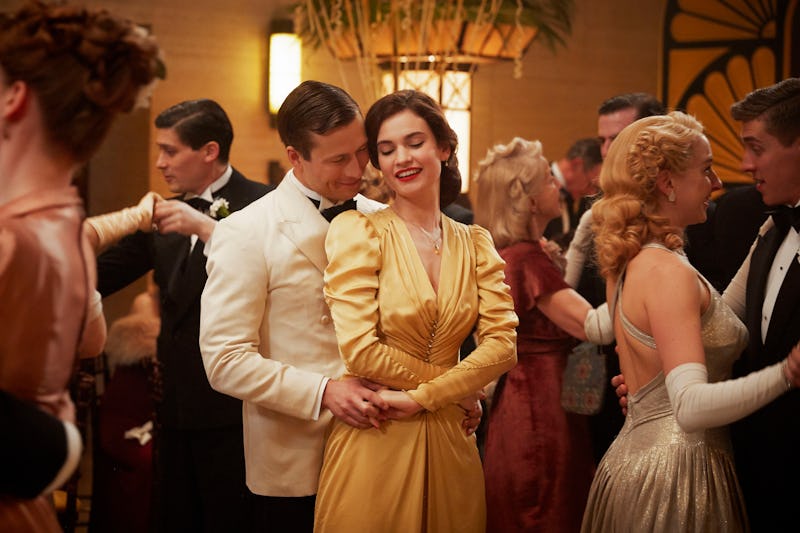 Netflix
For anyone looking to check out the new Netflix original film The Guernsey Literary and Potato Peel Pie Society who is also a fan of Downton Abbey, you may be momentarily convinced that the new movie is a spinoff of the classic TV drama. That's because Netflix's new movie is basically a Downton Abbey reunion, with the two productions sharing a considerable number of main cast members.
First and foremost of the Downton alums appearing in the new film is Lily James, the main star of Guernsey. James, 29, was a relative unknown when she joined the Downton Abbey cast in 2012. But after portraying Lady Rose MacClare in 21 episodes of the series through 2015, she shot to stardom, playing the title role in Disney's live-action Cinderella remake in 2015, starring in 2016's Pride and Prejudice and Zombies, featuring in last year's Baby Driver, and scoring the lead role of young Donna (AKA young Meryl Streep) in this year's Mamma Mia! Here We Go Again. Now, in The Guernsey Literary and Potato Peel Pie Society, her star continues to rise with her lead role as WWII era writer Juliet Ashton.
Next up is actor Jessica Brown Findlay. Like James, Findlay largely got her start on Downton Abbey, where she joined the cast in 2010 as Lady Sybil Crawley (later Sybil Branson after her marriage to Tom Branson). Prior to that role, she had just two credits according to IMDb, both of them shorts. In The Guernsey Literary and Potato Peel Pie Society, she plays the role of Elizabeth McKenna, a founding member of the titular Nazi-resisting society who has gone missing.
Penelope Wilton is also in the new film. She portrayed Isobel Crawley (later Grey) on Downton Abbey for all 52 episodes of the series' run, making her one of the most constant presences in the show's enormous and constantly changing cast. In The Guernsey Literary and Potato Peel Pie Society, she portrays Amelia Maugery, yet another member of the film's society (though not one who has currently gone missing).
Finally, there is Matthew Goode. It will take a more sharp-eyed Downton Abbey fan to pick out where Goode fits in the series, as he wasn't nearly as impactful a character as the previous three during his run on the show. Goode appeared in just seven episodes of the series, playing Henry Talbot. Although he wasn't in a great number of episodes, he still managed to leave an impression, marrying into the Crawley family by way of his wedding to Sybil's sister, Mary Crawley. In The Guernsey Literary and Potato Peel Pie Society, he plays Juliet's publisher, Sidney Stark.
The Guernsey Literary and Potato Peel Pie Society boasts a very impressive cast, and a big reason why is that many of the film's actors either honed their craft or cut their teeth on Downton Abbey. So even though the popular British series came to an end in 2015, its spirit lives on through the work of four of its cast members in this new Netflix original film.