Trump Is Basically Ending Asylum Protections For People Coming From Central America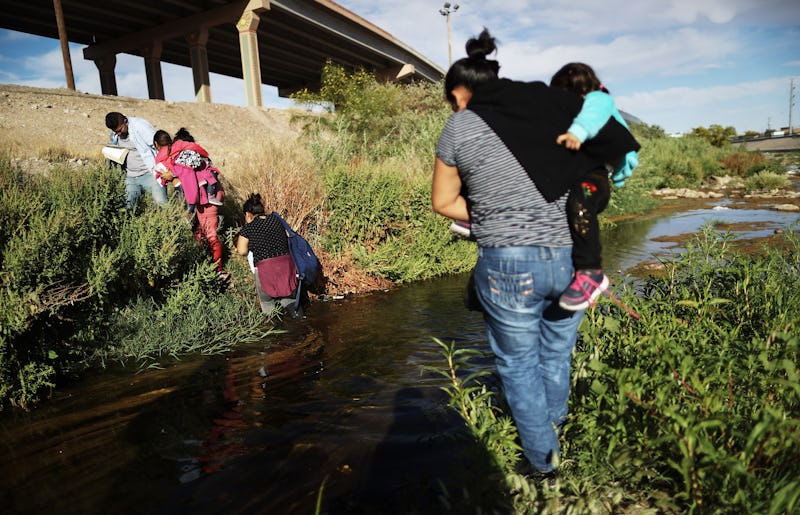 Mario Tama/Getty Images News/Getty Images
On Monday afternoon the Trump administration released new asylum rules for the southern United States border that will limit many asylum seekers from applying, according to a statement from the Departments of Justice and Homeland Security. The rule says asylum seekers at the southern border must have previously applied for refugee status "while in a third country through which they transited en route to the United States." If they don't meet this requirement, then they will be ineligible for asylum.
For example, people from Honduras, El Salvador, and Guatemala, according to NBC News, will be expected to have unsuccessfully sought asylum when they traveled through Mexico before trying to claim asylum in the United States. Attorney General William Barr argued that the rule "will decrease forum shopping by economic migrants and those who seek to exploit our asylum system," according to Politico.
The rule is expected to take effect on Tuesday when it is published in the Federal Register, according to the departments' statement, but NPR reported that it will likely face challenges in court. Lee Gelernt, deputy director of the Immigrants' Rights Project of the American Civil Liberties Union said in a statement, "The Trump administration is trying to unilaterally reverse our country's legal and moral commitment to protect those fleeing danger. This new rule is patently unlawful and we will sue swiftly."
Here's what you need to know about the rule, what advocates think of it, and how it might hold up to a court challenge.
Why Is This Happening?
Trump administration officials say the rule is necessary to help control the influx of migrants at the southern border. The Hill reported the rule would allow the administration to reduce the burden placed on already-strained resources and agencies at the border. Barr also said in a statement, according to The Hill:
The United States is a generous country but is being completely overwhelmed by the burdens associated with apprehending and processing hundreds of thousands of aliens along the southern border.
A Homeland Security official told BuzzFeed that the rule won't fix the problems at the border:
This administration continues to pervert the 1980 Refugee Act and its later amendments by passing regulations that burden its own employees with overly cumbersome, ill-conceived new "standards." This rule will effect all those who reach our southern land border but may have fled from anywhere in the world. It does nothing to fix our broken immigration system, which is at its breaking point because the administration's mismanagement.
Who Does It Affect?
Al Otro Lado, a legal services organization for refugees and deportees, wrote on Twitter that the rule will affect more than just Central American migrants — it will affect anyone who seeks asylum at a Mexico port of entry:
Real quick clarification on the news of the asylum ban. It does NOT just affect Central Americans. It's anyone who seeks asylum at a Mexico POE. Asylum seekers from Asia, Africa, Middle East etc. ... This is an assault on asylum law period.
Archi Pyati, chief of policy for Tahirih Justice Center, an organization that helps immigrant women and girls fleeing violence, tells Bustle there are usually many reasons asylum seekers who travel through Mexico don't apply for asylum there. For starters, Mexico does not have the infrastructure to support asylum seekers like the United States does.
"There are a lot of problems for many migrants who come into Mexico, are not able to apply for asylum while they're there, or they do and the system is very challenging for them to work in or, or they don't feel safe in Mexico at all," she says. "And so the idea that the Mexican system will be sufficient to tolerate the number of applicants that are coming through ... and provide for the safety and wellbeing of those applicants who are seeking protection is not realistic."
Pyati says women and girls fleeing domestic and gender-based violence will definitely be among those hurt by the policy because of its broad and sweeping nature. "Now if they have to stay in Mexico and apply for asylum and that's a lengthy process, and they have to wait to be denied asylum there before they can apply for asylum at the U.S. border, the instability in which they'll be living is cause for great concern for women, especially women with children," Pyati says. "Further, we also know about women whose abusers and relatives of their abusers have tracked them to Mexico and been able to find them and harm them there."
Pyati notes that not only do asylum seekers receive greater protection from violence in the United States, but that U.S.-based advocacy groups like Tahirih often offer support to asylum seekers that isn't as available in other countries.
Are There Any Exceptions To The Rule?
The rule makes exceptions for migrants who have been denied asylum in the countries they traveled through, trafficking victims, and migrants who passed through countries that haven't signed major refugee treaties, according to The Hill.
Will It Actually Take Effect?
According to the departments' joint statement, the rule is scheduled to take effect Tuesday, but the ACLU and other advocacy organizations have said they will take legal action.
Pyati says the rule can be challenged on a few grounds. First, when an agency wants to make a shift in the way that it's interpreting a congressional statute, she says it should issue a notice and comment period to allow the public to comment on the potential change. It's one of our democratic "checks and balances."
"This rule has been issued with zero notice or comment period whatsoever," she says. "It was published today and is going into effect tomorrow, ... with zero opportunity for the public to comment or agencies like ours."
Second, Pyati says the rule will likely be challenged because it is so sweeping and broad in its application. When someone reaches the border, they usually have a "credible fear interview" with a border patrol agent, and they're asked whether they fear persecution, among other questions that determines whether they need to go before a judge who would determine their eligibility. The new rule would bar anyone — even if they fear persecution or have another legitimate reason to seek asylum — from beginning the asylum process.
"What this will do is make it so that the credible fear interview is going to be a moment for an asylum officer to say, 'Oh, you're going to actually be barred from asylum. So now we're going to do a different type of screening with a much higher standard,'" Pyati says. "It bars, across the board, asylum seekers unless they meet specific limited exceptions, and then ratchets up the standard of review fairly high so that it's maybe unlikely for almost anyone to be able to get protection now, which is of concern."
Pyati says the rule is also one of many immigration policies the Trump administration has released in a "rapid fire way," despite the fact that it is still tied up in legal battles over past policies, like the "Remain in Mexico" policy. Pyati says one policy will be challenged in court while another policy is being crafted, and the cycle repeats.
"It's whack-a-mole for us, but also for the American taxpayer who's really funding the government to play this game, which is a dangerous one for those who are seeking protection and really compromising our values in the process," she says.