Easy Patriots Super Bowl Party Ideas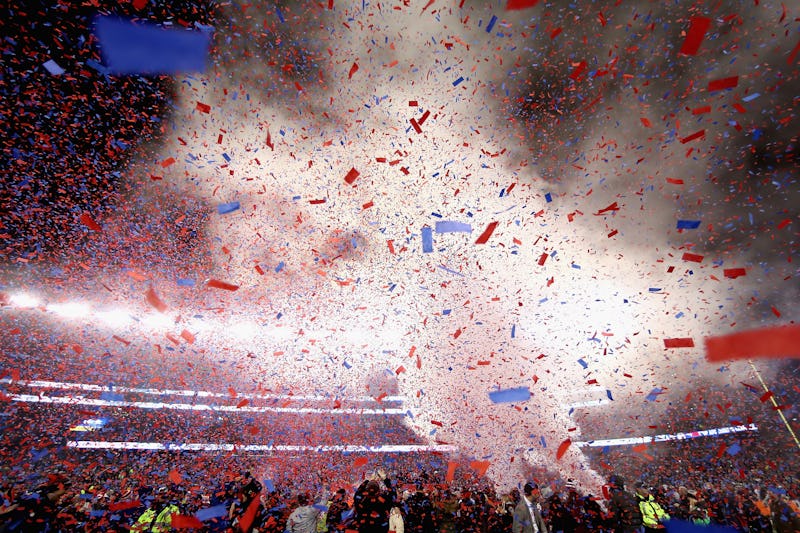 Elsa/Getty Images Sport/Getty Images
So you might have heard that the New England Patriots are going to the Super Bowl to play against the Atlanta Falcons. I'm a Patriots fan, for the record: And not only because Tom Brady is on the Patriots and he's married to the bronzed goddess Gisele Bündchen, I promise. (But I do just want Gisele to be happy, can you blame me?) In fact, I like the Patriots enough to know exactly how I would plan a New England Patriots Super Bowl Sunday party!
If you're in the same boat as me, you might be wondering how to even go about pulling this off. I mean, Super Bowl Sunday is on Feb. 5, so there isn't a ton of time left, and you want this party to be as authentic, fun, and chilled out as can be. Don't worry: I got your back, dear readers. We're in this together, and we're gonna conquer this party planning process.
If you feel similarly about planning a party for the impending national games, you might want to check out some of these fun, thematic Patriots party ideas I've put together so you can both convince your friends you know how to throw a badass Super Bowl party, have some fun while doing it.
Pats Decor
There's no need to go overboard with crocheted pillows with the players' faces on them (unless you want to!), but it wouldn't hurt to order a simple fleece from The Northwest just to make the party feel official. You can also raffle it off at the party to a fan who really wants it. It's a win/win.
Trivia Game
Seriously, this is more for you than your guests. Look up some Pats trivia, study it and then make some question cards. During time outs or boring commercials, you can bring out the questions and get people chatting.
Clam Chowder Cups
Cook up a pot of New England clam chowder, because, duh. Pour a some soup into coffee mugs and tea cups to ration and make it easier for people to keep snacking.
Fries
This might be cheating, but order a huge serving of fries from your favorite local delivery spot. Your guests won't be expecting them and they're bound to get everyone digging in and feeling cozy. Make sure you have a few dipping sauce options, too.
Sam Adams Beer
Beer and football go hand in hand, but Sam Adams, the Boston beer, is right on target with this party. Get a few cases and proudly display it, it's basically decor.
Mini Lobster Rolls
Everyone in New England loves a good lobster roll. Cut up some hot dog buns onto thirds and make mini lobster rolls as an appetizer. Instant crowd-pleaser.
Some Healthy Stuff
In honor of Bündchen, who keeps a mostly vegan diet, put some greens on the table. Whether it's a lightly dressed mescaline salad or some sautéed kale or even some roasted brussels sprouts, do it for Gisele.
Hot Cider
Cider is another New England specialty. Heat up some boozy cider and serve it before you bring out the sweets. It's the perfect between meals drink.
Boston Cream Pie Donuts
A classic Boston dessert, get some Boston Cream Pie donuts or donut holes at your local donut joint and watch them disappear faster than you can plate them.
Apple Pie Fries
Apple pie is another New England delicacy so you're super on-point thematically with this dessert bonus. Check out this super unique recipe by Averie Cooks.