What To Know About The Newest White House Staffer & The Allegations Against Him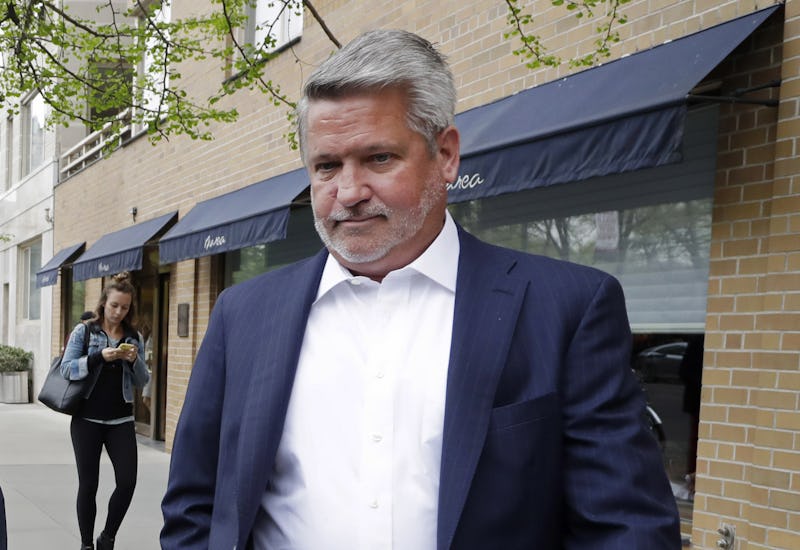 AP/REX/Shutterstock
Ever since Hope Hicks left the White House earlier this year, the communications director position has been vacant — until now. Donald Trump has tapped former Fox News co-president Bill Shine as deputy chief of staff for communications, despite numerous allegations that Shine covered up sexual harassment and racial discrimination at Fox. Bustle has reached out to Fox News for comment.
Shine resigned from Fox News in May 2017 in the wake of a sexual misconduct scandal, according to Reuters. Shine was named in numerous sexual misconduct lawsuits against Fox, and he was accused of failing to do more to prevent harassment. More specifically, Shine was accused of covering up former CEO Roger Ailes' alleged sexual harassment.
In fact, Shine's departure from Fox News came 10 months after that of Ailes, who was accused of sexual harassment by a former host. Former Fox News host Bill O'Reilly also resigned shortly before Shine — and also due to allegations of sexual harassment. Both Ailes and O'Reilly denied the allegations against them.
In a statement released on Thursday, the White House announced Shine's new position by describing the extensive experience he had to offer.
"Mr. Shine will serve as Assistant to the President and Deputy Chief of Staff for Communications," the statement read. "He brings over two decades of television programming, communications, and management experience to the role. Previously, Mr. Shine served as Co-President of Fox News Channel and Fox Business Network."
Late last month, The New York Times reported that Shine was a likely candidate to be Hicks' replacement. Citing an unnamed source, the Times reported that Shine was initially reluctant to take the job, as he was allegedly keen to avoid the scrutiny he knew he would face. According to the Times, Trump administration officials were already "aware that they may face blowback" for appointing Shine due to his close ties to Ailes.
However, as Vox remarked, Trump hasn't made the treatment of women a focal point of his administration. In fact, Trump himself has faced dozens of allegations of sexual misconduct, all of which he has denied. Politico suggested that by bringing Shine — a prominent target of the Me Too movement — into his administration, Trump risks drawing even more attention to the allegations against him. At the very least, Politico added, Trump's decision to appoint Shine appears to further cement the relationship between the White House and Fox News.
Although Shine does not have any previous political experience, according to the Times, he does have allies in the Trump administration — namely Kellyanne Conway, who reportedly turned down the communications director job and instead advocated for Shine.
Progressives are not the only ones opposing Shine's appointment. According to BuzzFeed News, people working in conservative media are some of Shine's most steadfast opponents.
"It's extraordinary that the president of the United States could hire someone like this," an unnamed senior Fox News executive reportedly told BuzzFeed News. "This is someone who is highly knowledgeable of women being cycled through for horrible and degrading behavior by someone who was an absolute monster."
Another unnamed source, a Republican reportedly close to the White House, told BuzzFeed News that appointing Shine could be "one of the worst mistakes that the president has made." "It's just not a smart idea," the source reportedly said.
The White House's announcement of Shine's appointment was reportedly a formality, according to BuzzFeed News. Shine was reportedly already meeting with reporters in the White House this week. According to Politico, Shine is the fifth communications chief to occupy the position since Trump assumed the presidency. Other than Hicks, his predecessors included Anthony Scaramucci — who notoriously only lasted for about 10 days — Sean Spicer, and Michael Dubke.