Nick Cannon Defends Mariah Carey's NYE Performance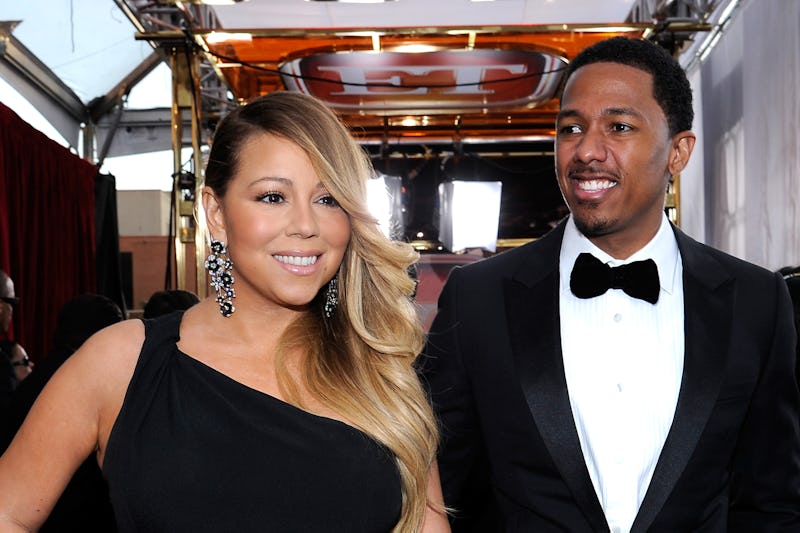 Kevork Djansezian/Getty Images Entertainment/Getty Images
Just as 2016 was finally winding down, Mariah Carey made headlines when her New Year's Eve show went awry. The ensuing weeks saw major back-and-forth between Carey and Dick Clark Productions — who put on the show — and how exactly things got off track remains unclear. Now, her ex-husband has finally weighed in on the situation, and Nick Cannon is standing by Carey's NYE performance. "Being the diva that she is, she said, 'I'm just going to walk around and pose for seven minutes,' " he said during a stop on The Ellen DeGeneres Show. "And like Ryan Seacrest said, she can do no wrong. So she worked through it."
During Dick Clark's New Year's Rockin' Eve, Carey fumbled through a couple songs before exiting the stage. She later said the company had "foiled" her, with her manager claiming that it was in an attempt to craft a viral moment. Carey attributed the mishap to faulty ear pieces, which made it impossible for her to hear her backing tracks.
Dick Clark, for their part, has denied any claims that the malfunction was intentional. The production company said in a statement to People:
To suggest that [Dick Clark Productions] … would ever intentionally compromise the success of any artist is defamatory, outrageous and frankly absurd … In very rare instances, there are, of course, technical errors that can occur with live television, however, an initial investigation has indicated that DCP had no involvement in the challenges associated with Ms. Carey's New Year's Eve performance.
As the host of America's Got Talent, issues with ear pieces are something Cannon knows well. "Anyone who knows about performing and having inner-ears, things like that can go wrong on live television," Cannon told DeGeneres. "I screw up on America's Got Talent all the time. So when there's people in your ear saying things and stuff, I think she got a little flustered."
Given his close relationship with Carey, Cannon's comments come as no surprise. The two were married for six years before announcing their separation in 2014, and despite their divorce, he's remained a big supporter of the singer. When fans began to hurl insults at Carey throughout the couple's breakup, he rushed to her defense on Twitter. ""What infuriates me most is to hear people slander @MariahCarey," he wrote. "I will forever be indebted to her for blessing me with our children ... I will always love her unconditionally for this and so much more. @MariahCarey is an amazing Mother and I trust her wholeheartedly."
The former couple has two children together, and are frequently spotted out as a family. Only a few days after the New Year's Eve debacle, both parents shared photos of a dinner with their kids on Instagram. "Family Dinner!! All is well! Live! Love! Laugh!" Cannon captioned the snapshot.
For now, the drama surrounding NYE seems to have fizzled, but it's great to see Cannon still has Carey's back no matter what their relationship status.