Former Dream Singer Melissa Schuman Has Filed A Sexual Assault Police Report Against Nick Carter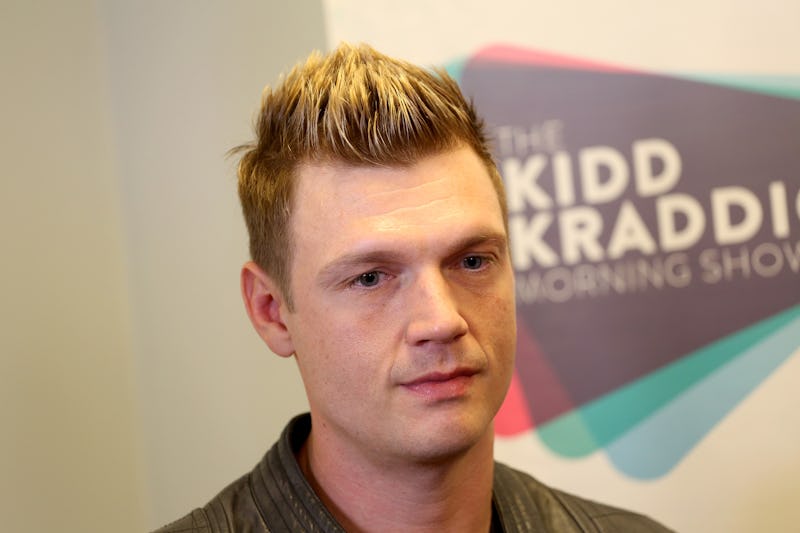 Rick Kern/Getty Images Entertainment/Getty Images
On Wednesday, former Dream singer Melissa Schuman filed a police report against Nick Carter, she confirmed on Twitter Wednesday. "I'm finally doing what I thought I could no longer do," Schuman tweeted. "Im filing a police report #timesup #bebrave #bethechange #metoo thank you @RAINN for empowering me to take this step." Bustle has reached out to a rep for Nick Carter, to the Santa Monica Police Department, and to Schuman for comment, but did not receive any responses at the time of publication.
E! News reports the Santa Monica Police Department confirmed that an individual came forward with allegations of sexual misconduct against the Backstreet Boys singer. According to E!, authorities are currently investigating and at this time cannot release the name of the alleged victim.
On Wednesday, People reported that the Santa Monica Police Department confirmed a complaint against Carter regarding an early 2003 incident was filed on Feb. 7. Us Weekly also confirmed Wednesday via Santa Monica police that there was a complaint filed against the 38-year-old singer "stemming from an alleged sexual misconduct incident that occurred 15 years ago."
Schuman also released a statement to Us calling her action of filing a police report "the single most empowering" thing she's done for herself. "I thought it was an option I could no longer pursue," she told Us. "A huge thank you to RAINN for empowering me to take this step."
Warning: This article section contains allegations about rape, which some may find triggering.
In November 2017, Schuman alleged Carter sexually assaulted her in the early '00s when she was 18 years old. In her blog, Melissa Explains It all, she alleged that while at Carter's Santa Monica apartment, he allegedly took her upstairs to his office to listen to new music he said he was working on and then allegedly sexually assaulted her. "He was relentless, refusing to take my no's for an answer," she wrote. "He was heavy, too heavy to get out from under him. Then I felt it, he put something inside of me."
At the time of her blog post detailing the alleged encounter with Carter, Bustle reached out to Schuman's rep for comment, but didn't receive an immediate response. Carter denied Schuman's allegations in the following statement given to Bustle via his rep:
"I am shocked and saddened by Ms. Schuman's accusations. Melissa never expressed to me while we were together or at any time since that anything we did was not consensual. We went on to record a song and perform together, and I was always respectful and supportive of Melissa both personally and professionally. This is the first that I am hearing about these accusations, nearly two decades later. It is contrary to my nature and everything I hold dear to intentionally cause someone discomfort or harm."
After writing her blog post, Schuman took to Twitter to thank those who support her. "I just want to thank everyone for the outpouring of love and support." Her tweet continued, "Thank you for bearing witness to my story. Thank you for providing me a safe place to be open and vulnerable. I love you all. Thank you for aiding me in the healing that I so desperately needed. I am free now."
On Tuesday, Dec. 19, Schuman wrote another blog post opening up about being called a liar for her allegations against Carter. "No matter the cost, I am proud to be on the right side of history and I hope you will join me too," she wrote. "Speaking out against sexual violence, assault and abuse are so important." She also wrote, "Know that your story matters. You matter. You deserve to be heard and seen and validated. And don't be shaken when they scream, 'Liar! Liar! Liar!'"
On Feb. 7, Schuman also tweeted about being called a liar: "I told what happened EXACTLY in the way I experienced it. I said NO multiple times to him. I wanted to stop but he wouldn't let me. I find it interesting that nobody is asking him for his side of the story. He releases a statement and that's it, you all believe him."
Schuman also claimed in her Dec. 19 blog that other women have come to her alleging sexual misconduct against Carter. She wrote, "I'm not the only one. And I know because I've been contacted." According to Schuman, these other women haven't spoken out for the following reasons: "Because of fear. Fear of him. Fear of his machine. Those who support him. Fear of how he will accuse THEM of being a liar too." Bustle reached out to Carter's rep regarding these claims, but didn't receive an immediate response.
If you or someone you know has been sexually assaulted, call the National Sexual Assault Telephone Hotline at 800-656-HOPE (4673) or visit online.rainn.org.