Nick Carter's Dance Lesson Has Got It Goin' On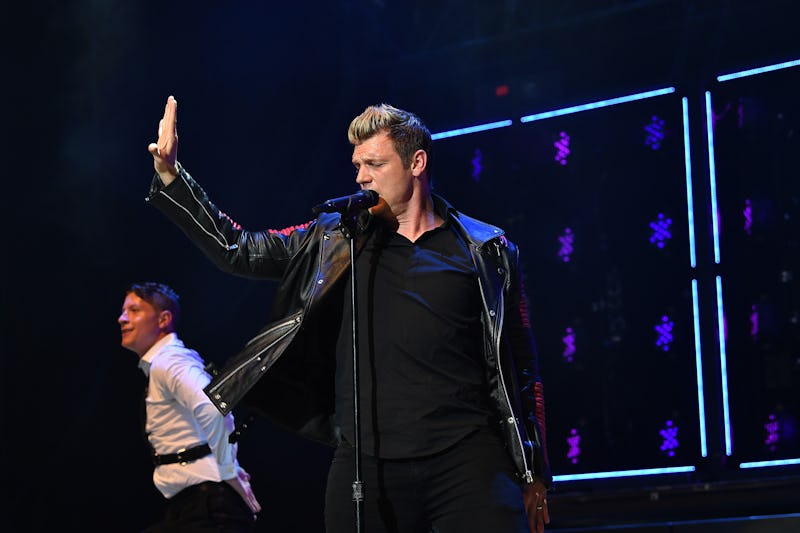 Dia Dipasupil/Getty Images Entertainment/Getty Images
Lace up your Sanshas and clear plenty of floor space, because Nick Carter lead a Backstreet boys themed dance lesson and said dance lesson is on the internet. In a recent video interview with Us Weekly, the BSB member broke down two of the group's moves: the Rock Your Body Right from "Everybody (Backstreet's Back)" and the Ain't Nothing But A Heartache from "I Want It That Way." So get ready to... rock your body right (sorry). Hey, if brushing up on iconic BSB choreo isn't a solid and productive way to spend an afternoon, then what is?
With this mini lesson, the impromptu dance class featured in Show 'Em What You're Made Of, and that group date on Nick Viall's season of The Bachelor, the boy band sort of seems to be on a mission to make sure BSB enthusiasts far and wide have their choreography down pat. Either that, or they just get a kick out of doing the BSB moves all these years later. Either option is solid.
A thought: What if the Boys of Backstreet were to put together a dance workout DVD? Would it be a terrific thing to spend $14.99 on, or would it be a terrific thing to spend $14.99 on? Come on, what fan wouldn't want to get some exercise in and learn some important BSB choreo from the Backstreet Boys in one fell swoop? And there is a lot of important BSB choreo to learn: In addition to the Rock Your Body Right and the Ain't Nothing But A Heartache, there's the fedora routine in "All I Have To Give," the chair part from "As Long As You Love Me," and the dance break from "Larger Than Life." Oh, and Carter's robot routine from "Larger Than Life." Cannot forget about that one.
Ready for Mr. Carter's dance lesson? Fire up the clip below, commit the steps to memory, practice along in the mirror, and get moving like you're performing at your very own Las Vegas residency.
*Goes to Las Vegas.* *Throws penny in the Bellagio fountain.* *Wishes BSB dance workout DVD idea would become a real thing.*