Backstreet's Officially Back, Alright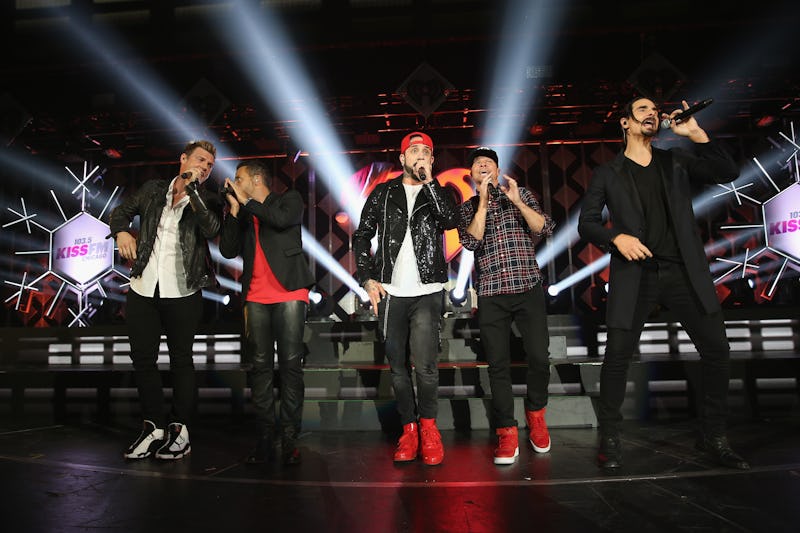 Tasos Katopodis/Getty Images Entertainment/Getty Images
Quick, someone check the Vegas flight rates. The Backstreet Boys' Planet Hollywood residency kicked off on March 1, and it looks so '90s-tastic, I suspect time travel is afoot. HelloGiggles shared a video from MTV news writer Jessica Norton, featuring a first look at the Backstreet Boys' Vegas concert. You guys, it is pure magic.
In the video, the guys are performing "Everybody (Backstreet's Back)," and everything from the laser light show to the choreography is some serious nostalgia fuel. The guys deserve major props for still being able to pull off their smooth dance moves from the '90s and the '00s. When they hit the "Am I sexual?" line, their struts are on fire.
If you grew up loving the band, having the opportunity to see them on tour, either again or for the first time, is an absolute gift. They just don't make boy bands like The Backstreet Boys anymore, and seeing how seamlessly they all work together to this day proves it. I would declare the band back, but they never really left their fans behind.
Their Vegas residency looks and feels like a labor of love, and if you are OK with sitting in the cheap seats, then tickets are a steal. According to Ticketmaster, tickets start at around $89 — not too high a price to pay to make your 13-year-old self's life-long dream come true.
If you plan on making the voyage to Vegas to see The Backstreet Boys rocking the stage, you have until July to catch the show. The small glimpse offered up in the video is more than enough to make me want to crack open my piggy bank. Even though the guys are hardly boys anymore, you wouldn't know it by watching them perform. They still move and look like they did in 1999. I suspect dark magic, but I'm totally OK with it.
Not everything in the '90s is worth getting nostalgic over, but The Backstreet Boys will never go out of style. The best pop music is timeless, and the fact that you still crank up "I Want It That Way" when it comes on the radio is a good indicator of just how amazing the group's music is to this day. Knowing they can still captivate a live audience is just a happy bonus.
Go ahead and splurge, Backstreet fans. The boys are waiting for you in Vegas, and you know you want to hear them croon "As Long as You Love Me" live. In fact, your tween self demands it.