Proof That Nick Jonas & Priyanka Chopra's Romance Is Seriously Burnin' Up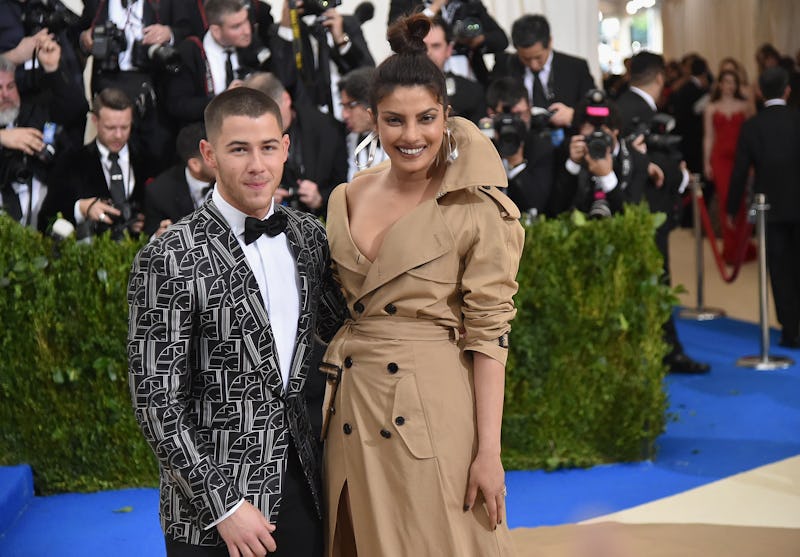 Mike Coppola/Getty Images Entertainment/Getty Images
Nick Jonas and Priyanka Chopra's reported relationship is the thing that you never knew you wanted 'til you actually heard about it. Since their romance is supposedly heating up, it was a disappointment for fans that Nick Jonas didn't bring Priyanka Chopra to the 2018 MTV Movie & TV Awards.The musician was at the show to give a fun performance for his new single "Anywhere" along with DJ Mustard, but his rumored girlfriend was not there with him.
When the MTV Movie & TV Awards were filmed on June 16, two days before the show was set to air on June 18, many celebs made fashionable appearances on the red carpet. One person who didn't have a date in tow? Nick Jonas. As JustJared noted, the "Jealous" singer walked the red carpet solo during the event. There's also been no indication that Chopra may have just skipped the red carpet and joined her reported beau at a later date.
So if you were hoping for another glimpse of the newest, surprising couple on the MTV Movie & TV Awards red carpet, you may be out of luck. Instead of bringing Chopra to the awards ceremony, Jonas chose to walk the red carpet solo.
Dating rumors concerning Chopra and Jonas first emerged in late May from multiple sources such as People and Us Weekly. According to Us Weekly's report, a source revealed that the two are dating, telling the publication, "They are dating and it's brand new... it's a good match and they are both interested in each other." Us Weekly reported that Chopra and Jonas have gone on many hangouts together as of late. Recently, they were spotted at a Dodgers game and the Beauty and the Beast Live concert in Hollywood.
Per People, Jonas and Chopra were even spotted hanging out with a group of friends over Memorial Day weekend. According to a fan site for Glen Powell, who was Jonas' co-star on Scream Queens, there was a photo posted that featured the couple in question — and they were looking quite cozy together.
If the duo are dating, as these reports suggest, it was certainly possible that Jonas would take the Quantico star as his date to the MTV Movie & TV Awards. Alas, it didn't happen. But, that doesn't mean that there haven't been some other interesting signs that things are progressing in the pair's relationship.
Following the news about their reported relationship, Chopra and Jonas were spotted attending a very special occasion together. As Us Weekly reported, the singer brought his rumored girlfriend as his date to his cousin's wedding on June 9. The publication noted that they walked "arm-in-arm" at the beachside ceremony for the wedding of Jonas' cousin, Rachel Tamburelli. According to the Daily Mail, the singer and the actor both (unsurprisingly) looked stunning as they arrived at the celebration. The day after the ceremony, the pair reportedly had brunch with the rest of Jonas' family and the guests.
On the day before the event, June 8, Jonas and Chopra were spotted at JFK airport, also according to Us Weekly. While the two have yet to discuss the state of their relationship just yet, these reports are a big sign that things are going rather well. After all, it's a pretty major step to attend the wedding of your of your significant other's relatives.
There's no doubt that the fans who went wild over this reported couple would have loved to have seen the pair in their red carpet best at the MTV Movie & TV Awards. But, they'll just have to wait to see Chopra and Jonas together at another occasion.