Fans Are SUPER Convinced That Priyanka Chopra & Nick Jonas Are Dating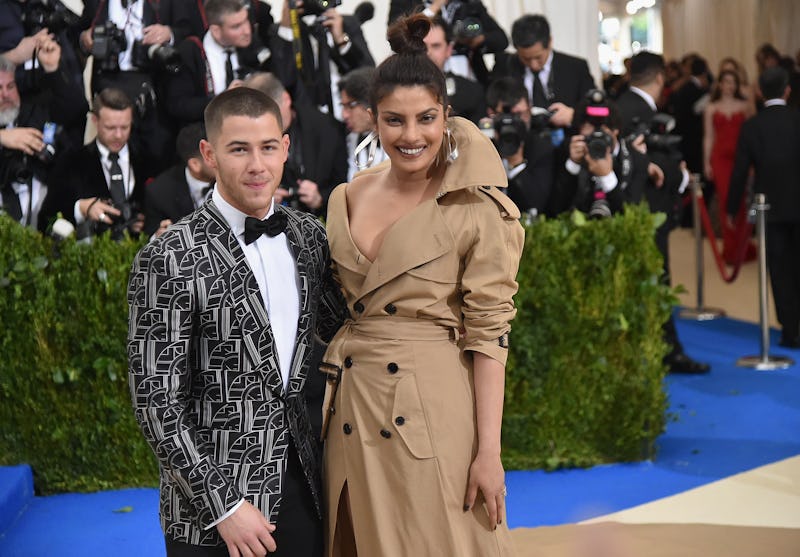 Mike Coppola/Getty Images Entertainment/Getty Images
There's nothing like a budding celebrity relationship rumor to stir up the internet. Priyanka Chopra and Nick Jonas are the latest stars to be "shipped" by the masses, as the Quantico star and singer have been spotted hanging out a lot recently, as reported by multiple media outlets. If you're one of the fans wondering whether or not Priyanka Chopra and Nick Jonas are dating, you're totally not alone. But, you may want to hold off on creating their couple name for now, because as the details about Chopra and Jonas' hangouts show, the two just could be friends. (Bustle reached out to reps for Chopra and Jonas for comment, but did not immediately hear back.)
According to US Weekly, Chopra and Jonas have been spotted out and about with one another on more than one occasion — during the long Memorial Day weekend, alone. While attending Beauty and the Beast Live concert at the Hollywood Bowl Friday, May 25, the two were said to have "walked in together just before the performance was starting," according to Us Weekly. "They looked great together," the source told US Weekly, "but no hand-holding or obvious PDA."
Fans also spotted Chopra and Jonas together at a LA Dodgers game on Saturday, May 26, and though, again, sitting with one another, no one witnessed either of them getting romantic. According to another US Weekly source, "They weren't trying to be private as they were in a pretty public place, but they were talking to people around them, sitting closely and they both just seemed super happy." A Twitter user even posted a video of the Chopra and Jonas at the game.
But, how did Priyanka and Nick meet, you ask? That remains a mystery, but after being grilled about their 2017 appearance on the Met Gala red carpet together, Priyanka revealed to Jimmy Kimmel in an interview shortly thereafter that the pair were friends. According to Priyanka, she and Nick had met a couple of times and decided to go together to the Met Gala as friends because they were both rocking Ralph Lauren. And as for their recent hangouts fueling dating rumors, who's to say that they're not simply doing so as friends today?
But whether Nick and Priyanka are an official couple or anything, however, a lot of fans are definitely happy about the thought of them linking up. And they couldn't help but to let out their excitement all over social media.
But of course, the internet is by no means monolithic, and so, there are quite a few fans not completely on board with the shipping of these two celebrities, in particular — no matter how cute they may look together. With Priyanka being 35-years-old, and Nick being 25-years-old, some folks on Twitter weren't too thrilled about them potentially linking up because of the age difference. And for some others, their crushes on either star is preventing them from taking the Priyanka and Nick dating rumors to heart.
As it stands today, Nick and Priyanka both appear to be single — though Nick has been linked to stars like Olivia Culpo, Kate Hudson, and model Georgia Fowler as of recently. And as for Priyanka, if the Quantico star is seeing someone, there's no evidence of such floating around the web. So, with that, it's safe to bet that both celebrities are currently available if, say, their dating rumors are true.
However, it's still totally possible that what fans are witnessing is nothing more than two pals, with similar interests, enjoying the long Memorial Day weekend together. And until Nick or Priyanka make their relationship statuses known, let's take all of their dating rumors wirth a grain of salt, while still keeping a close eye on the talented duo, of course.