Nick Jonas Once Took Selena Gomez On A HORRIBLE Date & The Details Are Hilarious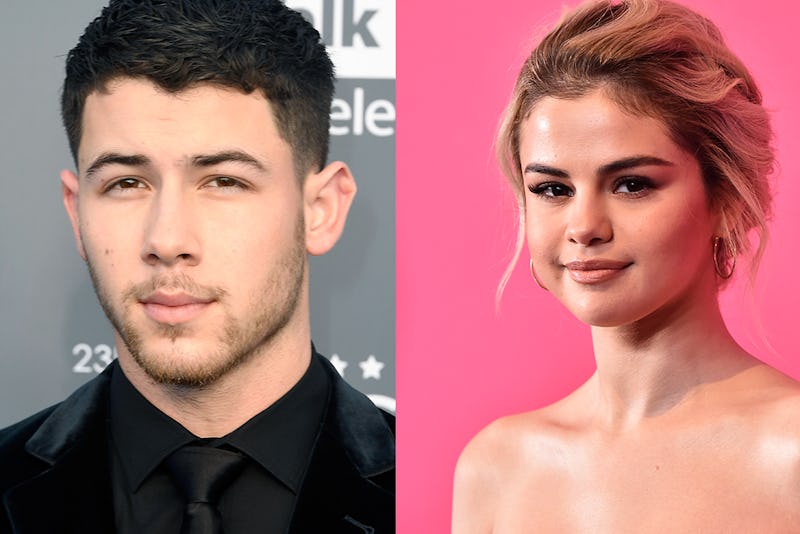 Getty Images/Bustle
In amazing celebrity news reveals, it turns out that Selena Gomez and Taylor Swift went on a double date with Nick and Joe Jonas, and it went... poorly. At least, it did for Gomez, who called Nick out on the date on the radio. The story is so funny, and the double date was so bad, that you honestly can't help but laugh at it. During an appearance on the BBC Radio 1 Breakfast Show, Nick Jonas was hooked up to a heart monitor and asked personal questions. Gomez called into the show to playfully make some trouble — if you had the chance to get your ex's heart racing for an audience, wouldn't you take it? — and brought up a years-old story about what has to be the worst double date of all time.
As it turns out, Gomez and Swift once accompanied their then-boyfriends (Nick and Joe, respectively) on a date in New York City's Central Park. According to Gomez's pre-taped message for Nick, things did not go as planned. "I would like to remind you of a time where we all went to Central Park together," she said, adding, "It was definitely over 10 years ago." She continued, "I was wondering if that brought up anything for you, I know Central Park was really beautiful, it was actually my first time [there]."
This definitely made Nick sweat; with the end of every sentence from Gomez, his heart rate visibly increased.
A visibly uncomfortable Nick was then tasked with explaining this story to an equally perplexed BBC Radio 1 host. In Nick's own words:
"So this was at a time when my brothers and I were a boy band and we were in Central Park and we were very private about our relationship. And she was unhappy that her Central Park experience was ruined by the fact that I walked about 20 feet away from her. Even though they were taking pictures of us and obviously we were there together it was like, 'It would be better if we stand about 25 feet apart.' So it ruined her Central Park experience, so her and Taylor Swift, who was dating my brother Joe, walked 25 feet behind us as we walked through the park by ourselves."
To recap, Gomez's first-ever time visiting Central Park was apparently while on a double date with her mega-famous friend and the equally famous (at the time) brothers they were dating. Considering she had to walk 25 feet behind her boyfriend, despite his own admission that everyone knew they were an item, it feels like a stretch to call it a double date. This is the first time fans have heard about it, so perhaps they were all sworn to secrecy, due to intense embarrassment? At least Gomez and Nick can laugh about it now.
Other celebrities, including brother Joe, tried to get Nick's heart pumping. They managed to, but no story could compete with Gomez's. The grimace it brought out in Nick was just too delightful. Of course, this was a long time ago — they haven't dated since 2008, at the latest — but the uncomfortable story is enough to make anyone work up a sweat. Funnily enough, simultaneously dating Jonas brothers was reportedly what brought Gomez and Swift together as pals in the first place. As Gomez told Kiss FM in 2017,
"We actually dated the Jonas Brothers. It was hysterical. She was the girl with the big curly hair and the bracelets and the cowboy boots. I was definitely up-and-coming, and we just clicked... It was the best thing we got out of those relationships. They're lovely, by the way. We're all friends now."
As J.K. Rowling once wrote, "There are some things you can't share without ending up liking each other." She was referring to Harry, Ron, and Hermione defeating a bathroom troll on Halloween, but going to Central Park with Jonas Brothers for the world's worst double date definitely applies here too.