Selena Gomez's Review Of Taylor Swift's New Album Will Make Swifties Antsy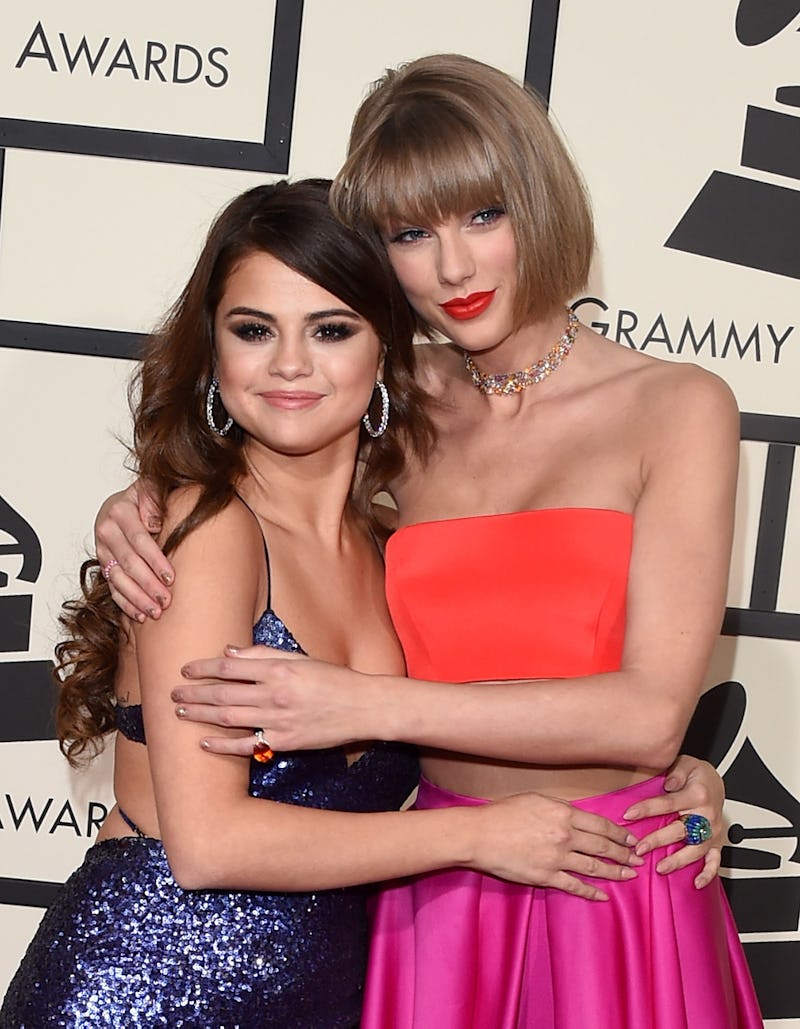 Jason Merritt/TERM/Getty Images Entertainment/Getty Images
So far Taylor Swift has released three tracks from her upcoming album, Reputation, "Look What You Made Me Do," "Gorgeous," and "... Ready For It?" Fans have responded well, as evident from the millions of views lyric videos have received. But beyond the numbers, people who have listened to Reputation are saying positive things about it. Case in point: Selena Gomez has heard Swift's Reputation, and the way she describes the new album will get fans even more excited — if that's possible — about listening to it when it comes out on Nov. 10.
During an interview on Apple Music's Beats Radio 1 to promote her new single, "Wolves" (which came out yesterday, Oct. 25), Gomez spoke with host Zane Lowe about a number of things, including Swift's own new music. "Have you heard the Taylor album?" Lowe asked Gomez. "Is it good, is it incredible?"
Gomez responded with a laugh, according to Harper's Bazaar, and said,
"Would you expect anything less? It's so inspiring. It's really cool to surround yourself with people and be involved with people who are inspiring and changing the way they dictate what they love, whether it's acting or music, and she's one of those people who will continue to do that."
When Lowe asked Gomez whether or not Swift played her new album for Gomez personally, the "Wolves" singer responded, "Yeah! For sure." Gomez then gushed a bit more about Reputation and the accompanying vibe of this new era in Swift's career.
"I love her so much," Gomez shared, "and I want her to do what she does and she's killing it and it's everything you would want and more." Gomez then said that she was "very proud," and that she was "obviously" a "major fan" of Swift's new music.
Gomez is a talented writer and singer, with dozens of hits under her belt, so if she's impressed and inspired by Reputation, then it's probably safe to bet that the rest of us loyal Swifties will also enjoy the new album. Especially if the songs she's already released are any indication of what we can expect from the rest of the tracks.
Swift first announced Reputation and the album's release date over two months ago on Aug. 23. Just a few days later she dropped the music video for her first single, "LWYMMD" and it set a YouTube record by accumulating more than 43 million views in 24 hours, as the NY Daily News reports. Swift then released "...Ready For It?" the music video for which is slated to be released the night of Thursday, Oct. 26, and "Gorgeous." All of which were met with excitement by fans, and there's been even more excitement from fans who have gotten the chance to listen to the album in advance at one of Swift's listening parties.
Gomez has also had success with her own new music recently. Her video for "Bad Liar" was widely praised and is currently approaching 200 million views on YouTube. Her new song with Marshmello, "Wolves", is currently the number one song on iTunes, and fans of Gomez are eagerly awaiting a full album from the singer. However, as Gomez explained during her Beats Radio 1 interview, she's going to take her time.
"I'm going to release the songs I want to release," she explained. "I was also going through stuff personally and I just wanted to take care of myself." Remember, Gomez shared that she had undergone a liver transplant about a month ago, so it's understandable that she isn't interested in rushing to release a full album.
It's really great to see that Swift and Gomez aren't letting the fact that they're both promoting new music get in the way of their friendship. Even more awesome is the fact that they're speaking out in support of each other. And based on Gomez's review of Reputation, Nov. 10 can't come soon enough.