Nick Jonas & Priyanka Chopra Just Took Another Major Step In Their Rumored Relationship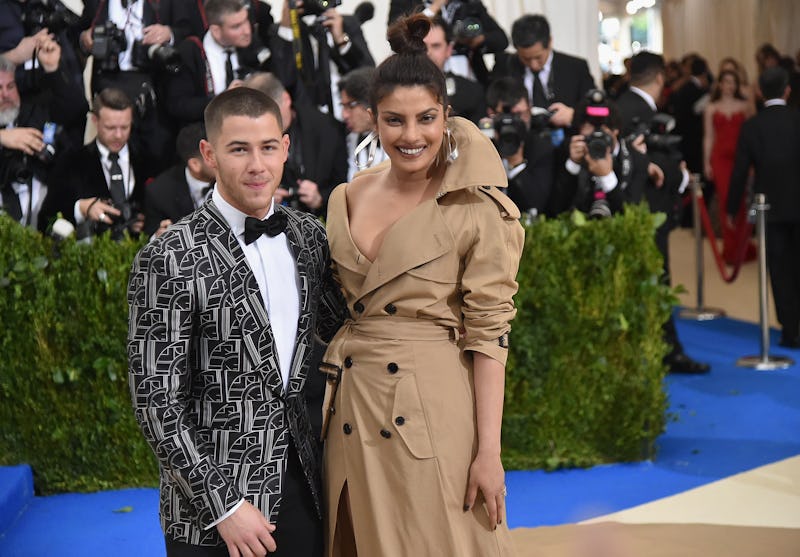 Mike Coppola/Getty Images Entertainment/Getty Images
They may have played coy at first, but it looks like these two aren't afraid to show off their relationship now. Nick Jonas and Priyanka Chopra went to India over the weekend, and it looks like the trip was an even bigger milestone for them than fans had originally realized. According to several media outlets, Chopra brought Jonas with her to a mehendi ceremony and a pre-engagement party for two of her friends. (Bustle reached out to Jonas and Chopra's reps for comment on the relationship rumors, but has not received a response.)
Chopra shared a photo of herself with her friends at the mehendi ceremony on Instagram, congratulating the happy couple. She wrote in her post,
"Congratulations Akash and Shloka!! Such a beautiful ceremony.. mehendi hai rachne wali.. love you both. Pre pre engagement party❤️🙌🏽"
Photographer Viral Bhayani also shared a video of Chopra and Jonas reportedly arriving at the pre-engagement party together. In Bhayani's photo of the couple, Jonas appears to have worn a navy suit with a white shirt (and no tie) to the event. It looks like the two of them posed together for a photo after arriving at the party, too.
Here's the photo Bhayani shared of the rumored couple:
Jonas and Chopra also went Instagram official over the weekend. Although the two of them have gotten flirty with Instagram comments in the past, Chopra's appearance on Jonas' Instagram story marked the first time either of them had shared photos or video of one another. In the story, Jonas filmed Chopra walking towards him, and he captioned it "Her," along with a heart-eyes emoji. Chopra also shared an Instagram story on Wednesday that features the back of a man who definitely looks like Jonas.
While the pre-engagement party news is a surprise, meeting Chopra's friends isn't the only milestone the couple apparently reached with the recent trip. Jonas was reportedly meeting Chopra's mom, according to People. An unnamed source told the magazine that things are "getting serious" for the couple and that they're "very happy" together.
As for Jonas' family, it sounds like Chopra has already met some of the key players in his life, too. Chopra reportedly went with Jonas to his cousin's wedding in New Jersey on June 9, according to Us Weekly. The pair were also seen at a post-wedding brunch with some of the other Jonases.
Jonas said in a December interview that he wanted to go to India. In a statement to the Indo Asian News Service, Jonas said that Chopra — who he referred to as his "new friend" — had told him a lot about India, and he was "dying" to go there. Based on the photos from this weekend, it looks like his wish came true — and that he'll be referring to Chopra as more than a friend from now on.
In fact, the couple's relationship has progressed so quickly that some fans believe Chopra and Jonas could already be engaged. The couple hasn't addressed the rumors, so they should be taken with a grain of salt. But their relationship does seem to be getting more serious, and it looks like they're not afraid to spend time with each other in the public eye.
Reports that Jonas and Chopra are dating started in May, when an unnamed source told Us Weekly that the relationship was "brand new." The two of them went to the Met Gala together in 2017, but they insisted that they were just friends at the time, attending the event together since they were both wearing Ralph Lauren. The two of them may have been cryptic about their relationship in the past, but it looks like they're happy to take things public these days, even if they're not engaged just yet. Who knows — maybe the next "pre-engagement" party they're at could be their own.
Photo courtesy Viral Bhayani