Nick Jonas & Priyanka Chopra's Families Are Apparently Meeting For A *Major* Milestone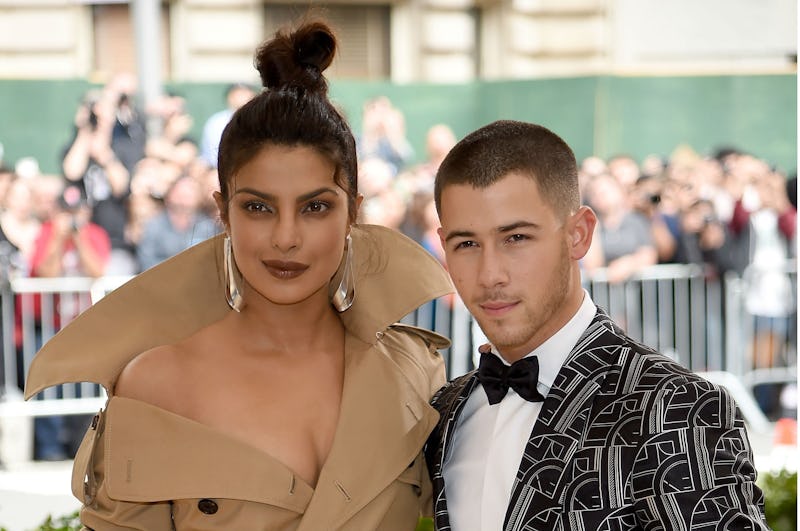 Dimitrios Kambouris/Getty Images Entertainment/Getty Images
Despite the fact that the couple has yet to actually confirm their rumored engagement, it definitely sounds like things are moving in the direction of "I do." Nick Jonas and Priyanka Chopra's engagement party is reportedly happening this weekend, a source told DNAIndia (as per Marie Claire), and both of their families may be headed to India for the occasion.
On July 27, People broke the news that Jonas and Chopra had gotten engaged after two months of dating. A source for the publication said that Jonas shut down an entire Tiffany's store to pick out a ring for his fiancé-to-be, and that he proposed to Chopra in London on July 18 — her 36th birthday. (Bustle reached out to their reps for comment at the time of the engagement reports, but did not hear back.)
Flash-forward one month later, and a source for DNAIndia is saying the couple's rumored engagement party date — Aug. 18 — is no coincidence. "Priyanka has sent out messages to close friends and family members to set aside time on August 18 for a party," the source claimed. "It's exactly a month after her birthday and those close to the Quantico actress feel that she may make an official announcement about her relationship status at the bash. However, the venue of the do has been kept under wraps."
As for the party's supposed location of India, it'd definitely make sense for a couple of reasons. First of all, it's Chopra's home country, and where her family currently lives. Second, the actor has been in Mumbai filming The Sky Is Pink for the last several days, according to her Instagram, so perhaps she's overseeing the party-planning there when she's not busy working?
Chopra and Jonas have seemingly both met each other's families at this point, but the party would mark the first time that their respective families have met each other. Chopra met and mingled with the Jonas fam back in June, Us Weekly revealed, when the pair attended Jonas' cousin's wedding in his home state of New Jersey. They spent the 4th of July with his side as well, according to E! News, so it sounds like Chopra's already fitting right in.
Jonas, for his part, did wedding date duty with Chopra in India at the end of June, where he met her family and a bunch of her friends. "We're getting to know each other and I think it was a great experience for him," Chopra told People about their visit. "That's what he said. I think he really enjoyed it. It was really beautiful. He had a great time."
Sounds like Jonas wouldn't hate heading back there to celebrate their reported engagement. Plus, it's super convenient for Chopra and her family right now, too. It's also a much more exciting location than Jonas' home state of New Jersey — no offense, New Jersey — and Jonas' family is probably pretty pumped to visit where Chopra grew up.
Again, though, these are all just rumors at the moment. However, fans might want to keep an eye on the stars' social media pages this weekend. If the engagement party does go down, perhaps we'll finally get some confirmation.