These Photos From Nick Jonas & Priyanka Chopra's Wedding Are Totally Swoon-Worthy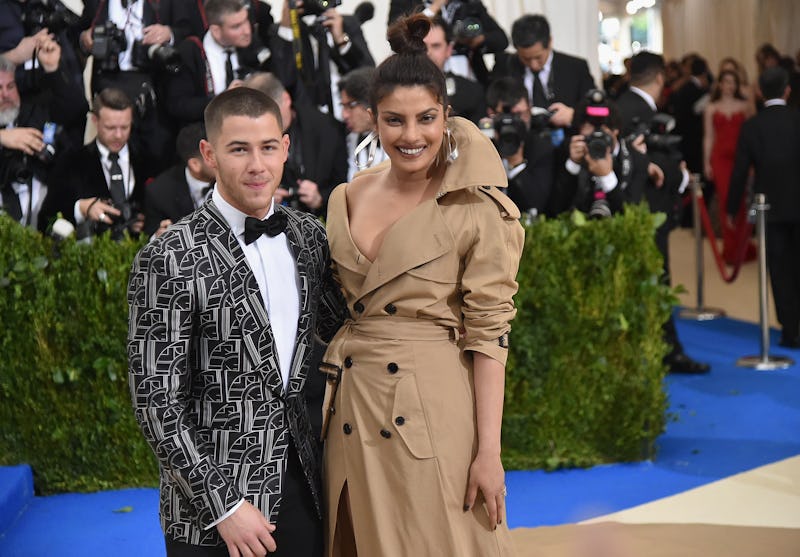 Mike Coppola/Getty Images Entertainment/Getty Images
"And forever starts now." The caption to Priyanka Chopra and Nick Jonas' new wedding photos is a celebration of the commitment the two made over the weekend. But, the photos from their Christian wedding ceremony and their Hindu one — both of which she posted to her Instagram — are a beautiful reminder of how Chopra and Jonas' weddings were a way of bringing two different families with two different faiths and cultures together. No surprise, the couple now officially known as NickYanka, looked amazing doing it.
For the Hindu ceremony, which took place at Umaid Bhawan Palace in Jodhpur, Chopra wore a custom red Sabyasachi lehenga or ankle-length skirt covered in hand-cut and embroidered organza flowers. According to the designer, "110 embroiders from Calcutta, India took 3,720 hours" to make this couture look.
Jonas didn't look like a slouch either, wearing traditional Indian wedding fashion. He wore a hand-quilted silk sherwani, or long coat, with a hand-embroidered chikan dupatta and a chandari tissue safa also by Sabyasachi.
Chopra told People, who will publish their wedding photo album in their upcoming issue, that Jonas' suggestion that they have two ceremonies "melted my heart. Being able to have two big weddings," she said," in India, with our closest family and friends was unbelievably special."
It also meant double the looks for fans who can't get enough of these two. For their Christian ceremony, which was officiated by Jonas' dad Paul Kevin Jonas, Sr., the couple both wore Ralph Lauren. Chopra accessorized her hand-beaded and embroidered gown with a 75-foot veil that is on full display in the photo she posted to Instagram.
Jonas also posted the photo writing a caption that will make you say "aww": "Happiest day of my life." Another thing that might make you repeat that "aww"? The two's affection for one another in this shot, which shows Jonas sweetly kissing his wife's hand.
No judgment if this image brings tears to your eyes. It sure did for Chopra who told People, "It was all tears. All tears. I could not hold it in" during the ceremony. Chopra admits she was nervous to get married, but said that "as soon as the curtains opened, and I saw his face it was just like everything settled and I knew I was making the best decision of my life."
The two weddings capped off a five-day affair that Chopra jokingly told Vogue would result in all 225 of their guests "needing a vacation." That might not be a joke, though, since Chopra and Jonas' pre-wedding festivities included a traditional Indian Mehendi ceremony, where the bride gets henna tattooed on her hands and feet, and a wedding gift bag compete with an "Oh Sh*t Kit" for any possible hangovers.
They also had their friends and family participate in a singing and dancing competition, which looked pretty epic on Chopra's Instagram. Honestly, American Idol has nothing on these two. But the couple weren't just doing all these pre-wedding festivities for the 'gram, it was their way of celebrate their cultures.
"One of the most special things that our relationship has given us is a merging of families who love and respect each other's faiths and cultures," Jonas wrote on Instagram on Dec. 1. "And so planning our wedding with an amalgamation of both was so so amazing."
What's even more amazing is that Chopra and Jonas have been willing to share it all with the world. Here's to hoping they post some photos from the honeymoon.