Nick Jonas & Priyanka Chopra's Wedding Weekend Details Will Make You Feel Like You're There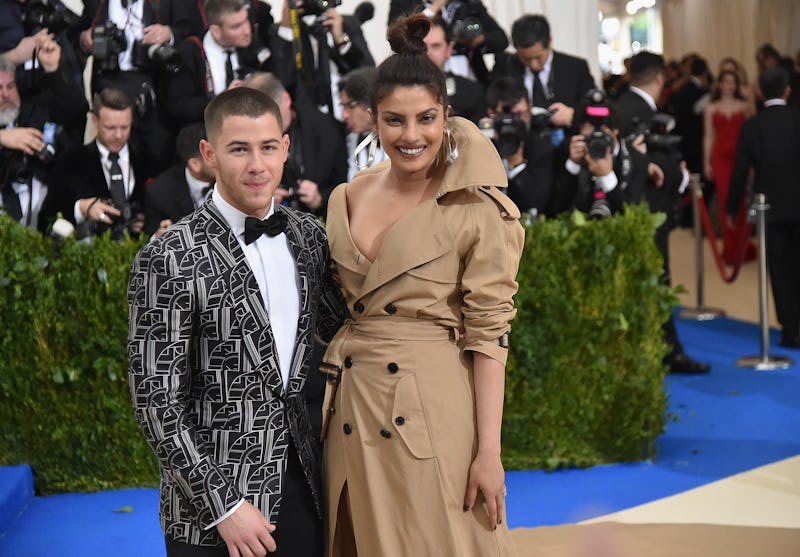 Mike Coppola/Getty Images Entertainment/Getty Images
After a whirlwind romance — and just four months after the pair confirmed their engagement in August — Nick Jonas and Priyanka Chopra are officially married. According to People, the couple tied the knot in a Western ceremony at the Umaid Bhawan Palace in Jodhpur, Rajasthan on Saturday, surrounded by family and friends.
The couple's weekend-long celebrations kicked off on Friday with a colorful Mehendi ceremony, a traditional Indian tradition in which the bride has designs drawn on her hands, arms, and feet in henna. Both Jonas and Chopra shared photos from the event on their Instagram pages, where they explained that, like all of their wedding festivities, they "made it our own."
"One of the most special things that our relationship has given us is a merging of families who love and respect each other's faiths and cultures. And so planning our wedding with an amalgamation of both was so so amazing," the couple captioned an album of photos from the ceremony, which showcased Chopra's brightly colored gown, which she paired with lots of jewelry and fresh, purple flowers in her hair. Jonas also wore a traditional kurta, while his mother and future sister-in-law Sophie Turner celebrated in saris.
"An important part for the girl in an Indian wedding is the Mehendi," their description continued. "Once again, we made it our own and it was an afternoon that kicked off the celebrations in the way we both dreamed."
Chopra and Jonas' stunning looks were put together by Indian designers Abu Jani & Sandeep Khosla. Via a press release, the designers shared, "A Mehendi calls for joyous and exuberant celebration. Priyanka's outfit is a burst of colour. Nick's aqua is the perfect balance. They looked like a dream together."
Note: This post will be updated throughout the weekend
The Wedding, Part 1
The following day, the couple tied the knot in a Christian ceremony, which was officiated by Jonas' father, Paul Kevin Jonas Sr. According to People, the singer's groomsmen included all three of his brothers, Kevin, Joe, and Frankie, as well as Chopra's brother, Siddharth.
Both Jonas and Chopra wore custom Ralph Lauren ensembles for their wedding — as did all of their bridesmaids and groomsmen, and their families — which holds special significance for the couple, who wore Ralph Lauren when they attended the Met Gala together in 2017, just one week after they first met in person for drinks at the Carlyle Hotel. Chopra is the first person outside of Lauren's family to have a wedding dress made by the designer as well, which makes her choice of ensemble even more special.
And while the couple kept many of the details of their reception under wraps — according to the Times of India, Jonas and Chopra banned cellphones from their ceremony — guests did begin celebrating as early as Monday, when Joe, Turner, and other close friends and family arrived in Mumbai. Both Jonas and Chopra commemorated the celebrations with photos on their social media accounts that showcased their joy at being surrounded by loved ones for this major milestone.
Pre-Wedding Fun
When the rest of their guests arrived in Mumbai, they were greeted with extravagant gift bags, to thank them for attending the couple's wedding celebrations. According to Entertainment Tonight, guests "were given various gifts and a gift bag on their arrival with cards from Priyanka and Nick." In addition to an itinerary for the long weekend, guests were given a bag filled with food, spices and treats from India, in order to show them the best treats from the country, as well as an "Oh Sh*t Kit" to treat any eventual hangovers, and a large, fancy tote bag for female guests.
But the presents weren't just limited to guests — Jonas also treated all of his groomsmen to lime green electric scooters, which he showed off on Instagram in early November. As for the newlyweds themselves, their wedding registry was centered around fun gifts for their new homes together, and included everything from a record player to roller skates. The couple also gave People a hint as to what married life would be like, with Chopra explaining that she chose certain dinnerware sets and throw blankets with guests in mind. "I've always been an entertainer," Chopra told the publication, "My home is always bustling with loved ones. I have a very close-knit set of friends and so does Nick and I like being a host."
On Sunday, Dec. 2, Chopra shared new details about the couple's Sangeet, a huge party traditionally held before the wedding in Indian culture. In an Instagram post, the actor shared a video of the lavish event, along with photos and a caption that emphasized just how wonderful the celebration was for her and Jonas. She wrote:
"It all began as a fierce song & dance competition between the families but ended, as always, as a huge celebration of love. Nick and I were looking forward to the Sangeet (musical evening), another pre wedding ritual.. and to see what each side had put together. And what a performance it was. Each family telling our stories through song and dance, filled with lots of laughter and love. We were both filled with gratitude for the effort, the love and the laughter and will carry the memories of this special evening for the rest of our lives. It is an amazing start to a lifetime of togetherness for our families and friends.. #grateful"
The Wedding, Part 2
On Sunday, the celebrations will continue for Jonas and Chopra with a Hindu ceremony that will be a nod to the Quantico actor's background and religious traditions. But considering the couple have already proven that they want to do things their own way, it's safe to assume that the Hindu ceremony will be anything but traditional — and anything but boring.