Nick Jonas & Priyanka Chopra's Wedding Registry Legit Has Everything (Roller Blades!)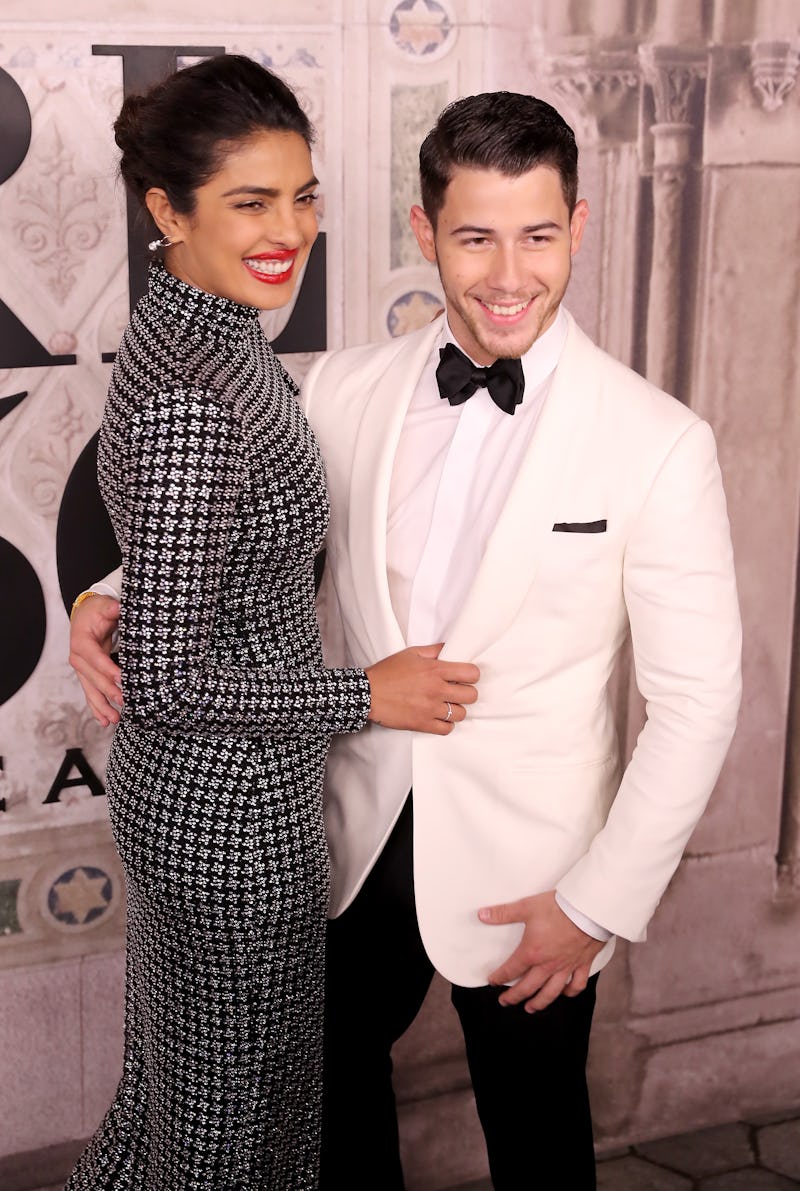 Rob Kim/Getty Images Entertainment/Getty Images
Priyanka Chopra and Nick Jonas are getting everything together for their upcoming wedding and that obviously includes making a registry. Speaking of Priyanka Chopra and Nick Jonas's wedding registry, which they revealed to People, it's safe to say that they might be receiving a very eclectic array of gifts during their special day.
Chopra and Jonas built their wedding registry through Amazon, which means that they were able to include more than a few interesting additions. One of those being roller blades, which is as fun as it is a little random. Another one of those additions? A record player. As the Quantico actor revealed to People, the record player will definitely come in handy when the couple wants to entertain their friends. She said:
"I've always loved a record player. I just love the sound — I play everything from Ariana Grande to The Chainsmokers on my record player. It looks so cool. And every party with me ends up in a dance party. It just has to happen!"
Who else is dying to get an invite to one of Chopra's dance parties right about now? According to the actor, being an entertainer comes second nature to her, and her soon-to-be husband, as well. So, it only makes sense that they would fill their registry with items like a record player, throw pillows, and dinner plates that they can use for entertaining their future guests. "I've always been an entertainer," Chopra told the publication, "My home is always bustling with loved ones. I have a very close-knit set of friends and so does Nick and I like being a host."
Ever since Chopra and Jonas announced that they were engaged back in August, there have been many reports outlining some of the pair's possible wedding plans. According to Glamour, the wedding could take place super soon, as it's rumored that it could happen anytime between Nov. 30 and Dec. 2. As for where it will take place, it's likely that the locale will be Jodhpur, India at the Umaid Bhawan Palace, again as reported by Glamour. A wedding ceremony held at a palace? That sounds like an actual dream.
Chopra and Jonas have already started the wedding celebrations, as evidenced by the actor's Instagram. The Baywatch star posted all about her fabulous Bachelorette party, which took place in Amsterdam in early November. The bride-to-be wore a stunning white Georges Chakra look for the event, while many of her friends and family wore red.
Based on one of the snaps she posted after the occasion, it's safe to say that Chopra and her future sister-in-law Sophie Turner had an amazing time celebrating. On Nov. 5, she posted a photo of the two together, which she captioned with "The morning after..." as they donned "Hungover" eye masks. The actor also hash-tagged the post with "#TheJSisters," a fun play on her husband's popular band with his brothers.
It definitely sounds as though Chopra and Jonas are ready to tie the knot sometime in the very near future. And thankfully for any of the guests attending the upcoming affair, all they'll need to do is check out the future husband and wife's wedding registry to know exactly what kind of fun gift to get the couple.