Nick & Vanessa Wedding Updates Won't Please 'Bachelor' Fans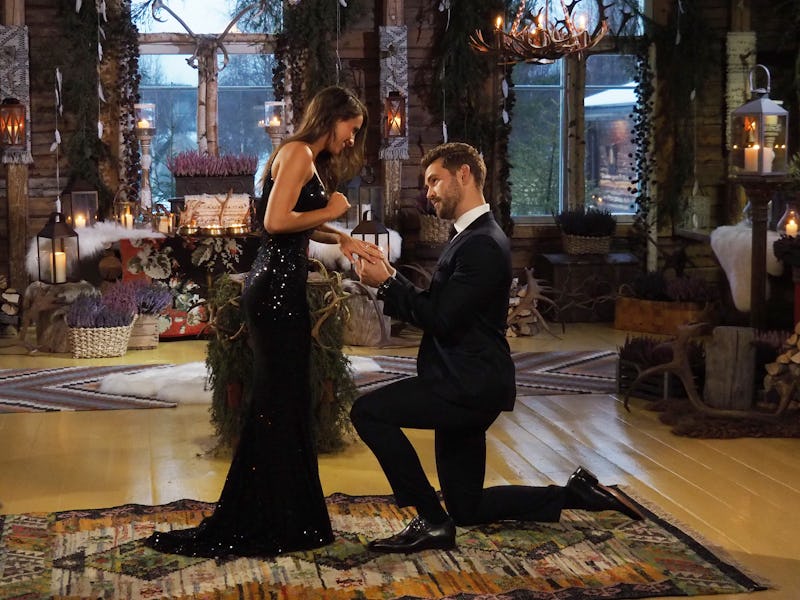 ABC/Terhi Tuovinen
It's been several months since filming wrapped on The Bachelor and Nick Viall proposed to Vanessa Grimaldi, but I wouldn't expect any new information about their impending nuptials. Since the show ended a few months ago, everybody has been wondering and asking when Nick and Vanessa are going to get married. Back in March, the couple confirmed that they aren't planning a wedding right now. "Like Vanessa and I have said, I think it's too early for us," Nick said in an interview with People, adding, "We're very open about the fact that we have a long way to go and we're excited about that journey."
There have also been some developments in recent months that may pose a challenge for their relationship and any wedding planning. Vanessa and Nick are spending the summer apart. She went back home to Montreal and Nick stayed in Los Angeles. In May, Nick posted a sad Instagram shot of him dropping her off at the airport. "I'm going to come and visit," Nick told Life & Style about their long distance relationship. "I'll have to go back and forth." And that he did. Just a week after she left, he went out to Montreal to spend time with his fiancé and her family. Throughout the weekend the couple documented his trip to Canada with cute videos and adorable snaps.
After the show ended, the couple revealed on After The Final Rose that there were lots of ups and downs in their relationship. Basically, it's not easy falling in love on national TV, especially when one person lives in another country. In fact, if you remember, one of the major issues they faced on the show was what would happen if they got engaged. Nick was very set on his life in Los Angeles and Vanessa was absolutely obsessed with Canada. Her whole family lives close together and she had a group of students she was close to.
However, before they could figure out where they were going to live, Nick landed a spot on Dancing with The Stars as soon as The Bachelor ended. Vanessa moved to Los Angeles to be close to her man while he was on the show, but after he was sent home, it was time for them to start focusing on each other. They posted photos of themselves on date nights to fabulous events, like the Guardians of The Galaxy premiere. In a photo I'm sure wasn't staged at all, Nick was cooking breakfast for her and basically all things were perfect from the outside. Unfortunately, Vanessa had to get back to the real world and her life in Canada.
He told People in the same March interview that Vanessa may have to go home because of visa issues, but said they were trying to figure the legal stuff out. It would seem they're still trying to deal with that, but are making the long distance thing work. You know Nick, getting married could help solve that little visa problem... just so you know. But, as of July 28, they were still not planning anything. Nick told People, "Nothing's changed ... I think it's always important to take things slow."
It seems that these two lovebirds are in a great spot for now commuting back and forth, and I'll be keeping my eye on those wedding updates.