Nick & Vanessa Are Back To Long Distance Dating Post-'Bachelor'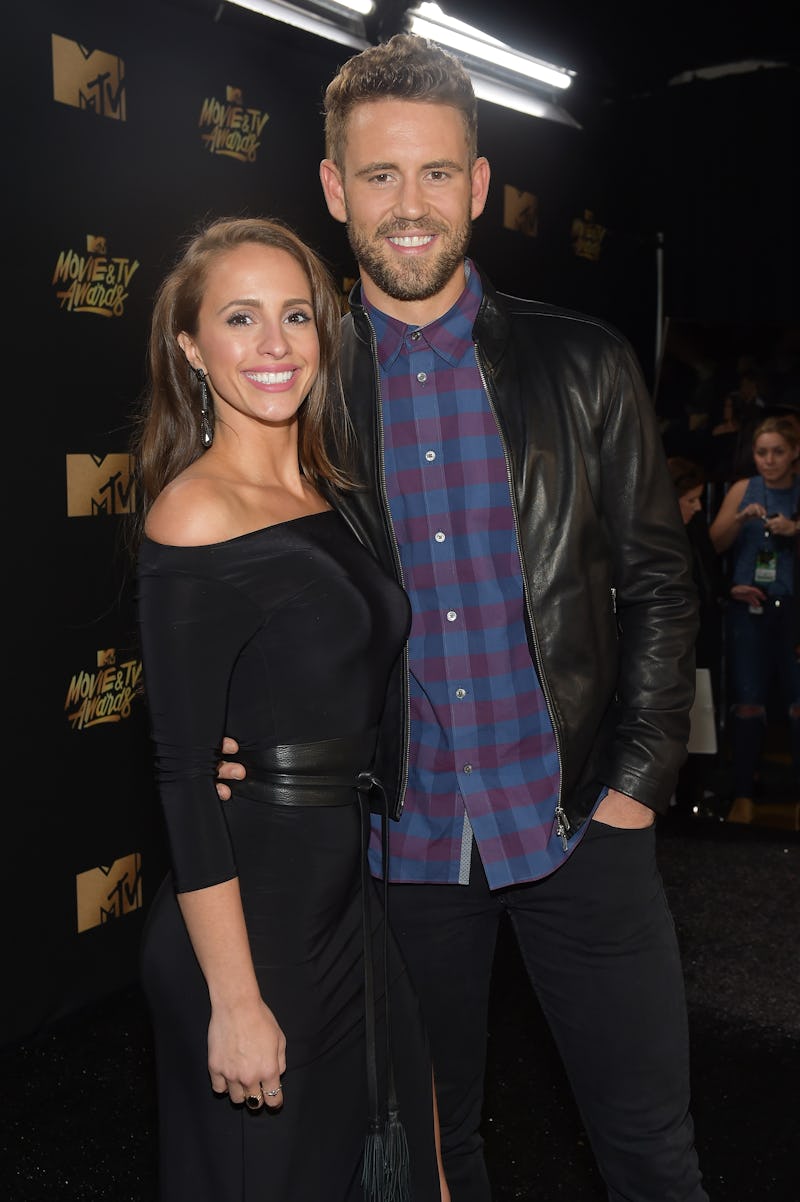 Matt Winkelmeyer/Getty Images Entertainment/Getty Images
Things are about to get a lot harder for Nick Viall and Vanessa Grimaldi. After getting engaged on The Bachelor last season, Nick and Vanessa are spending the summer apart. Vanessa recently headed back to Montreal and Nick will be staying in Los Angeles, according to Life & Style. They told the gossip mag that they aren't planning a wedding just yet, but are "focusing on their relationship." Despite the long-distance relationship, it seems like Nick and Vanessa are still together, that is if social media is any indicator. It's unclear what's happening after the summer, but hopefully these two can make things work in the end.
After three unsuccessful attempts to find love in the Bachelor franchise, Nick was chosen to be The Bachelor. In the end, it was Vanessa Grimaldi, a special needs teacher from Montreal, who won over his heart. He proposed in Finland during the season finale. Shortly after, Vanessa packed her bags and moved to Los Angeles to be closer to him while Nick went on Dancing with the Stars. He made it pretty far before he was sent packing sans Mirror Ball trophy. Now Vanessa is back home with her family and the pair will have to stay strong despite the distance. Only time will tell if these two lovebirds can make it work, but I am staying optimistic for them. Although it's only been a few months since they announced their engagement, it's clear they're still together and very much in love.
They Were Sad To Leave Each Other
"Dropped babe off at the airport today," Nick wrote less than a week ago alongside a photo of the couple looking sad.
They Send Each Other Cute Messages On Twitter
What's the point of being engaged if you can't flaunt your love with cute little messages on social media? I mean, are you really engaged if you don't post it for the world to see?
They Have Glamorous Date Nights
They include mirror selfies and red carpets, of course.
She Supported His Dancing Dreams
When it was revealed her beau was going on Dancing with the Stars, she was there supporting him every step of the way.
And Even More Glamorous Bed Photos
The day after Nick was kicked off Dancing with the Stars, he took to Instagram to tell the world that it doesn't really matter he went home because he still has his fiancée.
They Attend Movie Premieres Together
Talk about the ultimate date night. They were hanging out with the Guardians of the Galaxy a few weeks ago.
They Support Good Causes
Back in April, the couple snapped a photo in support of autism awareness.
He Cooks For Her Shirtless
Obvi.
This Photo Says Everything
In my best Princess Bride voice: "Twue Wuv." And hopefully the kind that can beat the distance.