The First Clip Of Nick Viall Acting On 'Speechless' Is Here & Actually It's Not That Bad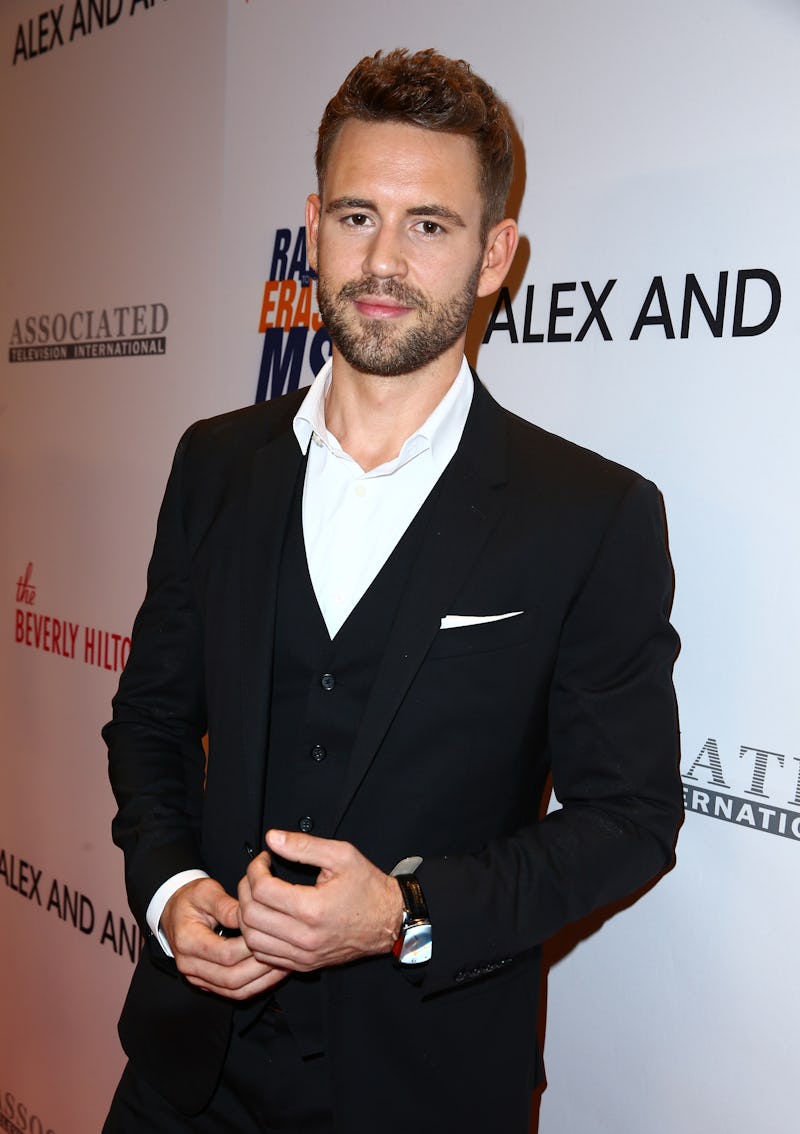 Rich Fury/Getty Images Entertainment/Getty Images
Who knew The Bachelor's Nick Viall would be the one to turn his reality TV stint into a career as a legitimate actor? In a new clip from People, Nick Viall makes his debut on Speechless. And it's not as though he's appearing on the series as himself. Instead, he's appearing as a "hot" dean of a college that the main character, JJ DiMeo (Micah Fowler), and his family are touring. The most surprising part about Viall's guest star role? He's actually not that bad.
In the clip, which can be viewed in full on People, Viall's character, Tyson, is introduced to JJ's parents, Maya (Minnie Driver) and Jimmy (John Ross Bowie), who describe him as both "young" and "hot", something Viall's character says he "gets a lot". Once you get past the shock of seeing the former reality beau of 20+ women, you can see that Viall actually has some acting chops. Throughout the preview, he's jovial in a way that's different than the shy, flirty, and sometimes sarcastic personality that he showed throughout four different seasons of Bachelor Nation shows. The clip's a (surprisingly) great sign that viewers will be in for more laughs when Viall makes his appearance on the show's Nov. 29 episode.
Deadline reported in October that Viall was set to debut on the ABC series. The report included an interesting description of the character that he's playing and it's a bit of a spoiler for the upcoming episode. Apparently, Tyson is actually a "B-movie actor" and his "performance of a lifetime" in the episode is to help "get JJ out of hot water". Viall, now an actor himself, portraying an actor in the show? Sounds like this casting was meant to be.
This isn't Viall's first stab at acting or even his first time portraying an actor, which makes sense considering someone trying to be an actor is a role he knows well. In a digital exclusive for the popular series Will & Grace, Sean Hayes' character, Jack, tries out for a Honda commercial. When he arrives in the waiting room, hilariously overdressed in a gold bodysuit, he's greeted by a face familiar to all Bachelor fans. Viall, who is also waiting to audition, asks Jack, "You do know this is for a voiceover audition, right?" Even though his role is a blink-and-you'll-miss-it moment, it's still fun to see Viall stepping into this new acting role.
Viall is also set to appear in an upcoming Christmas movie. According to his IMDb page, he will be in the TV movie A Christmas Cruise as "Captain". The film stars Vivica A. Fox and will be released on Dec. 16 on the ION TV network. There aren't many other details released about the movie as of now, but based on his "Captain" role, the former Bachelor may very well be at the helm of the ship in the holiday film.
His new acting career is definitely a far cry from his reality TV days. He previously appeared on four seasons of Bachelor shows, The Bachelorette (twice), Bachelor in Paradise, and The Bachelor. He then went on to compete on Dancing with the Stars. Now, it looks like he's put his reality past aside and is now focusing on acting. And, based off the Speechless video and his brief Will & Grace-adjacent appearance, he's not half-bad at his new profession. Maybe this is what Viall was meant to do all along.