Nick Viall Has Many Post-'Bachelor' Opportunities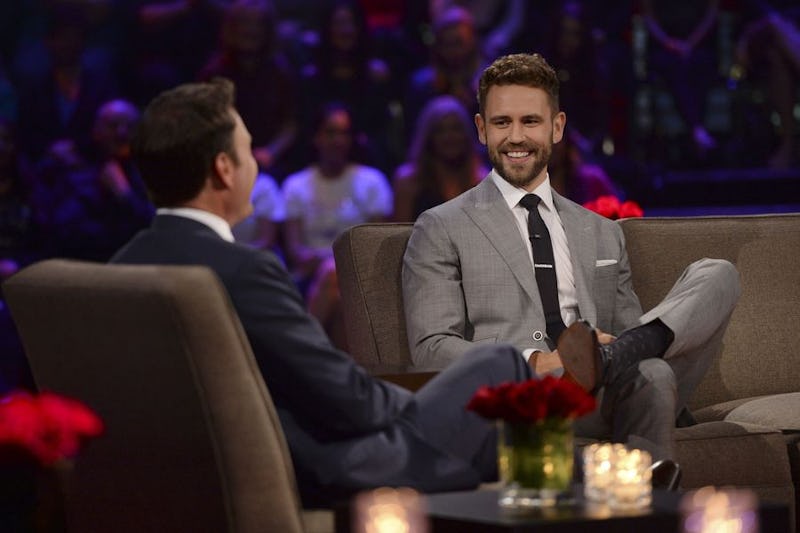 ABC/Michael Yada
Nick Viall's time as The Bachelor is coming to an end after a season spent helping push the show in a new direction that is more self-aware and honest. Of course, this wasn't his first time on the franchise, and a lot has changed since he first appeared on Andi Dorfman's season of The Bachelorette. When audiences were first introduced to Nick, he was a software salesman from Chicago, looking for a break from his job and winter. But what about Nick's job after The Bachelor? Well, it's definitely different from software.
Nick has a much larger platform than when he started on The Bachelorette and he's used it to create a business for himself. No matter what his relationship status is after the show, he hasn't let this Bachelor opportunity go to waste, and has quite a few upcoming projects.
First, there's his new men's grooming business. When Nick first appeared on The Bachelorette, he looked quite different, and his more recent beard makes up a large part of that difference. Now, he's making a profit off that change by starting The Polished Gent, a men's grooming product company. The business is already getting a ton of attention, but it's one of his post-Bachelor endeavours.
It was also recently announced that Nick will be on the next season of Dancing With The Stars. While this isn't exactly a job, it is a way for Nick to expand his platform and contestants are reportedly paid for their time spent on the reality series.
Another potential source of income for Nick post-Bachelor could end up being his social media. Many former contestants sponsor products on Instagram, and with 1 million followers already, he should certainly be eligible for these endorsement deals if he is interested in going down that road. Bachelor In Paradise golden couple Jade Roper and Tanner Tolbert have reportedly made close to $1 million from sponsored social media posts, according to Us Weekly, and they each have significantly less followers than Nick. In fact, just recently announced that they're expecting a baby, and already shared a post endorsing a website that helped them conceive.
The final piece in Nick's career puzzle (for now) is likely modeling. He is listed on the websites of two different modeling agencies and has posted modeling photos on Instagram before.
Being The Bachelor has surely opened the door to even more opportunities for Nick and now that the season is ending, we'll have to wait and see what he chooses to do next.