Nick Viall Starts 'DWTS' So Soon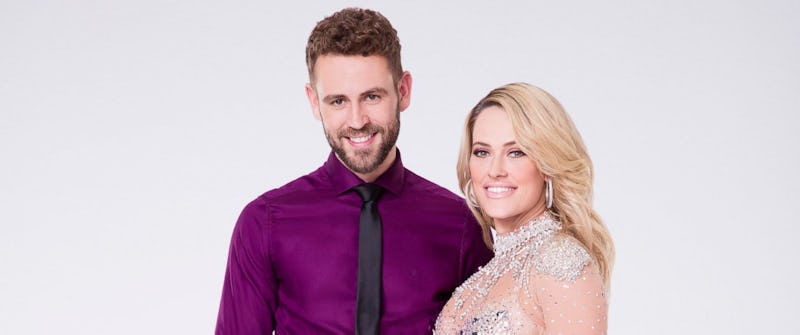 ABC
I know what Bachelor fans are thinking – we've all spent so much time with Nick Viall over the past few months (well, years, since he's been on the show, like, 50 times) that it's hard to imagine a Monday night without him. Well, there's no need to worry here — Nick has been cast on Dancing With The Stars, paired with Peta Murgatroyd, so we never have to part with him! Now the question remains: When is Nick's season of Dancing With The Stars? You won't have to wait long for more Nick.
There's nary a gap between the end of The Bachelor and the beginning of Dancing With The Stars Season 24. The Bachelor wraps up on March 13 and then Dancing With The Stars starts the week after on March 20. Phew. I was worried there for a second. If I'm going to quit Nick, I can't quit cold turkey.
But here's the big question: Can Nick Viall even dance? I saw him on his hometown date with Rachel Lindsay and he could barely clap on beat (I saw what I saw), so I don't have a lot of faith in his rhythmic potential. That said, it could have been a fluke — Nick was in a new situation in a church and maybe he didn't feel comfortable fully busting out his groove thing. It happens.
If anyone is going to whip Nick into fighting shape, it's Peta Murgatroyd. One of the best professional dancers the show has ever had (she's a personal favorite of mine), Murgatroyd just had a baby with fellow dancer Maksim Chmerkovskiy, and I'm sure she's ready to get back out on the floor.
What will happen to Nick and his (possible) new fiancée when he's on the show? It hasn't always been easy for former Bachelors and their new fiancées to endure the grueling Dancing With The Stars process — the hours-long rehearsal days, time spent with a person who is not your fiancée, and sparkly, plunging outfits aren't the most comfortable situation to be in when you're trying to get to know your new fiancé. According to Hollywood Life, rumors circulated that Chris Soules, who competed on Dancing With The Stars after his season of The Bachelor, and his then-fiancée Whitney Bischoff split because the stress of Dancing With The Stars was too much for them. Sean Lowe also wrote in his book that it put a serious strain on his budding relationship with Catherine to do another show so soon after The Bachelor.
In any case, I hope Nick can keep his dancing shoes on and his relationship afloat during his time on Dancing With The Stars. And, at least we get to watch it all go down the week after The Bachelor ends. No rest for the Nick...ed.