Nickelodeon & This Famous TV Producer Have Decided To Go Their Separate Ways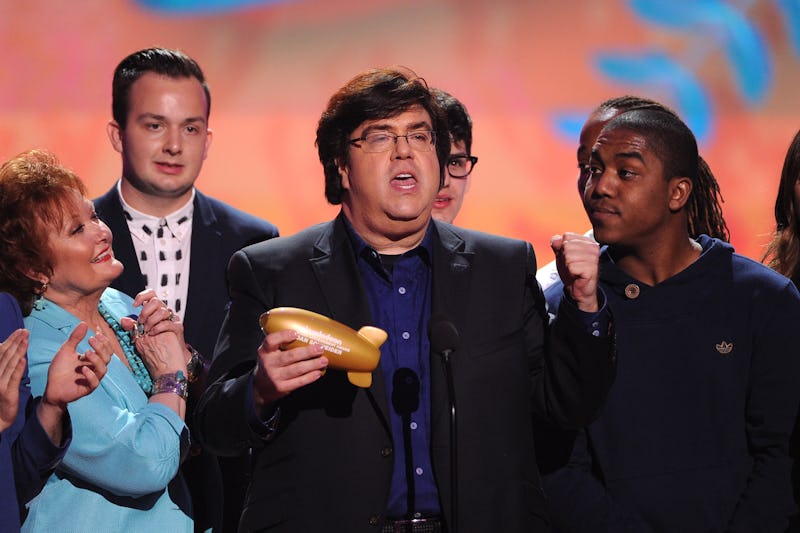 Kevin Winter/Getty Images Entertainment/Getty Images
On Monday, famous kids' media company, Nickelodeon, announced that producer Dan Schneider will be leaving. Schneider began working at Nickelodeon in 1993, writing and creating some of the network's most popular shows. Nickelodeon described the end of Schneider's agreement with the company as "natural" and wished him luck in his future endeavors.
In announcing the departure, Nickelodeon and Schneider released a joint statement to Deadline reflecting on Schneider's years at the network and citing the rationale for his departure:
Following many conversations together about next directions and future opportunities, Nickelodeon and our long-time creative partner Dan Schneider/Schneider's Bakery have agreed to not extend the current deal ... Since several Schneider's Bakery projects are wrapping up, both sides agreed that this is a natural time for Nickelodeon and Schneider's Bakery to pursue other opportunities and projects. Dan and his Schneider's Bakery team have created a string of lasting, groundbreaking hits over the years ... We thank Dan and his Schneider's Bakery producers, executives and social media team for their immeasurable contributions to Nickelodeon, and we wish them the best in their future endeavors ...
The statement also noted that, "... Dan and Schneider's Bakery are proud of the work they did together with Nickelodeon and will always remain big fans of the network."
As People reported, Schneider has worked with a variety of stars who essentially began their careers at the network. He first worked as a writer and producer on All That, which featured Amanda Bynes and Kenan Thompson (who Schneider also worked with on The Amanda Show and Kenan and Kel, respectively). The outlet further reported that Schneider was credited with creating a myriad of popular shows at the network from 2004 onward — the year Schneider returned to Nickelodeon after a brief stint at The WB.
According to People, some of Schneider's most popular Nickelodeon shows from this era include Drake & Josh, featuring Drake Bell and Josh Peck, Zoey 101, starring Jamie Lynn Spears, Victorious, with Victoria Justice, iCarly starring Miranda Cosgrove, and Sam & Cat featuring Ariana Grande.
As Vulture reported, some of Schneider's company's more recent shows, including Henry Danger, Game Shakers, and The Adventures of Kid Danger, are still on the air. However, Nickelodeon reported on Monday that Game Shakers will be ending this season. It did not cite a reason for the show's cancellation, but said in a statement to Deadline, "After three seasons and 63 episodes, Nickelodeon has wrapped production on its live-action series Game Shakers ... We are proud of the show's success, and our dedicated and talented cast and crew. Premieres will continue to air throughout 2018."
During an interview with Campaign in 2015, Schneider described how he started working in children's television, noting that he first viewed it as a temporary job. Well, a lot has changed since then. As he put it:
I was in between acting jobs, waiting for the next pilot season. And one day, my friend Brian Robbins and I were having lunch, and he asked me to help him create a new TV show for kids, on Nickelodeon. We wanted to do sketch comedy. And since I was a huge fan (and very influenced) by 'Saturday Night Live,' I was excited about the idea of creating a show like that, but for a younger audience. At the time, I thought it would just be a fun "side job" to keep me busy between acting projects. But the show turned out to be 'All That,' which ran for 10 years. And 'All That' was just the first of many other shows — sitcoms — I ended up creating, mostly for Nickelodeon ...
Schneider has not indicated whether or not he will continue to pursue TV work following his departure from Nickelodeon.