This Cardi B & Nicki Minaj Met Gala Moment Finally Puts Those Feud Rumors To Rest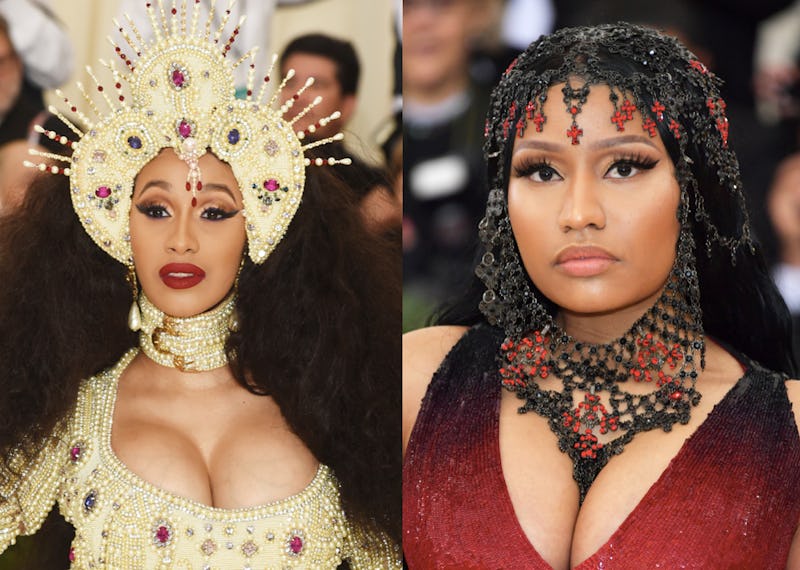 Jamie McCarthy/Getty Images Entertainment/Getty Images; Neilson Barnard/Getty Images Entertainment/Getty Images
Praise be to the fashion gods. Last night, Nicki Minaj and Cardi B made nice at the 2018 Met Gala. With Minaj dressed like the most stylish devil for the Met Gala theme of "Heavenly Bodies: Fashion and the Catholic Imagination," and Cardi B so on theme it hurt — in a good way — the two put to rest the rumors of a feud with a quick conversation. So now that the women seem to be on good terms, Twitter is pushing for a Cardi B and Nicki Minaj collaboration.
The rumored feud between Cardi and Minaj picked up steam after the release of Migos' "MotorSport," which featured verses from both women. Last month, Minaj told Beats 1 radio that she was hurt by Cardi's reaction to the song. She felt Cardi didn't show "genuine love" for her because of the "Nicki hate parade," that always makes it seem like she's the "bad guy." "I could just imagine how many girls wish they could have been on a song with Nicki Minaj," Minaj told Beats 1. "And I'm not saying it in a cocky way, but yikes."
Cardi B later denied any feud rumors — "I just feel like it's really internet, made-up [beef]," she told Beats 1 radio last month — but some felt that Minaj was once again throwing Cardi B shade on this year's Met Gala red carpet. "You know what, because I'm the bad guy, and I wanted to make sure that the bad guy was here," Minaj said of her devilish look, reiterating something similar she told Beats 1.
But in the end, Minaj's "bad guy" quote was a preface to announcing her new album Queen, out June 15, and probably not a way of rehashing any beef. Especially since Minaj and Cardi seemed to be getting along just fine once they were inside the gala. They even took a selfie together, which was proof that the Bardi/Barbie feud was officially over.
"Nicki and Cardi talked," @_LipstickJunkie tweeted, "yes for female rap unity." While @LakerChick_Kee wrote, "Two of the best female rappers in the game right now talking and mingling with no problems or no beef!! Y'all need to quit trying to put them against each other!!" Something people started doing again when Cardi liked a comment on Instagram from a photo of her and Minaj from the Met Gala: "Cardi looking like 'I accept your apology but I still don't fwu.'"
But, as @dabarbienicki tweeted along with a selfie from the rappers' meeting: "Nicki Minaj & Cardi B hanging out at the #MetGala. Shoutout to all the haters tho. They out here living."
The shots of Minaj and Cardi talking was also a sign to many fans that these two should unite again, this time in the studio. "This is what everybody need," @_tyilerrr wrote of the meeting. "Wow can we pleaseeee get a collaboration. The ladies taking over 2018!!
@Steve26211325 tweeted, "I like to see you like that," of the photo of them together. "Now a collaboration!" Meanwhile, @KMccaula wrote, "I livvve for this. We want a collab." Another fan @JermajestyJr2 tweeted, "Why do I feel like a big ass collaboration is about to happen!" Along with the selfie photo, @ParodoxMountain even tweeted some stipulations, "All I'm saying is I expect some type of collaboration from just y'all two. Nothing more nothing less."
The hope is that Minaj's new album, the long-awaited follow-up to 2014's The Pinkprint, could include a collaboration between the two. Minaj hasn't revealed the tracklist for Queen yet, which she said in her Beats 1 interview she started recording in January.
"I wanted to make sure I was writing something that was meaningful to me and that would inspire and that would captivate my audience," Minaj said of the album. "But most importantly, I wanted to have fun again."
Minaj has already released two singles, "Barbie Tingz" and "Chun-Li," but that doesn't mean there isn't room to add some more fun to this album. It means there's still time for her to add a Cardi B collaboration if she wants to. Lord knows, Twitter would be happy.