Nicki Minaj Came Out Swinging When Tiffany Haddish Roasted Fifth Harmony At The VMAs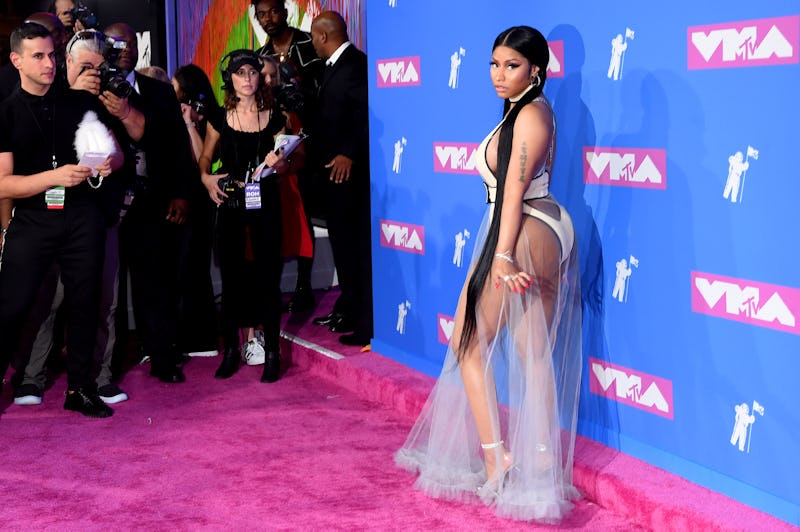 Jamie McCarthy/Getty Images Entertainment/Getty Images
The MTV Video Music Awards on Monday night got off on a bit of a combative note. When presenting the award for Best Hip Hop video with Kevin Hart, Tiffany Haddish seemed to take a jab at the recently fully disbanded girl group Fifth Harmony while praising nominee and former member Camila Cabello. Well, the winner wasn't having that. Nicki Minaj defended Fifth Harmony in her acceptance speech, particularly a certain member. And fans were very grateful.
Hart and Haddish were at the Aug. 20 ceremony to promote their upcoming film Night School, and of course, were cracking jokes and roasting people left at right. The latter may have mispronounced Cabello's name ("Y'all know I can't read that good!" Haddish argued.), but she still shouted out the singer for her multiple VMA nominations. "She's nominated for five VMAs tonight, five of them," the comedian said. "I'm super proud of her, so those of you watching at home, hi, Fifth Harmony!" Hart injected at that point with an "Oh, god."
The joke of course is that Cabello left the group behind in 2016, and decided to go solo. Her solo album Camila came out this year, yielding hit singles "Havana," "Never Be The Same," and "Real Friends." She was nominated for Video of the Year, Artist of the Year, Song of the Year, Best Pop, and Best Choreography at this year's VMAs, which is huge for a new solo artist.
Fifth Harmony announced a hiatus in March of this year, which fans are hoping won't be permanent. "Reflecting on the past six years since we started on X-Factor, we've realized just how far we've come and we appreciate everything so much, more now than ever," the band's statement reads. "We've really had one hell of a memorable journey together and can't begin to express our gratitude to y'all for coming along with us on this wild ride! After six years going hard, non stop, we also realized that in order to stay authentic to ourselves and to you, we do need to take some time for now to go on a hiatus from Fifth Harmony in order to pursue solo endeavors."
So while Haddish poked fun at the fact that Cabello was at the event (and nominated for several awards) while her former bandmates were not, Minaj didn't seem to appreciate the woman-on-woman crime of it all. Accepting the award for Best Hip Hop Video for her single "Chun Li," Minaj gave a shout out to "Kevin and Tiff" before defending the dormant girl group.
"And Tiff, don't be comin' for Fifth Harmony," Minaj said. "Because Normani is that b*tch."
She was referring of course to Fifth Harmony member, who answered Minaj's recent call for female artists to collaborate with. Cabello's former bandmate also appeared on Queen Radio with Minaj, so it seems like these two may be planning some big things.
Minaj didn't seem too upset when she defended the other ladies, but fans were still living for it. Here's what Twitter had to say:
Fifth Harmony may not be active as a group right now, but Minaj's message is clear: they still deserve respect, even if they're out in the world succeeding at solo artists.