Nicki Minaj Will Perform At The 2018 MTV Video Music Awards From A Mysterious Location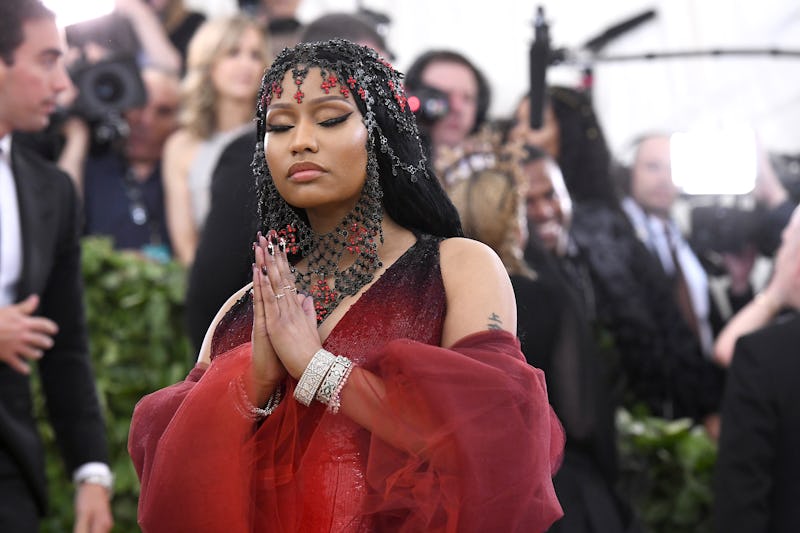 Noam Galai/Getty Images Entertainment/Getty Images
Summer 2018 is coming to an end, but not before one of the biggest events in music takes place, that is. The MTV Video Music Awards will be coming to a television set near you soon, and with a couple of surprises in store. One being that Nicki Minaj will perform at the 2018 MTV Video Music Awards just three days after the release of her forth studio album Queen.
And this probably means that fans can look forward to seeing her perform a mix of her new tracks at "an iconic New York location," according to an Aug. 9 MTV press release that noted it will be a "surprise." MTV also noted in the press release that the performance will be the first time a major awards show will televise a performance from the location, but no other clues were provided.
Before the news of Nick Minaj hitting the grand VMA stage broke, it was announced that the annual event would be inviting artists Travis Scott, Shawn Mendes, Logic, Ryan Tedder, Post Malone and Ariana Grande to sing their hits. Oh, and of course, a special performance from Jennifer Lopez, who will be awarded with the Michael Jackson Vanguard Award. It's been said, via a press release, that Minaj will be joining this, already, star-studded lineup with a special performance of her own.
The press release also noted that the event will mark Minaj's "debut performance after the release of her highly anticipated album, Queen" — which totally hints that the LP is expected to finally be released on Friday, Aug. 17. And between this bit of news and her surprise performance, there's no telling what fans should be more excited about.
Now, you may be asking yourself "why wouldn't Nicki Minaj's album arrive on time?" Well, so far, Queen has been pushed back twice, with the most recent release date being Aug. 17. And unless Minaj was able to sort out those reported Tracy Chapman sample clearance issues, as announced on her personal Twitter account, it's possible that Queen could be delayed once more. That doesn't mean that fans shouldn't be even more stoked for the album, of course. According to Minaj, the upcoming release is filled with a ton of surprises. And if her hits "Chun Li" and "Barbie Tingz" serve as any consolation, Queen is bound to be a success, too.
Minaj announced collaborations with rapper Lil Wayne and Grande, who will appear "Rich Sex" and "Bed," respectively. But coincidentally, her featured track with Grande isn't the only thing she has in common with the "No Tears Left to Cry" singer. In addition to also being featured on Grande's upcoming album, Nicki Minaj's Queen now shares the same release date as Grande's Sweetener. However, with the two being frequent collaborators, and even friends at this point, there's no sign of any competitiveness or rivalries. In fact, once Queen's newest release date was announced, Grande tweeted that she and Minaj simply laughed about it.
Maybe the two will bring their mutual love and respect for one another to the stage for a dynamic duet? After all, they're both on the bill to rock the Radio City Music Hall. Fans will just have to wait until the VMAs airs Monday, Aug. 20 to find out for sure, but just knowing that Minaj has something special in store for all of those watching is a treat in, and of, itself.